Three mango-themed events celebrate the sweet fruit in Hawaii this summer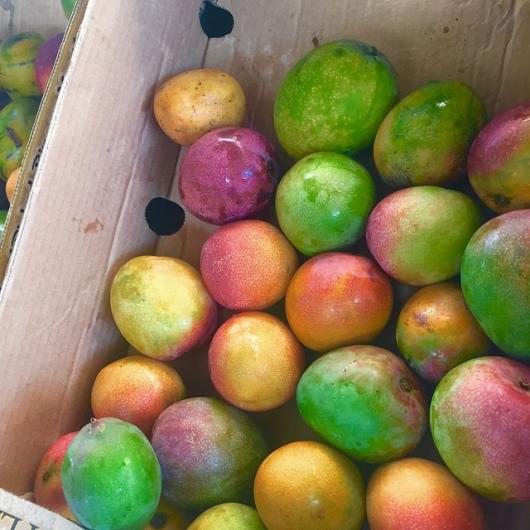 Since the introduction of mangoes to Hawaii in the early 1800s, the tropical fruit has become an adored harbinger of summer. The Aloha State boasts dozens of fragrant, lip-smacking mango varieties most often enjoyed fresh off the tree as a breakfast or dessert. In many ways, mango season here is truly the most wonderful time of the year.
Though mango trees produce their sweet fruit from May to October, the real mango madness swells in midsummer when the juiciest of the year's crop are ripe, ready for picking and can typically be found at roadside fruit stands, farmers' markets and groceries. It's also when several dedicated events throughout the state honor the popular tropical fruit.
If you find yourself in Honolulu on Saturday, July 16, you'll have the opportunity to sample an array of delightful mango dishes cooked up by some of Hawaii's most celebrated chefs. Mangoes at the Moana, a festival devoted to the mango and hosted for the last eight years at the Moana Surfrider hotel, features a cooking competition and a showcase of mango cocktails stirred up by professional mixologists. Cooking demonstrations, a farmers' market and a silent auction are also on the menu from 9 a.m. til 2 p.m.
In early August, the Big Island will host the 7th iteration of its own Mango Festival organized by the Sanctuary of Mana Kea Gardens. With a focus on unique-to-Hawaii varietals, hula performances, live music and, of course, mango tastings, the event will be held at the Sheraton Kona Resort & Spa in Kailua-Kona on Saturday, Aug. 6 from 10 a.m .til 5 p.m.
On Kauai, the 2nd annual Music & Mango Festival will take place at the Halulu Fishpond on the Island's verdant North Shore. The event is a fundraiser for the Waipa Foundation, a non-profit that focuses on preserving the local environment while empowering and supporting local communities. Slated for Sunday, Aug. 14 from 10 a.m. til 5 p.m., the festival will feature live music, educational, hands-on activities, and crafts for sale by local artisans. Island chefs and food vendors will be on hand offering food inspired by the summer mango harvest. There will also be recipe and biggest mango contests, mango tastings and a silent auction, as well as cultural displays and activities.
---
Can't wait 'til then to celebrate mango season? Here are some quick tips that will help you enjoy mangoes all summer long:
• Both ripeness and the type of seed determine a mango's size, flavor and skin color, which can come in any combination of yellow, orange, red and green.
• Be sure to ask questions so that you don't mistakenly discount a perfectly ready-to-eat mango as not ripe enough yet. The Brookes Late strain, for example, retains its green skin color even when ripe.
• Some of the other popular varieties include the slightly fibrous Haden and the massive Keitt, whose bulbous drupes weigh up to five pounds each.
• In addition to eating them raw, mangoes make for a delicious star ingredient in jams, relishes, preserves, cocktails, ice cream, baked goods, fruit salads and sticky rice.