Tips on Seeing the Current Eruption at Kīlauea
What you can see and do right now on Hawaiʻi Island.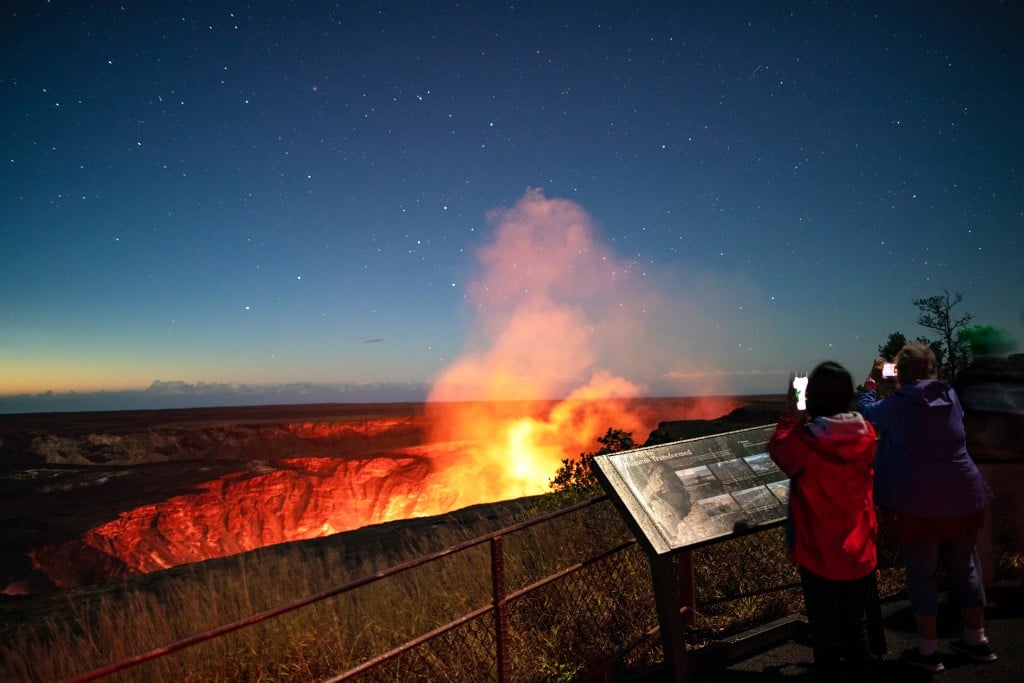 Thousands of people have been flocking to Hawaiʻi Volcanoes National Park on Hawaiʻi Island since Kīlauea began erupting again on Sept. 29.
This new eruption—the first after the previous eruption stopped four months ago—produced an 89-foot-deep lava lake inside Halemaʻumaʻu crater, complete with lava fountains reaching up to nearly 50 feet.
Talk about showing off!
So how can you safely see this new eruption?
The folks at the Hawaiʻi Volcanoes National Park put together some helpful tips if you're planning on visiting the national park soon.
What can you see in the dark?
Hawaiʻi Volcanoes National Park is open 24 hours a day. Nighttime is probably the most spectacular time to view the eruption. According to the park, a magnificent reddish-orange glow fills the dark sky above a massive 127-acre lava lake, reflecting into the gas plume wafting out of the volcano and onto any clouds above the summit crater, Halemaʻumaʻu. The light illuminates the jagged crater walls, showing the scars from the 2018 summit collapse. Bring a flashlight.
What can you see during the day?
There's still lots to see during the day—including hiking some of the park's trails, which would be too dangerous at night. At the eruption site, you can see volcanic gas and steam billow out of Halemaʻumaʻu and the entire summit caldera—called Kaluapele—is fully visible. If you're lucky, you may catch a glimpse of koaʻe kea, white-tailed tropicbirds, flying above the crater.
Where are the best eruption viewpoints?
According to the park, the best eruption viewpoints day or night are along Crater Rim Trail, and include Uēkahuna, Kīlauea Overlook, Wahinekapu (Steaming Bluff), Kupinaʻi Pali (Waldron Ledge), Keanakākoʻi and other overlooks. Note that there's limited parking at the Devastation Trail parking lot, used to access Keanakākoʻi, and expect long waits at the more popular overlooks. Volcanic eruptions can be hazardous and change at any time. Stay on marked trails and overlooks, and avoid earth cracks and cliff edges. Do not enter closed areas.
Should you be concerned about the weather?
Bad weather can definitely make or break your visit. Rain and clouds are not uncommon at Kīlauea, and conditions can change very quickly. The 4,000-foot summit can get chilly at night, so bring jackets and other warm clothes just in case. Also, if you're worried about vog—volcanic smog—you might want to check this site before you visit. Lack of trade winds at the summit mean ashfall and elevated concentrations of sulfur dioxide can be present. This volcanic gas can be hazardous, especially to people with heart or respiratory problems, infants, young children and pregnant women.
What about Covid-19 protocols?
Despite dropping Covid-19 cases in the Islands, you need to maintain a 6-foot social distance from others and properly wear masks. Stay home if you're feeling sick or test positive for Covid-19.
Anything else?
Be respectful. Park landscapes are sacred places for many people. Be respectful and allow them to practice their traditions privately.
Check the volcano eruption status for the latest developments.