To This Oʻahu Nonprofit, Food is Love
The Institute for Human Services serves three meals a day, every day, in its quest to help those who are homeless.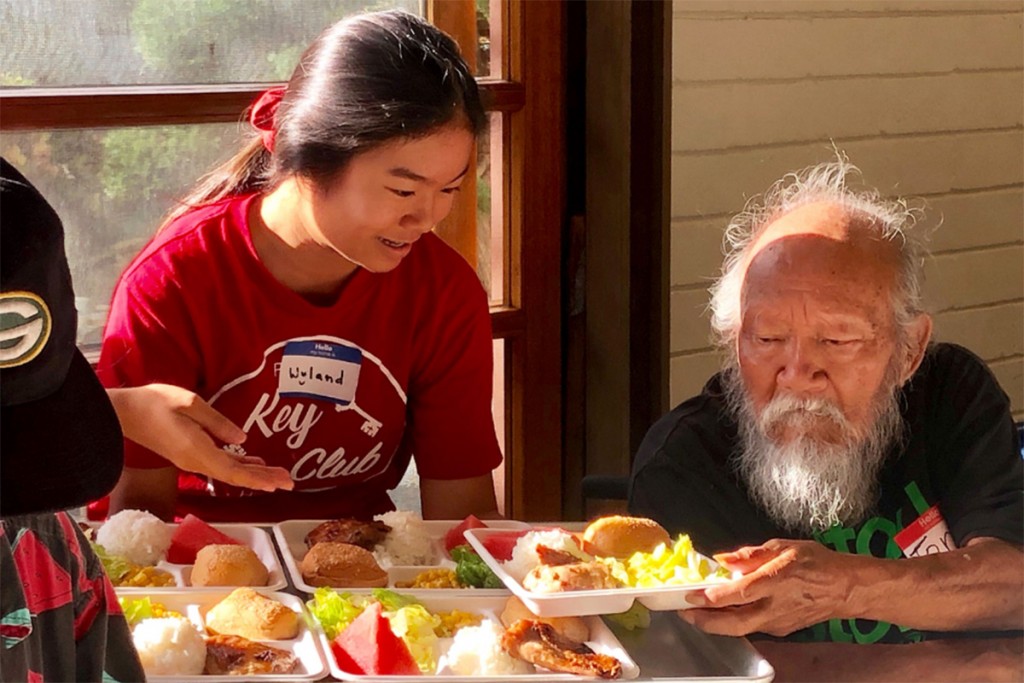 Hot meals sustain us—whether it's soup when we're sick or dinner around the family table or a meal shared with friends. It's more than good food. It's nourishment for the soul, the time for most of us to connect, reflect or make plans for what's next.
At The Institute for Human Services in Honolulu, hot meals are served three times a day to anyone who needs one, anyone who stops in for help, anyone who needs to take a load off and get some guidance. For many of those on the street, mealtimes at IHS are the only times when they experience kindness and are reminded that people care about them.
Last year, 305,719 meals—breakfasts, lunches and dinners for homeless men, women and children who would otherwise go hungry—were served at nine shelters around the community. That's prepping, cooking, serving and cleaning three times a day, seven days a week, churning out some 900 meals every single day. Pulling it off requires a dedicated staff, a lot of multitasking and an army of volunteers.
"Our company's volunteering with IHS goes back a long time, so long that we don't know exactly when it started," says Peter Rosegg, senior spokesman for Hawaiian Electric Co. "And serving meals is one of our most popular volunteer commitments."
For many Hawaiian Electric employees, volunteering in the kitchen here is part of their daily routine, with small groups signing up and going together, often for the dinner service.
"It's an opportunity to really look people who we may often ignore in the face and realize very quickly that they're no different than you or me," Rosegg says. "Any one of us could be on the other side of that serving counter if things in our lives turned out differently."
Meal service has been integral to IHS work since its founding 41 years ago when the Rev. Claude DuTeil offered peanut butter sandwiches and coffee to those he found living on the streets of Chinatown. The food offered nourishment; the conversation offered companionship and built trust. "'The sermon is in the soup,' I remember Father Claude saying," says Connie Mitchell, IHS executive director. "He knew full well that it's hard to receive any guidance when you're hungry." Today, that same sense of connection and trust is built over a hot meal, with IHS staff offering shelter, services and more to those who stop by.
"Mealtime means a rush of people at the shelters," Rosegg says, "and you've got to be there for them, putting on the hairnet and the apron and taking your assigned spot on the line." For Rosegg and his colleagues, it's not just another day at the office. Instead, it's about being part of something extraordinary, watching an organization making do with donations and gifts so that those most in need don't go hungry.
"A hot meal keeps the body and soul together," he says. "They're saving lives every single day."
Please give. A week's worth of dinners for one adult costs just $16.24. Please help us continue this vital work and give what you can.
Please join us. Volunteer to serve meals with us, either on a regular schedule or when you can. You won't regret it.
For more information on The Institute for Human Services' work and mission, visit ihshawaii.org