Top 5 favorite Hawaii kayaking spots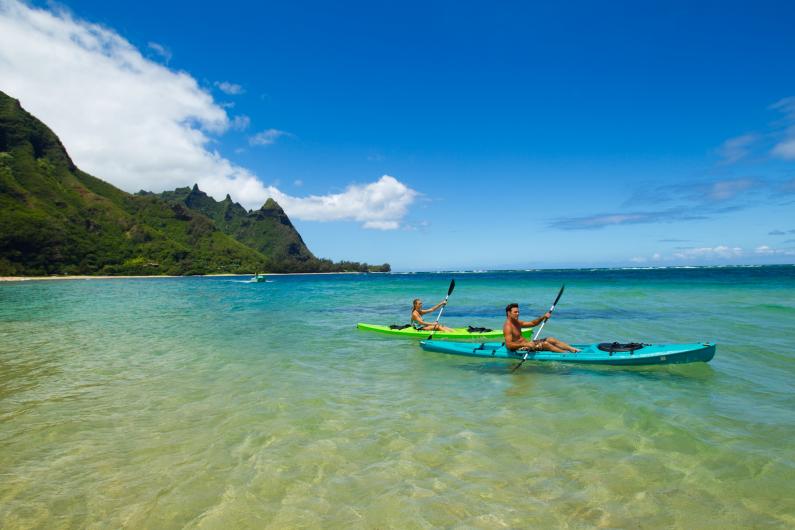 Hawaii's waterways are ripe for exploring by kayak—whether you prefer to meander down sleepy waterways through dense green jungle, visit waterfalls, take a leisurely morning paddle through the calm clear waters of a bay, or experience an adventurous jaunt alongside rugged sea cliffs.
We asked our trusty HAWAII Magazine Facebook ohana to share their favorite paddling spots on our Facebook page. Hundreds of you responded to our question: "What's your favorite Hawaii place for kayaking?" Popular places to dip paddles—like Hawaii Island's reef-filled Kealakekua Bay, Oahu's legendary North Shore and the waters beyond the golden sands of Maui's Makena Beach—didn't quite make the cut. You'll have to read on to learn what did!
If you'd like to join in on our next HAWAII Magazine Facebook Ohana Poll and vote along with our 150,000-reader-strong Facebook family, go to the HAWAII Magazine Facebook page and "like" us. In return, you'll be able to share your answers in all of our future "Hawaii favorite" poll questions as soon as we post them, know the results of the poll when all of the votes are counted, and get all of our daily HawaiiMagazine.com photos and features.
We'll be posting our next Ohana Poll question on HAWAII Magazine's Facebook page in the weeks ahead, so "like" us now if you haven't yet.
Here's the Top 5 countdown of our Facebook ohana's favorite Hawaii kayaking spots:
#5
Kaneohe Bay
Oahu
Kayakers appreciate the calm waters of this huge, sheltered and shallow bay on Oahu's Windward (eastern) side. Kaneohe Bay was formed when a former part of the ancient and massive Koolau volcano collapsed into the sea. Encompassing more than 17 square miles, the bay is home to one of Hawaii's two barrier reefs (the other is off Molokai), and two tiny offshore islands—Mololii (a.k.a. Chinaman's Hat) and Moku o Loe (Coconut Island). Fans of the "Pirates of the Caribbean" films may also recognize the area from scenes shot on and around the bay for 2011's "On Stranger Tides."
#4
Napali Coast
Kauai
One of Kauai's most popular attractions just isn't accessible by road. You can fly alongside it, you can hike to it, or, as our Facebook ohana enthusiastically recommends, you can kayak alongside the 4,000 ft. Napali coastline cliffs. It's a full day and a 20-mile often-choppy paddle between Heana Beach Park and Polihale State Park, but the rewards are worth it. In addition to the sea cliff views, kayakers can also cozy up to waterfalls, explore sea caves, glimpse large, green and remote valleys tucked into the cliff folds from a unique offshore vantage, as well as spot marine life such as turtles, dolphins, and occasionally, rare Hawaiian monk seals.
#3
Hanalei River & Hanalei Bay
Kauai
The Hanalei River starts in the rainy center of Kauai on the slopes of the island's highest mountain and winds it's way north past the Hanalei National Wildlife Refuge, home to endangered water birds, and into Hanalei Bay's eastern side. Many choose to kayak along the sleepy river and out into the bay in the same trip offering the experience of both river and ocean kayaking in the span of a several-mile paddle.
#2
Kailua Bay & Lanikai
Oahu
Kailua Bay and Lanikai are close neighbors on Oahu's Windward coast (and just south of #5 winner Kaneohe Bay). Less than a mile apart, Kailua and Lanikai both promise crystal, azure waters and reachable offshore islands managed as Hawaii State Seabird Sanctuaries. Kailua Bay's access at Kailua Beach is within the town of Kailua and the area sports a number of kayak rental shops. From Kailua Beach, it's easy to explore Popoia (Flat Island), a one-mile round-trip journey from shore. Lanikai's ocean access lies in corridors between houses in a residential neighborhood, but provides the most direct route to the popular twin Mokulua Islands, both larger than Kailua's Popoia.
#1
Wailua River
Kauai
Kauai has the only navigable rivers in Hawaii and the eastern-flowing Wailua is undoubtedly the most popular to kayak—it won our Facebook Ohana Poll by a landslide. The river carries little current (it's considered a "Class Zero") and the paddle through jungle greenery is an experience easy enough for the whole family. It also helps that there's a particularly gorgeous spot along the way: The river is the only way to access the trail leading to 100 f.t. Uluwehi (a.k.a. Secret) Falls.