Top 5 favorite Hawaii parks: HAWAII Magazine Facebook poll results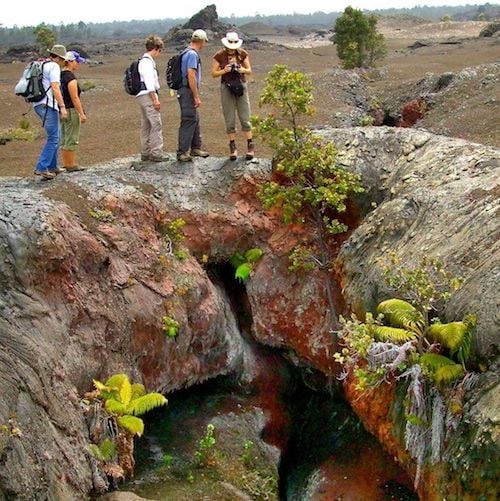 We've counted the votes from our latest HAWAII Magazine Facebook Ohana poll question: Which Hawaii park is is your favorite? The top five vote-getters are on the pages ahead.
Hawaii boasts seven National Park Service-managed parks, sites and monuments, 55 state parks, and scores of county/city parks. Your picks range from shoreline settings with strong ties to Early Hawaii to parks that send visitors up elevation climbs for amazing views of still-forming natural wonders.
If you'd like to join in on our next poll and vote, click here then press the "like" button at the top of our Facebook page. Become part of our HAWAII Magazine Facebook ohana and you'll get our "Hawaii favorite" poll questions as soon as we post them. You'll also get instant updates on your Facebook wall when we post our daily HawaiiMagazine.com stories and features.
We'll be posting our next Ohana Poll question on HAWAII Magazine's Facebook page in the days ahead, so join soon if you haven't yet. OK, here we go. Here's the top five countdown of our Facebook ohana's favorite Hawaii parks:
No. 5 (tie)
Waimea Canyon State Park — Kauai
Hawaii's "Grand Canyon of the Pacific" owes its distinct beauty to natural events that occurred in one cataclysmic volcanic moment, then slowly over millions of years. Four million years ago, as steady volcanic activity from the Kauai's dominant peak Mount Waialeale was still growing the island, a huge section of land collapsed creating a massive depression. Fresh lava filled the depression until Kauai's eruptive life ended. A near-constant flow of rainwater coursing down the Waimea River from Waialeale's peak—one of the wettest places on earth —help turn young, freshly- exposed lava rock from black to bright and deep reds, have since cut the 10-mile, 3,000 ft. deep Waimea Canyon visitors marvel at today. Whether viewing its grandeur by helicopter, by hiking trail or at a handful of popular lookouts perched on its edge, Waimea Canyon State Park is a must-see even on return visits to Kauai.

Kokee State Park — Kauai
Kokee State Park is just north of Waimea Canyon, on Kauai's west side. Much of the park's 4,345 acres are covered in misty forestland, crisscrossed with 45 miles of state hiking trails. Before hitting the trails, stop by the Kokee Natural History Museum for a thorough overview of the park's offerings. One of Kokee State Park's highlights: impressive views of Kalalau Valley. In another Facebook poll, Kalalau was ranked as our HAWAII Magazine Facebook ohana's fourth favorite Hawaii valley, we think, mostly because of the phenomenal view from this easily accessible lookout in the highest elevations of Kokee State Park (about 4,200 feet above sea level). Kalalau is one of the only valleys on Kauai's remote Napali Coast visible without taking a helicopter tour or arriving by boat or hiking trail. To get to the lookout, simply take Kokee Road beyond Waimea Canyon State Park.


No. 4

Hanauma Bay Nature Preserve — Oahu
Hanauma Bay, near the far east end of Oahu's south shore, features circular-shaped shore edging a popular snorkeling area. The bay is not a beach park for beach sport. Rather, it's a nature preserve dedicated to safeguarding the fragile marine life in the bay. More than two decades ago, the City and County of Honolulu began piecing together a plan to establish Hanauma Bay as Hawaii's first Marine Life Conservation District. What prompted the plan? Damage to the bay's spectacular marine ecosystem caused by years of neglect and abuse tied to allowing some three million visitors annually. These days, Hanauma Bay Nature Preserve is continuing to re-establish ecosystem by limiting the flow of visitors, monitoring bay conditions, and maintaining an education programs. Before heading to the shoreline with snorkel gear and picnic lunches, visitors watch a video that details how everyone can help protect the bay while having fun exploring the reef.
No. 3

Puuhonua O Honaunau National Historical Park — Big Island
Puuhonua O Honaunau National Historical Park, on the coast of Honaunau Bay in the south Kona area, preserves a site where, up until the early 19th century, Hawaiians who broke a kapu (the culture's strict laws) could avoid certain death by fleeing to a puuhonua. The offender would then be absolved by a priest and then let go. During battles, defeated warriors and non-combatants could also find refuge at a puuhonua. Among the highlights of a self-guided walking tour at Puuhonua O Honaunau: fierce kii, or wooden images of gods that guard a temple area called Hale o Keawe Heiau. (The temple housed the bones of 23 Early Hawaiian chiefs.). Adjacent to the puuhonua area, are royal grounds once a favored residence of Hawaiian chiefs (alii). Last fall, Puuhonua O Honaunau — one of the last preserved places of refuge in Hawaii — marked its 50th anniversary as a unit of the National Park Service.
No. 2

Haleakala National Park — Maui
Haleakala National Park spotlights Maui's highest peak, which stands 10,023 feet above sea level and covers the island's upcountry southern and eastern coastlines. During pre-dawn hours, visitors ascend a dark winding road to the Haleakala Visitor Center (9,740 feet) to catch the summit sunrise. The sunset can be equally spectacular. If you go, in addition to camera gear, bring some cold-weather clothes as well as a blanket of some sort as it can be chilly and windy near the summit. The park, which spans 30,000 acres, has three visitor centers. For more information about scenic vistas and hiking trails, check out the park's headquarters visitor center at 7,000 feet. Also, at sea level, on the southeastern coast, the park operates the Kapahulu Visitor Center. All areas of the park are fairly remote — stores, services, and lodging are all at least 30 minutes away. So, remember to bring with you all that you need for a safe and comfortable trip.
No. 1

Hawaii Volcanoes National Park — Big Island
At Hawaii Volcanoes National Park, situated about 30 miles southwest of Hilo, you can witness lava-fueled geology in action. Within the park's vast 333,086 acres: 4,091-foot Kilauea — currently world's most active volcano — and 13,677-foot Mauna Loa — the world's most massive volcano. Both are among the most frequently active volcanoes in the world. Currently, Kilauea's Puu Oo-Kupaianaha eruption, which began in January 1983, is ranked as the second longest-lasting Hawaiian eruption in recorded history. The first written accounts of eruptions in Hawaii date back to the 1820s, when American missionaries arrived on the Big Island. Founded in 1916, the park includes 150 miles of hiking trails to natural wonders ranging from volcanic craters to walk-in lava tubes.
Daily updates on Kilauea volcano activity are available at the Hawaiian Volcano Observatory website. For more information, click here. This year, Hawaiian Volcanoes Observatory (HVO) is celebrating a century of scientific work and discovery at the site where volcanology first surfaced as a modern area of study.
HawaiiMagazine.com reports regularly on lava activity at Kilauea volcano and Hawaii Volcanoes National Park on the Big Island. Click here to catch up with all of our Volcano News posts. You can also follow our updates on our Twitter and Facebook pages.