Top 5 favorite Hawaii scenic coastlines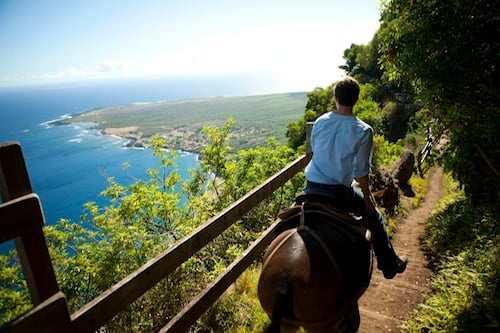 Hawaii is blessed with some of the world's most stunning coastal topography. Undulating green mountains ring the sea, stretches of white sand seem to extend beyond the horizon and black lava boulders spill into the waves.
Whether you hike them, drive them, boat or fly alongside them, Hawaii is filled with scenic coastlines. So, we asked our HAWAII Magazine Facebook reader ohana: What's your favorite Hawaii scenic coastline?
More than a thousand of you voted, nominating dozens of stretches of coastal highways, hiking trails and overlooks. Popular coastlines such as the mountain-backed long white beach at Kauai's Polihale State Park, the Honolulu skyline when viewed from Diamond Head State Monument and Molokai's secluded northern Kalaupapa Peninsula (pictured above) didn't make the cut. You'll have to read on to learn what did!
If you'd like to join in on our next HAWAII Magazine Facebook Ohana Poll and vote along with our 143,000-reader-strong Facebook family, go to the HAWAII Magazine Facebook page and "like" us. In return, you'll be able to share your answers in all of our future "Hawaii favorite" poll questions as soon as we post them, know the results of the poll when all of the votes are counted, and get all of our daily HawaiiMagazine.com photos and features.
We'll be posting our next Ohana Poll question on HAWAII Magazine's Facebook page in the weeks ahead, so "like" us now if you haven't yet.
Until then, here's our top 5 countdown of our Facebook ohana's favorite Hawaii scenic coastlines.
#5: Hamakua Coast
Hawaii Island
This picturesque coastline, beginning just north of Hilo, spans a massive chunk of Hawaii Island's northeastern shores. Rainforest-filled valleys, multiple waterfalls, tall bridges, small towns and a winding coastal road (Route 19) make the Hamakua Coast a top reader pick. On a clear day, looking beyond the rocky cliffs and out over the water from the Waipio Valley lookout (pictured above), its possible to see Maui.
#4: Kailua Bay and Lanikai
Oahu
Right in the middle of Oahu's windward (eastern) coast, Kailua Bay's scenic beauty is undoubtedly in its long stretches of white sand, crystal azure waters and reachable offshore islands, part of the Hawaii State Seabird Sanctuary. From Kailua Beach, it's a short enough swim or kayak out to Popoia (Flat Island). Further down the coast, in the sandy access points amid the ritzy residential neighborhood of Lanikai, the twin Mokulua Islands peek above the waves beckoning kayakers to explore.
#3: Hana Coast
Maui
Maui's tropical eastern coast is home to the Hana Highway—Routes 36 and 360—also known as the Road to Hana. Cutting right into the scenic coastline itself, the route is comprised of 52 miles of cliff-hugging mountain road spanning 600 curves and nearly 60 bridges (many single-lane) between Kahului and the sleepy town of Hana.
#2: North Shore
Oahu
There are no death-defying overlooks here, but Oahu's scenic North Shore scores points for its iconic shoreline wave breaks, gorgeous beaches and (mostly) sleepy country towns. Pockets of lush green punctuate beach access points and sunsets over the water are spectacular. The ocean's mood swings are dramatic, changing the coastal scenery by season. Waimea Bay, one of several popular North Shore beaches, is calm and inviting to swimmers in the summer, but in the winter months, monster swells make this one of the best big wave surfing locales on the planet.
#1: Napali Coast
Kauai
Rugged, remote and seemingly timeless—it's with good reason the Napali Coast was our reader ohana's favorite by a landslide. This 22-mile-long stretch of stark, road-less pali (cliffs) ending at water's edge, features five large green valleys and dozens of waterfall and stream-filled nooks. Early Hawaiian settlements and loi kalo (taro terraces), can still be seen on some of the valley floors. Perhaps adding to its allure, this scenic coastline is only accessible by air, boat or on foot via the 11-mile-long Kalalau Trail.