Top 5 favorite Hawaii surfing beaches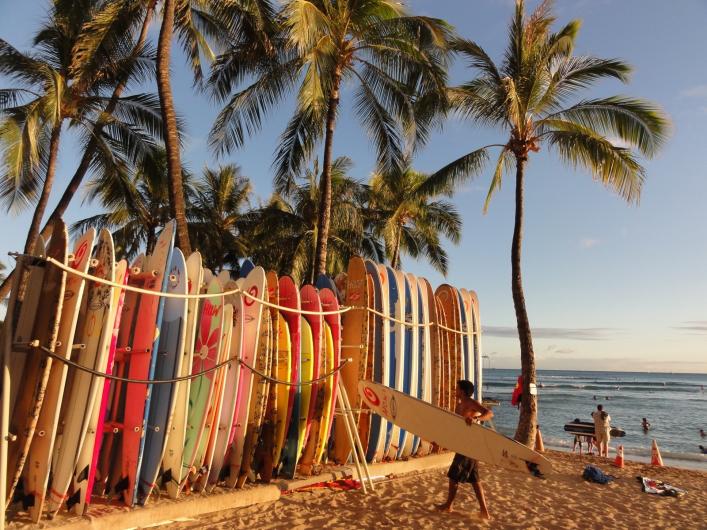 As the birthplace of modern surfing, Hawaii boasts some of the world's best and also some of its most challenging waves.
So, it was a close battle of the beaches when we recently asked our HAWAII Magazine Facebook reader ohana: What's your favorite Hawaii beach for surfing?
Hundreds of you responded sharing your favorite place to catch, or watch others catch, great ocean rides. Popular beaches like Kauai's Hanalei Bay, the stretch of sand off Hana Highway home to Maui's Peahi (Jaws) and the beginner-friendly breaks off Oahu's Waikiki Beach all received high praise, but still didn't make our top 5 cut. You'll have to read on to learn what did!

If you'd like to join in on our next HAWAII Magazine Facebook Ohana Poll and vote along with our 147,000-reader-strong Facebook family, go to the HAWAII Magazine Facebook page and "like" us. In return, you'll be able to share your answers in all of our future "Hawaii favorite" poll questions as soon as we post them, know the results of the poll when all of the votes are counted, and get all of our daily HawaiiMagazine.com photos and features.


We'll be posting our next Ohana Poll question on HAWAII Magazine's Facebook page in the weeks ahead, so "like" us now if you haven't yet.


Until then, here's our top 5 countdown of our Facebook ohana's favorite Hawaii surfing beaches.
#5
Hookipa
Maui
On mile #9 of Maui's famed south shore Hana Highway, lies arguably the island's best beach for wave riding. Just offshore, four distinct and regular surf breaks—Pavilions, Middles, Green Trees (or Girlie Bowl) and H'Poko (or Point)—offer different experiences for surfers depending on the weather and ocean conditions. Also extremely popular with windsurfers, the beach is the annual home of one of the sport's most prestigious competitions, the Aloha Classic.
#4
Makaha Beach Park
Oahu
Like many great surfing spots in the Islands, the waves off this white sand beach park on Oahu's leeward coast change seasonally. The name Makaha, shared by the sweeping valley behind the beach park, means "fierce or savage" in Hawaiian. It's a word that could also describe the rip currents and shore breaks that are standard features of this beach park in the winter months. Because of the shallow reef at the edge of the break, when the swell is up this spot is for experienced surfers only. Come summer, when gentler waves lap at the beach, scores of body boarders and novice surfers come to enjoy a slightly less fierce Makaha.
#3
Sunset Beach
Oahu
The challenging breaks off Sunset Beach have a long history of ferrying legendary wave riders. The beach is home to the Van's World Cup of Surfing, one of the three jewels in the competitive and prestigious Van's Triple Crown of Surfing series. And, between 1965 and 1985, one of the first surfing competitions to be broadcast on television was also held at Sunset—the Duke Kahanamoku Invitational Surfing Championship. Named for the "father of modern surfing," the invitational counted local legend Eddie Aikau and his brother Clyde Aikau among its winners.
#2
Waimea Bay
Oahu
The giant winter waves that break on the north end of Waimea Bay's crescent shaped cove were instrumental in the creation of the sport of big wave surfing. In fact, it's said that Waimea Bay's big waves went unridden until 1957 because they seemed too big to tackle. Perhaps for this reason, the world's most prestigious big wave surfing competition, the Quicksilver in Memory of Eddie Aikau, is held in Waimea Bay. The competition only runs when conditions are just right—wave heights of at least 20 feet during the holding period—and has only been held eight times in its 30-year history (the last time, pictured above, was in 2009). There's still a chance that the 2014-2015 "Eddie" could see competition in the weeks ahead, the holding period began on Dec. 1 and will runs through Feb. 28.
#1
Ehukai Beach/Banzai Pipeline
Oahu
On the "seven-mile-miracle" of North Shore beaches, Ehukai Beach is a mile south of Sunset Beach and just under two miles north of Waimea Bay. This spot, also known as Banzai Beach, beat its competition by a close margin in our Facebook reader ohana poll. Its home to the legendary Banzai Pipeline, known worldwide for its long, hollow and surfable tubes of breaking water. The shallow reef and charging surf here makes Pipeline also one of the most dangerous waves to surf in the world. Still, many take up the challenge and a number of surfing and body surfing competitions call Ehukai Beach home, including the Billabong Pipe Masters, the final event in the Van's Triple Crown of Surfing.