Top 5 favorite Hawaii towns: HAWAII Magazine Facebook poll results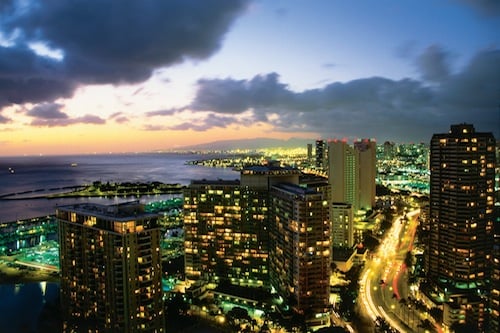 We've counted the votes from our latest HAWAII Magazine Facebook ohana poll question: Which Hawaii town is your favorite? The top vote-getters are on the pages ahead. Our Facebook ohana weighed in with a total of 450 picks for some 60 towns ranging from Paia, a groovy little surf on Maui, to the Big Island's Hilo, the second largest city in the state. By the way, Hilo, touted for its old-school Hawaii homey vibe, and windward Oahu's Kailua — known as an easy-going beach town-suburb — narrowly missed making the top-five cut.
Not already a part of our Facebook ohana? If that's the case, you're cordially invited to take part in on our next poll. Just click here then press the "like" button at the top of our Facebook page. You'll then become part of our HAWAII Magazine Facebook ohana and get our "Hawaii favorite" poll questions as soon as we post them. You'll also get instant updates on your Facebook wall when we post our daily HawaiiMagazine.com stories and features.
We'll be posting our next ohana poll question on HAWAII Magazine's Facebook page in the days ahead. OK, here we go. Here's the top five countdown of our Facebook ohana's favorite Hawaii town.
No. 5

HONOLULU/WAIKIKI, OAHU
Honolulu, or "sheltered bay" in Hawaiian, has served as the capital of the Hawaiian Islands since 1845. Honolulu area covers about 60 square miles in southeastern Oahu. The entire island, however, is designated as Honolulu County. The islandwide population teeters at 950,000 residents. Among the historic landmarks: Iolani Palace, which served as the official home for the Kingdom of Hawaii's last monarchs; the King Kamehameha I statue, which stands in front of the Hawaii State Supreme Court, across the street from Iolani Palace; and the statute of Duke Kahanamoku, "father of modern surfing," on Waikiki's Kuhio Beach. Stretching from Pearl Harbor to Makapuu Point, the Honolulu/Waikiki area is hotspot for arts, culture and entertainment.

No. 4

KAILUA-KONA, BIG ISLAND
This seaside town — once a favorite retreat for Hawaiian royalty — is known as a go-to area for shopping, dinning and learning about Hawaii's cultural past. Among the historic sites is Hulihee Palace. Many of the artifacts there are tied to the era of King David Kalakaua, who ascended to the crown in 1874 and reigned until his death in 1891. Two years later, the Kingdom of Hawaii was overthrown and more than a half-century later, Hawaii became the 50th state in the union 1959. Kailua-Kona is also known as a sports mecca for triathletes. Over the weekend, nearly 2,000 competitors took part in the 34th Ironman Triathlon World Championship, which includes a 2.4-mile swim from Kailua Pier, a 112-mile bike ride along the rugged Kohala Coast, and a 26.2-mile marathon run in the Kailua-Kona area.

No. 3

HALEIWA, OAHU
Haleiwa took its name from a Victorian hotel built in 1898 by businessman Benjamin Dillingham at the North Shore end of his central Oahu railway line. That fancy lodging is long gone, but the sleepy sugar plantation town that sprung up around it is now known as a gateway area to legendary North Shore big wave surf spots, such as Banzai Pipeline (Ehukai) and Waimea Bay. Located about an hour away from bustling Waikiki, Haleiwa is known for its laid-back charm. The town is dotted with a funky mix of boutiques, surf and dive shops, and restaurants. Starting in mid-November, some of world's top male surfers are slated to line up in waters near Haleiwa town for the Triple Crown of Surfing, the Association of Professional Surfing's world championships.

No. 2

HANALEI, KAUAI
This north shore Kauai town seems to inspire all who cross the century-old, single-lane, steel-truss Hanalei River Bridge, which is near the small town's eclectic mix county-style stores, art galleries, eateries and trendy restaurants, boutiques, and adventure-outfitter shops. Surrounded by luxuriant green valleys, rugged cliff faces, and a breathtaking collection of white sand beaches, the area's natural beauty attracts a steady stream of visitors. Hanalei's historic highlights range from the Waioli Mission House, where influential Christian missionaries Abner and Lucy Wilcox lived during the 1800s, to the Hanalei Pier, which was built in 1892 and is still a popular spot for fishing, swimming, and just hanging out. The picturesque pier made an appearance in the 1957 film "South Pacific."
No. 1

LAHAINA, MAUI
Our Facebook ohana selected Lahaina as their favorite Hawaii town. It's said that Lahaina enjoyed 25 years as the capitol of the Kingdom of Hawaii, between 1820 and 1845, simply because King Kamehameha III preferred the small town over Oahu's bustling Honolulu. The monarch knew a great shoreline town when he saw one. Today, Lahaina is less freewheeling and rowdy than it was back then, when it was also the whaling capital of the Pacific. Lahaina now offers an appealing mix of shops, eateries, art galleries and boutiques. Its historic district features glimpses at Lahaina's plantation era architecture as well and stunning views from Front Street across the Auau Channel to Lanai. During winter months, whale-watching tours set sail from Lahaina Harbor.