Top 5 favorite Maui swimming beaches: HAWAII Magazine facebook poll results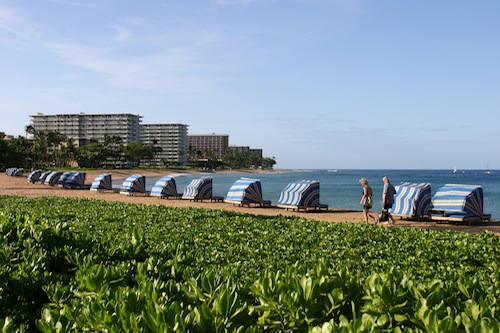 We've counted the votes from our latest HAWAII Magazine facebook ohana poll question: What's your favorite Maui swimming beach? The top vote-getters are on the pages ahead.
Not already a part of our facebook ohana? If that's the case, you're cordially invited to take part in on our next poll. Just click here then press the "like" button at the top of our facebook page. You'll then become part of our HAWAII Magazine facebook ohana and get our "Hawaii favorite" poll questions as soon as we post them. You'll also get instant updates on your facebook wall when we post our daily HawaiiMagazine.com stories and features.
We'll be posting our next ohana poll question on HAWAII Magazine's facebook page in the days ahead. OK, here we go. Here's the top five countdown of our facebook ohana's favorite Maui swimming beach.
No. 5

NAPILI BEACH
Situated just a few miles south of West Maui's Kapalua area (pictured, top), the Napili Bay's beach area (pictured, above) is a crescent of sugary sand edging a gentle shorebreak that's often perfect for swimming, snorkeling, body surfing and body boarding.

No. 4

KAPALUA BEACH
Kapaula's shoreline on the northwest side of Maui features three white-sand beaches and five bays. Kapalua Bay is protected by two reefs that form a C-shaped cove, which is usually ideal of snorkeling. Situated near the base of the Kahalawai mountains, Kapalua is a popular resort area.
No. 3

KIHEI BEACH
South Maui's Kihei beach is a series of beaches, coves and tide pools along a six-mile stretch of the Kihei coastline. Altogether, the island includes 120 miles of coastline, including 30 miles of beaches.
With golden sands lining two-thirds of one mile on Maui's southwestern shoreline, Makena Beach ("Big Beach"), is one of the largest beaches on the island. Its width is about 100 yards. Sheltered from trade winds by black-lava outcroppings, the area's waters are suited for snorkeling. The beach also offers views of Molokini and Kahoolawe.
No. 1
KAANAPALI BEACH, BLACK ROCK
Kaanapali Beach, a mile-long expanse of white-sand, is situated a few miles north of West Maui's Lahaina. Dotted with hotels and condos (dominated by the Kaanapali Resort), on most days (during the hours before the sun starts sinking behind the waves), the beach is decked with sunbathers and swimmers. Besides some of the best waters for snorkeling on Maui, there's the entertaining evening pastime of watching a diver leap into the ocean from 40-foot-high Black Rock (Puu Kekaa) in a re-enactment of a feat by Maui's revered King Kahekili.