Top 5 favorite scenic spots on Kauai: HAWAII Magazine facebook poll results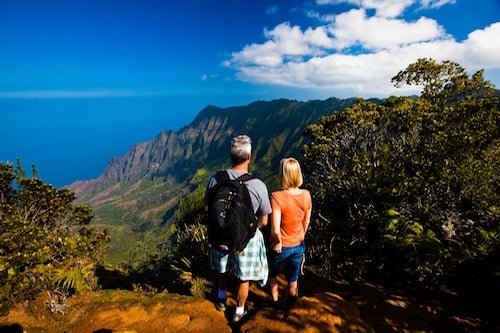 We've counted the votes from our latest HAWAII Magazine facebook ohana poll question: What is your favorite scenic spot on the Garden Isle. The top vote-getters are on the pages ahead.
Not already a part of our facebook ohana? If that's the case, you're cordially invited to take part in on our next poll. Just click here then press the "like" button at the top of our facebook page. You'll then become part of our HAWAII Magazine facebook ohana and get our "Hawaii favorite" poll questions as soon as we post them. You'll also get instant updates on your facebook wall when we post our daily HawaiiMagazine.com stories and features.
We'll be posting our next ohana poll question on HAWAII Magazine's facebook page in the days ahead. OK, here we go. Here's the top five countdown of our facebook ohana's favorite scenic spots on Kauai.

Tucked into the often cloud-dotted highlands of Kauai's northwest side, Kalalau Lookout overlooks the much-photographed saw-toothed ridges of the Kalalau Valley, which edges the Napali Coast. (Kalalau is one of few valleys on the remote Napali Coast that you can see without having to take a helicopter tour, a boat ride or hiking trail.) If the clouds are blowing by with the trade winds, there's also a view of the shoreline's Kalalau Beach. The drive to this scenic spot is about 4 miles beyond the Kokee History Museum, which is upslope from Waimea Canyon. There are hiking trails near the lookout, too. If you're up for a hike to various other lookout points, stop by the history museum, where you can find out about conditions on 17 designated trails that cover a total 45 miles.

Situated on a remote stretch of Kauai's western end and bordered to the north by the west end of the legendary Napali Cliffs, Polihale Beach features a 7-miles stretch of white sand beach. Sand dunes along the beach can reach heights of nearly 100 feet. From the beach area, which is known for frequent hot and cloudless weather, you can see Niihau. A rutted dirt road leads to 140-acre Polihale State Park, which includes picnic shelters and a camping area. No lifeguards. (The shoreline water level drops rapidly, and rip currents are especially strong during winter months.) The park is located to the north of the Pacific Range Facility. Road access to Polihale Beach is from the town of Kekeha.
Hawaii's "Grand Canyon of the Pacific," which is 10 miles wide and 3,000 feet deep, owes its distinct beauty to natural events that occurred in one volcanic moment, then slowly over millions of years. Four million years ago, as steady volcanic activity from the Kauai's dominant peak Mount Waialeale was still growing the island, a huge section of land collapsed creating a massive depression. Fresh lava filled the depression until Kauai's eruptive life ended. A near-constant flow of rainwater coursing down the Waimea River from Waialeale's peak—one of the wettest places on earth —help turn young, freshly- exposed lava rock from black to bright and deep reds. Visitors can take in the views by way of helicopter ride, Waimea Canyon State Park hiking trails or at a handful of popular lookouts perched on its edge.

This secluded 17-mile stretch along Kauai's north shore provides enchanting views of boundless ocean, deep narrow valleys, and opulent green cliffs. Unlike many of Hawaii's other coastlines, this one is accessible by land only through the Kalalau Trail, a rigorous 11-mile hiking trail. At the end of the trail, hikers get to sink their toes into the white sand of Kalalau Beach. While non-hikers cannot get to the coast in an automobile, they can enjoy the breathtaking beauty of the Napali area by way of boat tours, guided kayaking trips, and air tours.
We asked and you let us know. Our facebook ohana selected Hanalei as their favorite scenic spot on Kauai. Surrounded by luxuriant green valleys, rugged cliff faces, and a breathtaking collection of white sand beaches, this north shore area's world-class natural beauty attracts a steady stream of visitors. Some votes for Hanalei specified spots including Hanalei Bay Beach Park, Hanalei Valley Outlook, area taro fields, and the Hanalei Pier (pictured, above), which was built in 1892 and is still a popular spot for fishing, swimming, and just hanging out. The picturesque pier made an appearance in the 1957 film South Pacific.