Top 5 Hawaii places Travelocity's Roaming Gnome should visit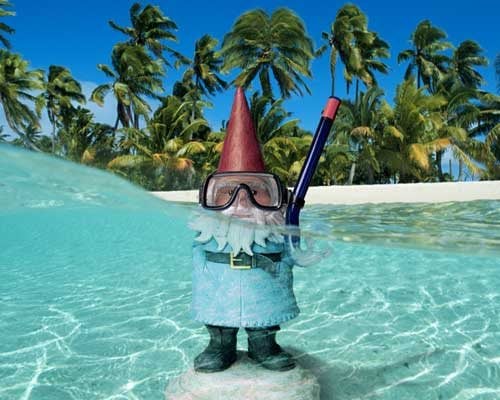 Do ceramic gnomes prefer poi to sticky rice? The summit of Haleakala to the white sands of Wailea? Surfing to hula?
These will likely be among the many questions answered today when online travel agency Travelocity's Roaming Gnome arrives in Hawaii for a tour of the Islands.
Fans of Hawaii had been voting in an online poll since July 22 to make our state the latest stop on the Travelocity mascot's "Summer of Possibilities" publicity tour. After a week-long match-up pitting Hawaii against Cancun and Jamaica, Hawaii was announced the winning Roaming Gnome vacation spot yesterday with 46 percent of the vote—56,470 votes total. Cancun was a close second with 52,057 votes. Jamaica, we're told, was never really in the race.
The benefit for Hawaii from the little dude's visit? Whatever national attention is generated by a semi-iconic traveling corporate gnome posing next to well-known Hawaii landmarks.
Travelocity will be sending its gnome—fresh from a few days roaming the tour's last winning locale, Philadelphia, PA—around the Islands for photo ops at scenic Hawaii spots, perhaps having him participate in a few time-honored Hawaii activities.
Updates on the Roaming Gnome's Hawaii travels will be posted on his much-followed official homepage, Facebook and Twitter pages. (Yes, the gnome's a social networking addict.) A visit to a traditional hula show is already scheduled for the gnome and his—no kidding—personal assistant. But fans can still leave suggestions for Hawaii photo stops at any of the gnome's above Web pages.
Because HAWAII Magazine would never pass up an opportunity to help a first-time Hawaii traveler in need of some guidance, we figured we'd offer the dwarfish sojourner some travel suggestions, too. So here's a Top 5 list of Hawaii places and activities we'd recommend to a ceramic gnome hoofing it across the state with a photographer in tow.
E komo mai!
1. A hike to the top of Diamond Head Crater, Oahu. One guesses the little guy would look remarkably larger of stature standing at the crater's pinnacle with a backdrop of Waikiki and urban Honolulu (photo, middle) behind him. Suddenly big gnome in the foreground. Suddenly small buildings in the distance.
2. A bowl of saimin with grilled teri-beef sticks at Hamura Saimin, Lihue, Kauai. A gnome's gotta eat … we think. So when he's done with a long day taking in Kauai's scenic beauty, we'd recommend he consider posing next to a large bowl of Hamura's famed noodles in broth and the state's best teri-beef sticks. It's always better to eat where the locals eat.
3. Kilauea Volcano, Big Island of Hawaii. We're thinking photos at the Halemaumau Crater overlook and a few snaps right on the Puna coastline where molten lava still enters the ocean. We hear gnomes dig forces of nature.
4. Iao Needle, Iao Valley State Park, Maui. Juxtaposing the gnome's red pointy hat with the lush, towering natural rock pinnacle? Genius.
5. Lanikai Beach, Kailua, Oahu. We're seeing a pic of the gnome enjoying one of the best white sand beaches on Oahu, while contemplating a view of the just offshore Mokulua Islands. Look at the gnome-less Lanikai Beach pic above and just imagine the possibilities.