Top 5 things to do in Waimea, Hawaii Island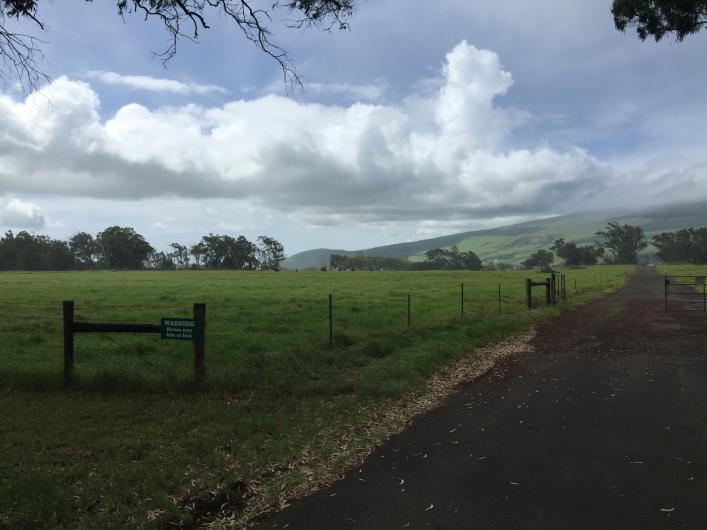 Hawaii Island's Waimea—also called Kamuela to distinguish it from the places on Oahu and Kauai with the same name—is big sky country, where electric green pasture lands surrounded by cactus-lined fences enclose herds of grazing cattle. A rodeo arena sits just south of town and a red-barn theme extends to even buildings housing chain stores. Wander through this charming town, and you'll find it's a place that could only exist in Hawaii—a vibrant community brimming with independent businesses, trendy residents, some of the best farmer's markets on the Island, great dining and a deep-seated paniolo (Hawaiian cowboy) history. Here are five things to try next time you pass through.
1. Every Wednesday local vendors set up shop for the Mid-Week Farmer's Market at Pukalani Stables, turning former stables and horse yard into a happy local meeting place. Delicious area produce is packed alongside homemade soaps and jams, locally gathered honeys, expertly crafted baked goods and coolers of Big Island grass-fed beef steaks. And if that's not enough to entice you, the stable's interior—home to the Paniolo Heritage Center, an impressive collection that includes the Paniolo Hall of Fame, intricately detailed saddles, bridles, spurs, rawhide whips and more—is free to wander through on market days. Wednesdays from 9 a.m. til 4 p.m., 67-139 Pukalani Rd.
2. I love to shop and Waimea did not disappoint. Parker Shops, a two story red wooden complex off Kawaihae Rd. houses some of the best boutiques in town. You can easily spend an hour in the The Gallery of Great Things, a curation of art and oddities including koa wine corks, pottery, opihi (limpet) shell necklaces, rugs, baskets and more—owner Maria Brick says, "We have more things than places to put them." Further down the walkway is Sweet Wind Books & Beads specializing in books on happy living—from tomes by the Dalai Lama to vegan cookbooks to meditation and feng ghui guides—as well as impressive collections of incense and global beads. Amazing customer service as well as modern and trendy clothes, shoes and accessories can be found at Hula Moon Boutique. And, when you're ready to rest your feet, enjoy one of the many delicious drink options at the Waimea Coffee Company. Still not done? There's more great finds across the street including zany and nostalgic antiques at Antiques By….
3. The Isaacs Art Center is an impressive museum-like gallery of fine art. Some is just for visitor enjoyment—and admission is free—but much of it is for sale with proceeds benefiting the Hawaii Preparatory Academy; its Village Campus is next door. The bright rooms of this arthouse includes everything from koa wood furniture, Asian-inspired giclee prints, Niihau shell necklaces (some going for as much as $10,000), and retrospective collections of miniature artist Martha Greenwell and colorful Hawaiian art deco muralist Madge Tennent. 10 a.m. til 5 p.m. Tues.-Sat. • 65-1268 Kawaihae Road, Kamuela Hi 96743
4. Run wild in the secret green space of Waimea Nature Park, located down a dirt road at the end of Ulu Laau Street. This 10-acre state land project of Waimea Outdoor Circle features free community WiFi, picnic tables and a drinking fountain. Because it is also dog friendly, the park has become a popular picnic spot for locals. The area's historic name—Ulu Laau—roughly translates to "garden of trees," and is an apt one for the modern project that has replanted 36 types of native groundcover, trees and shrubs since 2000. Look for koa, ohia and more.
5. When you're ready for a bite, stop into Village Burger to sink your teeth into some delicious pasture-raised Big Island beef and lamb. The company has been supporting area farmers and ranchers since it opened at the Parker Ranch Center several years ago, and has been voted among the top burgers in the country by TripAdvisor. No wonder. All patties are formed in-house daily and are cooked to order. The Hamakua Mushroom Burger and Waipio Taro Burger are popular options for our non-meat eating friends. 10:30 a.m.-8 p.m., 67-1185 Hawaii Belt Road.