Top Five snorkeling spots in the Islands: HAWAII Magazine Facebook poll results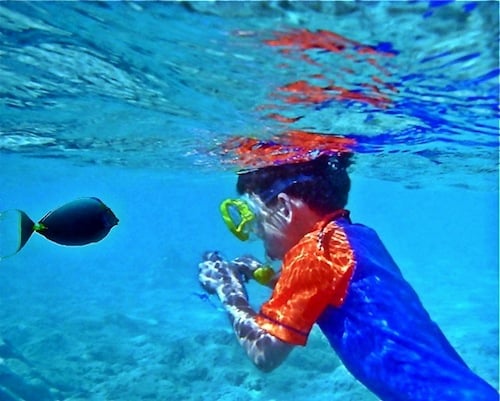 We've counted the votes from our latest HAWAII Magazine Facebook ohana poll question: Where's your favorite Hawaii snorkeling spot? The top five vote-getters are on the pages ahead. Our in-the-know ohana weighed in with votes for a total of more than 35 different shoreline areas in the Islands. Mahalo for the poll picks!
If you're not already a part of our Facebook ohana, you're cordially invited to take part in on our next poll. Just click here then press the "like" button at the top of our Facebook page. You'll then become part of our HAWAII Magazine Facebook ohana and get our "Hawaii favorite" poll questions as soon as we post them. You'll also get instant updates on your Facebook wall when we post our daily HawaiiMagazine.com stories and features.

We'll be posting our next ohana Poll question on HAWAII Magazine's Facebook page in the days ahead. OK, here we go. Here's the top five countdown of our Facebook ohana's favorite Hawaii snorkeling spots.
No. 5
KE'E BEACH, KAUAI
When conditions are good for snorkeling, the reefs edging Ke'e Beach, along Kauai's north shore, are a popular destination for visitors toting fins and snorkels. The beach is situated at the end of Highway 560, within Haena State park and near the trailhead for the rigorous 11-mile Kalalau Trail, which winds into the Na Pali Coastine.
No. 4 (tie)
KA'ANAPALI BEACH, MAUI

This mile-long expanse of white-sand beach on Maui's west side — a few miles north of the old whaling town of Lahaina — is dotted with hotels and condominiums. Among Ka'anapali's best spots for snorkeling: around 40-foot-high Black Rock (Puu Kekaa). Its underwater lava rock ledge is known as a honu hangout area.

HONOLUA BAY, MAUI
Situated on the northwest shore of Maui, Honolua Bay is part of the Mokuleia Marine Life Conservation District. The bay boasts a large variety of fish and coral formations. Snorkeling is best during calmer summer months. During winter's high-surf season, pro surfers take on powerful waves there for a payoff of very long rides.
No. 3
KEALAKEKUA BAY, BIG ISLAND
Kealakekua Bay is a Marine Life Conservation District, located about 12 miles south of the Kailua-Kona area. It's known as an excellent spot for snorkeling, suba diving and kayaking. Capt. James Cook sailed into the bay in 1779 — one year after he had made his mark as the first European explorer to establish contact in the Islands. Cook was killed here during a clash with Hawaiians. Kealakekua Bay State Historical Park memorializes Cook's death with a white obelisk.
No. 2 (tie)
MOLOKINI, MAUI COUNTY
Molokini, a state Marine Life and Bird Conservation District, is located three miles off of Maui's southwestern coast. The islet's crescent shape protects snorkelers and divers from waves and strong currents. The crater is reportedly home to more than 250 marine species and 38 "hard" coral species.

TUNNELS BEACH, KAUAI
Tunnels Beach, also known as Mauka Beach, is located along Kauai's north shore, near Haena Beach Park. In addition to great snorkeling in shallow inner reef areas and tougher-to-navigate outer reefs, there's a view of Makana Peak, which was dubbed "Bali Hai" for the movie South Pacific (1958).
No. 1
HANAUMA BAY, OAHU
Our Facebook ohana selected this ever-popular, circular-shaped shore on Hanauma Bay, near the southeast tip of Oahu, as their favorite snorkeling spot. Hanauma Bay is both a nature preserve and a marine life conservation district. An estimated 400 species of fish reside in its typically gentle waters. In addition to enjoying a bit of swim time with the marine life, it's important for visitors to do their part in helping to preserve the bay's delicate ecosystem. At Hanauma Bay, and at snorkeling spots throughout the Islands, please do not touch the sea creatures and coral. Also, make sure that you don't leave litter on the shorelines. Aloha!