Top Places to Visit in Haiku on Maui's North Shore
Just up the road from Paia, Haiku keeps visitors and locals coming back with its country appeal, delicious restaurants and natural beauty.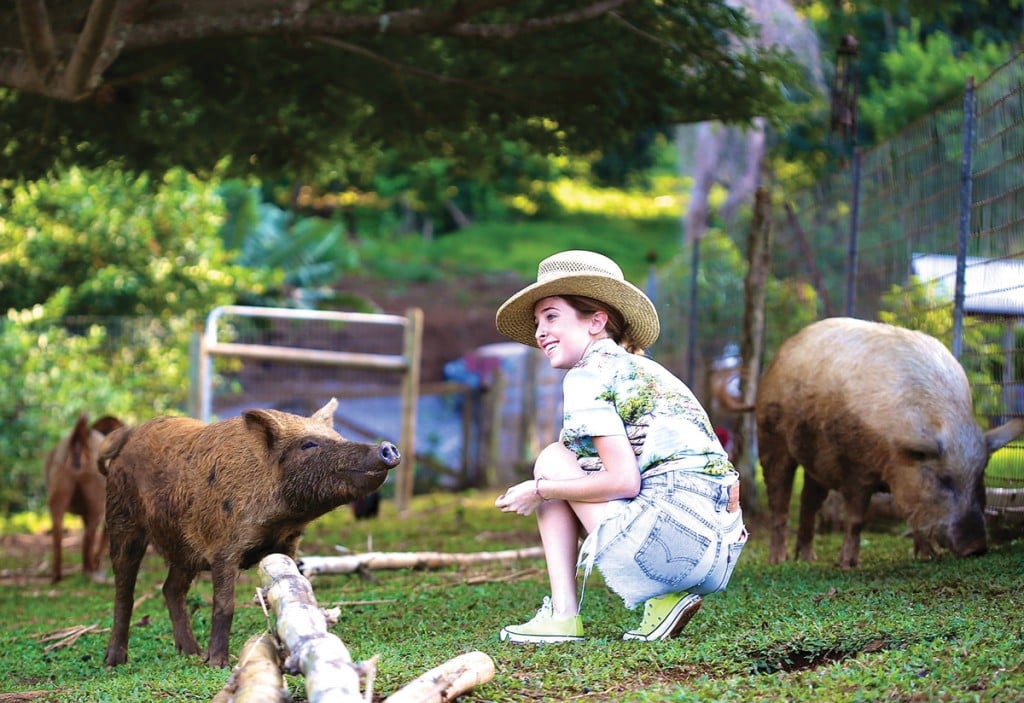 On the surface, Haiku may seem like any other adorably quaint Maui town, with its open dirt roads occupied by rusted pickup trucks packed with surfboards, and its family-run farms and roadside produce stands. A stone's throw away from Paia and Hookipa Beach on the north shore, Haiku surprises travelers with more than just its country charm.
Old World Wonder
There's something magical about Haiku Mill. Maybe it's the historic European architecture, beautifully adorned with overgrown vines and greenery, or maybe it's the picture-perfect weddings that occur here on the regular. Whatever it is, visitors can see it for themselves on a dreamy botanical tour of the once-abandoned sugar mill, which houses tropical flora and 55 different species of plant life. 250 Haiku Rd., (808) 575-9994, haikumill.com.
Find a Furry Friend
A paradise for humans and animals alike, the Leilani Farm Sanctuary is home to a variety of farm animals, such as donkeys, ducks, goats and cows, many of which have been rescued or adopted by the sanctuary. Visitors can participate in an hour-long tour that includes an opportunity to explore the farm, which also doubles as a botanical garden, learn about the land's history and most importantly, cuddle up to some of its fluffy residents. 260 E Kuiaha Rd., (808) 298-8544, leilanifarmsanctuary.org.
Sensational Sushi
Rainbow-colored sushi might seem odd, but don't shy away from the colorful cuisine served at Nuka, known for its carefully crafted specialty rolls. Each roll comes out of the kitchen looking like a piece of art. From the almost too-cute-to-eat design of the Caterpillar Roll, which uses slices of avocado for the body and bean sprouts standing in as antennas, to the highly photogenic Rainbow Roll, covered in red, green and yellow caviar. 780 Haiku Rd., (808) 575-2939, nukamaui.com.
Small Businesses, Big Personalities
Originally a pineapple cannery in the mid-20th century, Pauwela Cannery is now home to a slew of Haiku small businesses: The Baked on Maui café has freshly made breads and delicious cups of joe, and the Pauwela Store is a newly opened grocer that sells healthy, locally grown produce. Also, find new threads at Da Kine Hawaii, and if you're in need of a new surfboard, you're in luck as well-known Maui shaper Matt Kinoshita's shaping bay and showroom are located right beside the cannery. 358 W Kuiaha Rd.
Two falls are Better than One
The first major attraction on the Road to Hana, Twin Falls is a pair of waterfalls right on the edge of Haiku. Easy to reach, Twin Falls is a short hike from the road. Simply follow the well-defined path just past the crowded coconut stand; once you reach a fork in the road, head left. After climbing down a short hillside, you'll be met with two flowing falls. 6300 Hana Hwy.