Top pro windsurfers slated to compete in prestigious Maui Makani Classic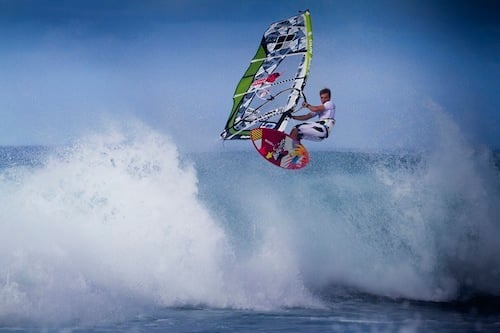 The American Windsurfing Tour's Maui Makani Classic — ranked among the sport's most prestigious competitions — is slated to begin tomorrow (Thurs., Oct. 25) in the waters edging Hookipa Beach Park, on Maui's north shore. The Hookipa area is considered ideal for windsurfing because of its large, well-shaped waves and strong winds.

The competition, which will continue through Sat., Nov. 3, is expected to showcase scores of pro watermen, including last year's winner Camille Juban (pictured, right), and Maui resident Levi Siver.
Known as the "King of Style," Siver has come a long way from his hometown in Idaho to his current status as one of the best in the sport. Recently, Siver won American Windsurfing competitions in Santa Cruz, Calif., Pistol River, Ore. and San Carlos, Baja (Calif.). Juban (France) began surfing as a young boy, after his family moved to the Caribbean island of Guadeloupe. Juban has collected recent competition wins in Peru and Hatteras (cape on the coast of North Carolina). Last year, he became to first French competitor to win the Maui Makani Classic.
In addition to the male pros, the Maui Makani Classic will feature competition divisions for women and youth. In addition, the event will include "family combos," during which multiple generations will hit the waves together. For more information about the Maui Makani Classic, click here.