Top Things to Do in Haleʻiwa
From beachy boutiques to excellent burgers and more, Haleʻiwa is a visitor fave on Oʻahu's North Shore for a reason.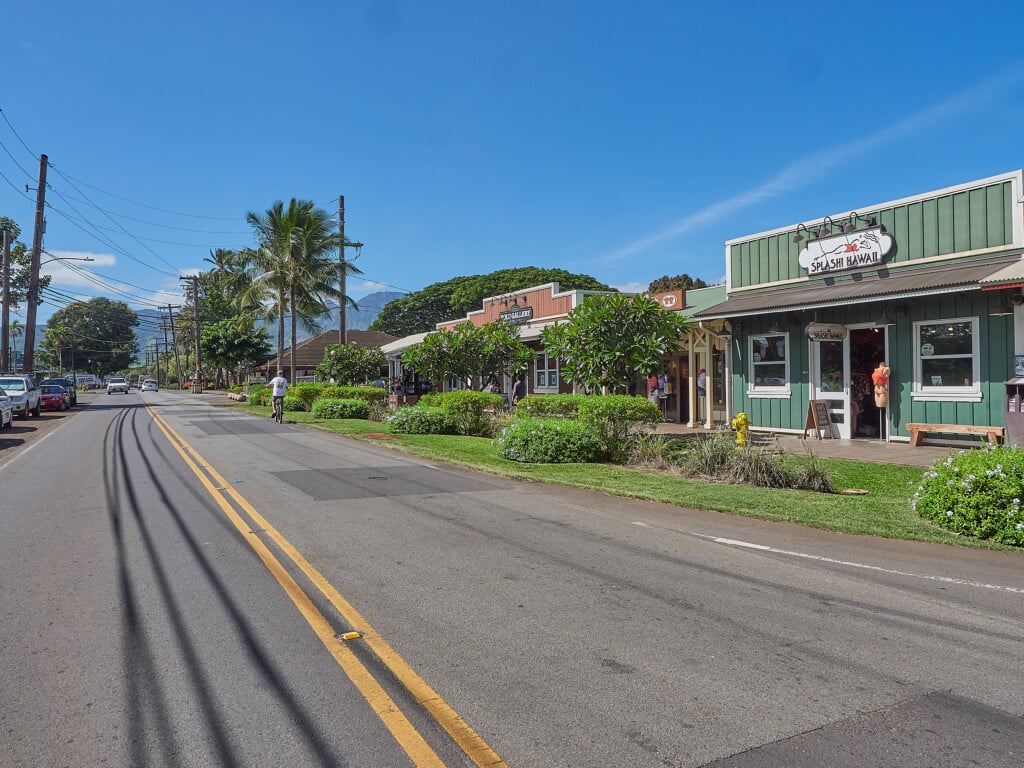 The unofficial capital of Oʻahu's North Shore, Haleʻiwa epitomizes the perfect beachside town. With a vast array of small, locally owned boutiques, a selection of eateries to fill the empty stomach of beachgoers and surfers alike as well as activities to do in the town itself, there's a reason why locals and visitors love Haleʻiwa.
1. Check Out the Shops
There are two major collections of stores in Haleʻiwa, Haleʻiwa Store Lots and North Shore Marketplace, both of which have a great selection of retail shops, boutiques and galleries to choose from. Standouts at the Haleʻiwa Store Lots include the Clark Little Gallery (66-111 Kamehameha Hwy #102)—which features some of the artist's best captures of Hawaiʻi's shorebreak—and the Polu Gallery (66-96 Kamehameha Hwy), a vendor and curator of local Hawaiʻi artists. Barnfield's Raging Isle (6-250 Kamehameha Hwy B) at the Northshore Marketplace has everything you could ask for when it comes to beachwear and also features a selection of surfboarding and skateboarding supplies.
2. Do a Photo-Op with the Haleʻiwa Sign
One of the top things to do in Haleʻiwa is to snap a picture with the Haleʻiwa sign, located on the side of Kamehameha Highway going towards Sunset. It's been a favorite tradition amongst visitors to do for decades, and for good reason. The signs feature a smiling surfer—the one closer to Sunset and Pupukea is female, while the one closer to Haleʻiwa on the bypass road is male—and Haleʻiwa is portrayed in a whimsical font and fashion.
READ MORE: North Shore's Famous Haleiwa Signs Have a Sad, Heartfelt and Complicated Story
3. Rent a Surfboard from Surf N Sea
One of the state's most popular surf shops, Surf N Sea (62-595 Kamehameha Hwy.) has been on the North Shore for decades. At this point, the store's become an icon on Oʻahu, a seemingly permanent fixture in Haleʻiwa. And it's a great place to go if you're looking to rent a surfboard and hit the waves. While most breaks on the North Shore aren't suited well for beginners, Puaʻena Point—located just out front of Surf N Sea—is a rare exception. Even on days with big swell hitting on surf spots, Puaʻena Point stays small and friendly for those just getting their feet wet with surfing.
4. Kick it at Haleʻiwa Beach Park
If you're just looking to lay on some warm sand and listen to the sounds of the ocean, check out Haleʻiwa Beach Park. If you're driving out of Haleiwa and towards Pupukea, Haleʻiwa Beach Park will be roughly a mile past Surf N Sea on your left. A long stretched-out coastline, the beach park has more than enough room for visitors and locals to find their space in the sand. Or, you can also enjoy the day at the sizeable park and picnic area also located at the beach park. And with bathroom facilities, a playground and ample parking, Haleʻiwa Beach Park is perfect for families with keiki (kids).
5. Paddle up the Anahulu Stream
With emerald green waters stretching 3 miles from the coast of Haleʻiwa and into Waialua, the Anahulu Stream carries kayakers and stand-up paddleboarders through verdant valleys, under bridges and past luxurious country homes with sea turtles lounging here and there along its banks. If you don't have a kayak or stand-up paddleboard, find a nearby shop, such as Surf N Sea, to rent equipment.
Like Surf N Sea, Matsumoto Shave Ice (66-111 Kamehameha Hwy. #605) is a perennial favorite on Oʻahu's North Shore and has been around for a long, long time. Slinging shave ice in a variety of flavors, from strawberry to vanilla and even li hing mui and lilikoʻi (passion fruit), getting shave ice from this fabled location is one of the best things to do in Haleʻiwa, especially on hot days or after a morning at the beach. Of course, there are other shave ice shops in Haleʻiwa if the line at Matsumoto Shave Ice scares you away, such as Aoki's Shave Ice (66-082 Kamehameha Hwy.) and Kaimana's Shave Ice (66519 Kamehameha Hwy.).
7. Park Your Car and Take a Walk
One of the best things about Haleʻiwa is that the town really isn't large and is best enjoyed on foot. Walking from the parking lot at the North Shore Marketplace to Matsumoto Shave Ice, which is essentially on the other end of the town, is only half a mile—or a ten-minute—walk, and you'll see so much more on foot than you would if you were to drive from location to location. Whether it's the small roadside shell shop or the cute bikini outlet, these little gems are absolutely worth exploring and finding for yourself.
8. Indulge at the North Shore Shrimp Trucks
Shrimp trucks are a favorite place to grab lunch amongst visitors and locals on the North Shore, and some of the Oʻahu's best can be found right in the heart of Haleʻiwa. From Giovanni's Shrimp Truck (66-472 Kamehameha Hwy.) to Big Wave Shrimp, (66-521 Kamehameha Hwy.) there are more than enough options for folks to choose from, and they're all within walking distance of one another—and they're all really, really good.