Top Things to Do in Kailua-Kona
From snorkeling with manta ray to visiting historic parks, there's so much to do in Kailua-Kona.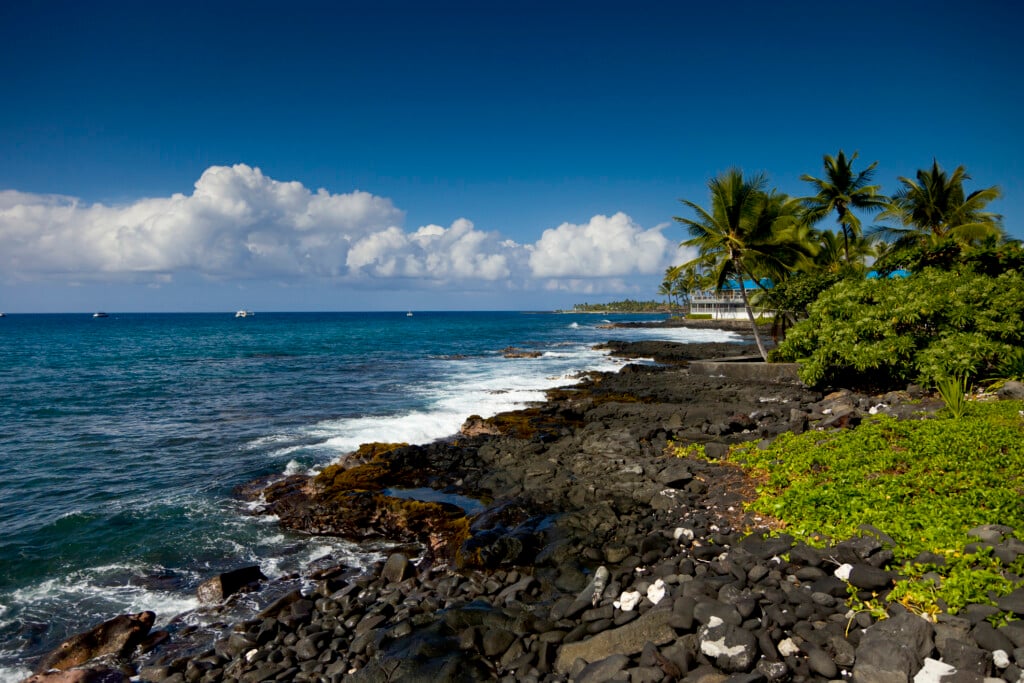 On Hawaiʻi Island, Kailua-Kona—often referred to as Kona—is one of the island's best towns to visit for travelers and neighboring island locals looking to get away. Things to do in Kailua-Kona are endless, from visiting world-class coffee farms to hiking in forested nature trails and learning more about Hawaiian history.
1. Check Out Kailua Beach
We know what you're thinking, but no, it's not that Kailua Beach. (The one on Oʻahu's windward side of the island.) This Kailua Beach, located by the Old Kona Airport State Recreation Area is much more relaxed. With fewer bodies on the sand, there's ample room here to lay out your towel and soak in the sun.
2. Swim with Manta Rays
One of the best things to do in Kailua-Kona is to book yourself a night-time snorkeling adventure to see manta rays up close and personal. These gentle giants love feeding on plankton right off the coast of Kona and can grow up to 15 feet from wing tip to wing tip. Tour companies like Anelakai Adventures provide visitors and locals with an eco-conscious method of seeing the manta with its double-hulled canoe—and yes, they're powered entirely by paddle power.
Book a tour with Anelakai Adventures by calling (808) 987-0377 or going to its website.
3. Find Peace and Quiet at this Secret Fishpond
More often than not, the journey to a truly hidden gem starts on a small, bumpy dirt road. That applies to the bay that borders Kaloko Fishpond in Hawai'i Island's Kailua-Kona district. The area has many small, glassy little tide pools and a few picnic tables, often unoccupied. Located at the end of the Ala Nui Kaloko, an unpaved dirt road that, in 'ōlelo Hawai'i, translates to "path to Kaloko," the hideaway bay is a perfect place to enjoy the ocean's natural soundtrack, undisturbed.
To reach Kaloko Fishpond, turn onto Ala Nui Kaloko off Queen Ka'ahumanu Highway, across the street from the Kailua-Kona Costco. For more information, visit nps.gov/kaho/index.htm
4. Learn About Hawaiian History at this Historic Park
Kaloko-Honokōhau National Historical Park—a beautiful coastal park—isn't just known for its good looks. The site was once a settlement for ancient Native Hawaiians, and their presence is still felt. From actual ruins to a meticulously recreated hale (house), you can learn so much about Hawaiʻi's native culture by just taking a walk down this scenic shoreline, and the visitor's center has additional information on guided tours and special programs.
Kaloko-Honokōhau National Historical Park is located five miles south of the Ellison Onizuka Kona International Airport at Keāhole. The visitor's center is open from 8:30 a.m. to 4 p.m. daily.
5. Indulge in a Cone of Ululani's Hawaiian Shave Ice
A local chain that got its start on Maui, Ululani's Hawaiian Shave Ice has since expanded to Oʻahu and Hawaiʻi Island, with one of its locations being right in Kona. Flavors range from classics to extremely local. We're talking visitor favorites like strawberry, lemon and vanilla to wild ones such as Thai tea—I've never seen that one before—li hing mui, tiger's blood, habanero mango and more. There are premade sets or you can pick up to three for your own concoction, and don't worry, whatever you decide on will taste fantastic.
6. Hike the Makāula 'O'oma Trail
Created over 30 years ago, the Makāula 'O'oma Trail network can be found in a small portion of the Honua'ula Forest Reserve, which protects a large tract of native cloud forest at elevations above 3,000 feet on the slopes of Hualālai volcano, uphill from Kona. The trail is a wonderful way to explore Kona's greener side, and you can hear all sorts of native and indigenous bird calls during your visit. Be sure to stay on the trail, however, as private property butts up to both sides of the path and it's easy to accidentally trespass.
From Highway 190, turn mauka (uphill) between the 34 and 35-mile markers onto Kaloko Drive. Follow Kaloko Drive for almost 4 miles and turn left onto Makahi Street. Drive to the end of this dead-end street and park near signs for the trailhead.

7. Take a Caffeinated Coffee Tour
Known around the world for its Kona coffee brands of coffee beans, visiting a local coffee farm in Kona is a must. And some farms, like Mountain Thunder Coffee, offer free tours of their coffee-making production. More often than naught, you'll get free samples of freshly made—and grown—coffee on these excursions as well. And if you really like what you're tasting, there's no better place to buy a bag of freshly grown coffee beans than the place where they were just grown.
Book a tour with Mountain Thunder Coffee on their website or call (808) 443-7593.