Top Things To Do on Haleakala
Visiting Maui's Haleakala volcano is a can't miss experience for all these reasons.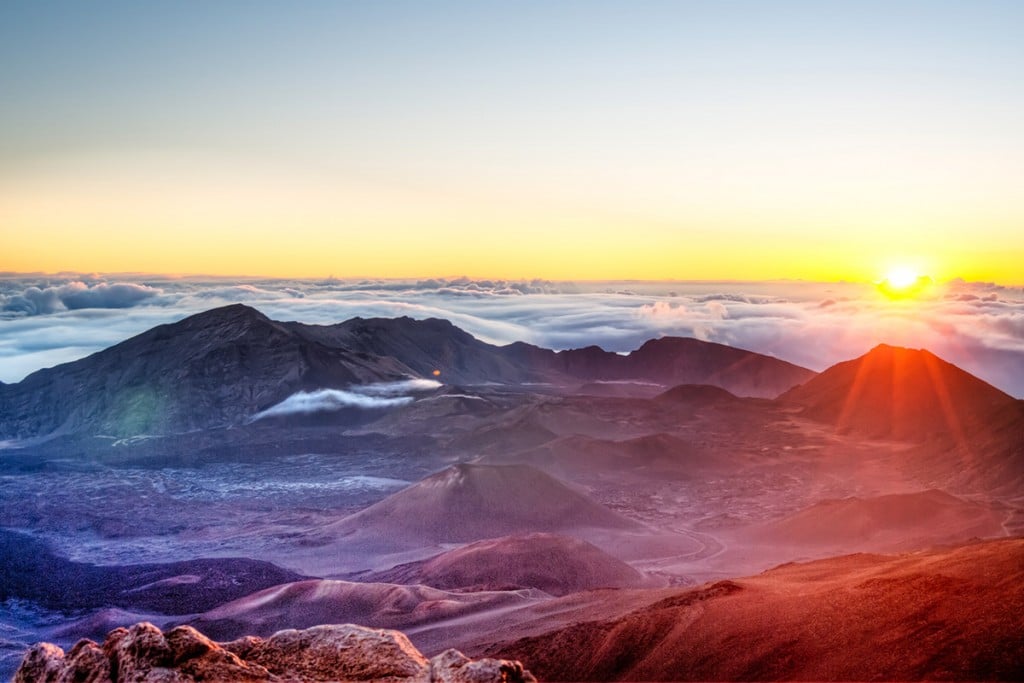 The volcano is the first part of Maui you see through the airplane window, and while driving through Kihei, Wailea, or Paia, it occupies half of the sky. It calls to you from down at sea level, just begging to be explored, so if you do end up visiting the "House of The Sun" on your next trip to Maui, here are some top things to do on Haleakala to make the most of your visit.
Watch the Sunrise
Yes, it's crowded, and yes, it's cold, but from the moment the first rays of orange begin to tickle the eastern horizon, you realize you're witnessing nature's raw beauty, and the early wake-up was worth it. That said, considering sunrise atop Haleakala has become such a popular activity, the National Park service has instituted a system that requires visitors to make advance reservations, which can sell out weeks in advance.
Couldn't Get Reservations? Visit for Sunset Instead
While sunset might seem like the "backup" option if you can't get sunrise reservations, some might argue that sunset is actually the better time to visit. The crowds are smaller, it's a little bit warmer, and you don't have to wake up at 3 a.m. to experience the mountaintop colors.
Stay and Watch the Stars Come Out
Whether you've already spent the day hiking in the park or are only visiting for sunset, linger past dark and you're treated to a display of thousands of twinkling stars. You can pack a blanket, bundle up, and lie on the hood of your car, or book a tour with Maui Stargazing for a full-service tour of the sky.
Search for the Brocken Spectre
There are only three places where you can see this phenomenon: Germany, Scotland and Maui. In this brief but captivating natural occurrence, your shadow is emblazoned on a patch of fog that's surrounded by circular rainbows. It requires specific atmospheric conditions and the perfect angle of sunlight, but if you visit the Leleiwi Overlook in the hour just before sunset, this perch at 8,800 feet can often have the exact conditions for painting your shape on the clouds.
Protect Yourself from the Cold
If you didn't think you'd need your jacket in Hawaii, you might want to think again. To visit Haleakala at sunrise or sunset, you need to pack clothes that will keep you warm in wind chill of 20 degrees Fahrenheit. Snow and ice are possible in winter, and it's definitely a buzzkill when you drive to the top but are too cold to get out of the car.
Lace Up Your Boots
From the half-mile loop at Hosmer's Grove to the 12-mile trek through the crater, Haleakala has over 30 miles of literally breathtaking trails. Rather than simply driving up for sunrise and then turning right back around, consider packing along some shoes and crunching across trails where cinder cones burst with earthy shades of umber. For an off the beaten path adventure, pack a tent and hike through the crater to one of the backcountry campgrounds.
Go All the Way To the Summit
While true peak baggers will naturally want to make it to the top of the mountain, the majority of visitors stop at the crater overlook at 9,800 feet. To be fair, that's the best viewing spot for sunrise, but the sunset viewing is actually much better if you drive all the way to the summit.
Keep an Eye Out For Nene
The nene (Hawaiian goose)—Hawaii's state bird—was reintroduced to Haleakala Crater in 1962. At the time, the global population had dropped to only 30 birds, but thanks to captive breeding programs and successful reintroductions, it's now believed that close to 300 nene geese call Haleakala home. To ensure the success story keeps rolling on, be sure to watch out for nene on the road, and always hike on marked trails.
Stop at The Visitor Center To Learn Even More About Why This Place Is So Special
Lastly, though it isn't as scenic as a Haleakala sunrise, or as adventurous as trekking across cinder, paying a trip to the visitor center is an entertaining and informative way to learn the mythology and natural history behind this exceptional park. Sure—some people just stop for the restrooms, but the center is a legitimate sight in itself if you truly want to understand why you really "can't miss" this park.