Tour the largest organic honey producer in the US on Hawaii Island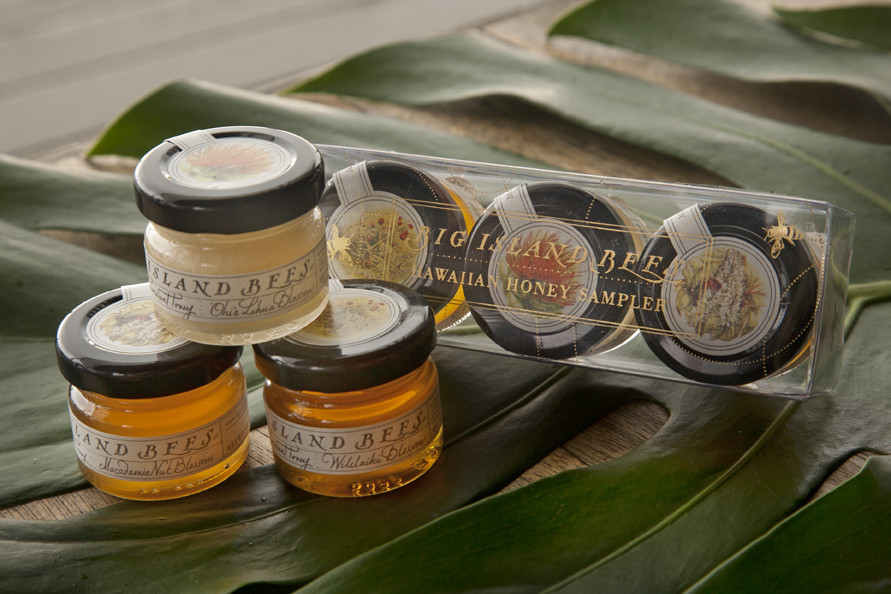 While Kona agriculture for many is synonymous with coffee, Big Island Bees wants you to think a little sweeter. The company, under the direction of owners and fourth-generation beekeeper Garnett Puett and his wife Whendi produce as much as 600,000 lbs of the syrupy treat with their more than 190 million bees each year.
If you're up for an educational adventure on your next visit to Hawaii Island, I'd highly recommend their free 2-hour-long honey tour that includes a history of beekeeping, a chance to see the different kinds of bees that comprise a hive up close and personal, a narrative walk through their honey-making process and—the best part—a honey tasting.
The onsite museum, decorated with their colorful pastel beekeeping boxes, has historical photos and old bookplates that show how honey was gathered from cliff hives centuries ago and origins, art and evolution of beekeeping. The large single-room space also includes some of Garnett's lauded artwork, intricate "apisculptures" of wavy honeycomb that he crafts in "collaboration with the bees" and that have been shown in exhibits as far afield as New York's Guggenheim and D.C.'s Hirshhorn Museum and Sculpture Garden. If you want to spend more time in the museum or their store tasting honey, you can always come back later—it's open Monday through Friday 10 a.m. til 4 p.m. and Saturdays til 2 p.m.
On the tour you'll learn what makes Big Island Bees' honey unique. Namely that, thanks to Hawaii's year-round tropical weather and near-constant flowering of pollen-producing plants, the company is not restricted by season and can produce a steady-stream of unique honeys from Hawaii plants such as the ohia lehua tree, wilelaiki (Christmasberry) and the perennially popular Macadamia. Their thousands of colonies roam within two to four miles of where they are placed—the company keeps locations near flowering plants across the entire Island. Because of the relative lack of seasonality, the insects here work especially hard—the company mercifully rotates the hives so busy bees don't burn out from year-round collecting. Big Island Bees' honey is single-floral, meaning each hive creates a nectar using pollen from a single tree species, organic and raw (untreated by heat).
The most interesting part of the tour is the chance to see the some of bee colonies in their bee yard, a veritable trip into another world guided by staff Bee Docents. When I visited, Joe, a expert bee enthusiast disassembled a stacked hive using a smoker and found our group some baby bees feasting on royal jelly. He also readily spotted the monstrous queen—three times the size of the workers—a feat that sounds easy, but that is somewhat akin to searching for Waldo amid a background of similarly placed stripes. That queen, he said, could rule a Hawaii hive for about two years, a much shorter life than Mainland bees, which given a fall and winter break, can live for as long as five years. Entire books could be written about the intricate order of bees in a colony, and I have no doubt Joe could author one.
Then, there's the honey extraction and packaging process. Huge metal vats and centrifuges, capable of holding 10 barrels of honey, assist workers in separating the honey from the comb, sifting unwanted particles. A mini-factory packages the gooey gold for retail consumption onsite. While the tour doesn't visit the machinery—co-owner Whendi says it's just not that exciting when they're not extracting honey and too dangerous with enraged bees when they are—a video displaying the process is in the works.
At the tour's conclusion, you'll be good and ready to taste some honey (if you didn't do it already at the tour's start). Each has a different texture, color and taste imparted by the type of nectar the bees used—for example, the ohia lehua honey is more grainy, less opaque and subtly flavored while the macadamia nut honey is darker, silky, translucent and obviously nutty. And, then, the hard part: Deciding which of their honey-filled and bee-created products—honeycomb candles, beeswax balm, culinary confections to and, of course, jars of their ship-anywhere honey—to take home.
---
Big Island Bees Museum and Tours
82-1140 Meli Road Captain Cook, Hawaii Island • Museum open Monday through Friday from 10 a.m. til 4 p.m. and Saturdays from 10 a.m. til 2 p.m. • Winter season tours (through March 2016) run twice daily Monday through Saturday at 10 a.m. and 1 p.m. • 808.328.1315 • bigislandbees.com