Travel Channel's "Man v. Food Nation" spotlights Oahu restaurant in "feasts" show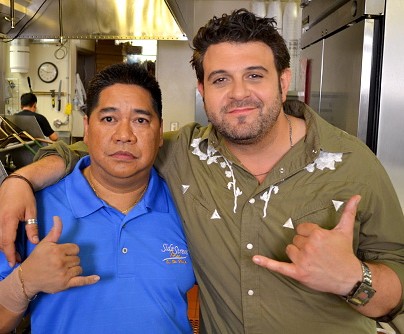 The Travel Channel's popular Man v. Food Nation show will feature Side Street Inn — a Honolulu restaurant known for its generous portions of Hawaii-style favorites — in an episode slated to air this evening.
The feasts special will follow the show's affable host, Adam Richman as he searches for the hearty helpings that make up the "best family-style feasts" in Hawaii, Pennsylvania and Arizona.
At Side Street Inn, 1225 Hopaka St. (a few blocks from Ala Moana Shopping Center), Richman meets owner Robbie Acoba (pictured, right) as preparations are under way for big home-stye meal at which a crowd of casual diners will dig into Hawaii regional cuisine and comfort food including fresh fish dishes, such as opaka-paka, pan-fried island pork chops, mounds of fried rice and, of course, much, much more.
Since opening in 1992, Side Street Inn's culinary charm has also been featured in Anthony Bourdain's "No Reservations" show on the Travel Channel as well as in various national publications and travel guides.
This evening's episode, slated to air at 9 p.m. (8 p.m. in some mainland areas, and at 4 p.m. and 7 p.m. in Hawaii) marks Richman's second visit to Hawaii. In June 2009, during the show's second season, Richman traveled to Oahu to try local cuisine at Hukilau Cafe in Laie, including the eatery's stomach-stretching Hukilau Burger — a large burger topped with a fried egg, teriyaki beef and grilled onions. Also, at Helena's Hawaiian Food in Kalihi, Richman sampled pipikaula short ribs and laulau. For the show's signature food challenge, Richman took on the "MacDaddy pancake challenge" at the MAC 24/7 Bar + Restaurant in Waikiki. The challenge: polish off a plate of pancakes that weighs in at 4 pounds within 90 minutes. The show's champion eater started with gusto, but food "won" when Richman, who later described himself as feeling like a "beached whale" was simply unable to eat that last pound of pancakes.
For additional information about the Man v. Food television show, click here.