Travel Channel's "Off Limits" series delves into Hawaii's "secret histories"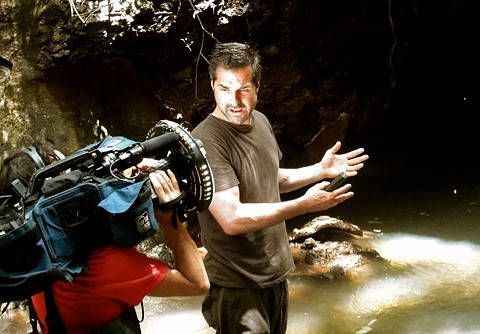 The latest episode of the Travel Channel's Off Limits show, through which host Don Wildman explores "secret histories" tied to various travel destinations across the United States, focuses on Hawaii's past.

Among the difficult-to-access sites Wildman visits: Ford Island's Adair Battery, which was used as a makeshift bunker during the Dec. 7, 1941 attack on Pearl Harbor. The show airs at 10 p.m. (Eastern/Pacific times) tonight.
Construction of the underground Adair Battery complex was completed in 1917 and, along with another battery for rifled guns, served as the first presence of the U.S. military on Ford Island. The batteries were used until 1925, when both were deactivated and gun inventories removed.
According to the National Park Service's World War II Valor in the Pacific National Monument, on Dec. 7, 1941, when Imperial Japanese fighter planes attacked Pearl Harbor, members of military families and others took shelter in the battery, which was then a sort of basement situated below the senior Naval Air Commander's home in a military housing area. From a strip of small window in the battery, they watched the bombing along Battleship Row, including the nearest ship, the USS Arizona.
Check out Wildman's trip to the battery in the video at the bottom of this page.
Also featured in the episode are the once-glamorous Coco Palms Resort on Kauai, where stories about Early Hawaiian "bloody rituals" linger, and waterways (pictured, above) and a tunnel tied to former Koloa Sugar Plantation operations on the island.
The Coco Palms, in Wailua, opened in 1953 and became the premier resort on Kauai, attracting famous guests, such as Frank Sinatra, Bing Crosby and Elvis Presley. Much of the last portion of Presley's 1961 movie Blue Hawaii was shot at the resort. Wildman's visit there delves into the area's stories of human sacrifice, which are tied to nearby Early Hawaiian temple sites and burial areas. The resort has been closed since 1992, when Hurricane Iniki damaged it.
Founded in 1835, Koloa Plantation, near Kauai's south shore, was Hawaii's first sugar plantation and touched off what would become Hawaii's largest industry. It was shut down in 1996.

For more details about
Off Limits
,
click here
.
VIDEO (click on image below to watch):