Try the Nectar of the Gods from Nani Moon Meadery
Hawaii's only meadery, located on Kauai, ferments the ancient honey wine with unique Hawaiian ingredients.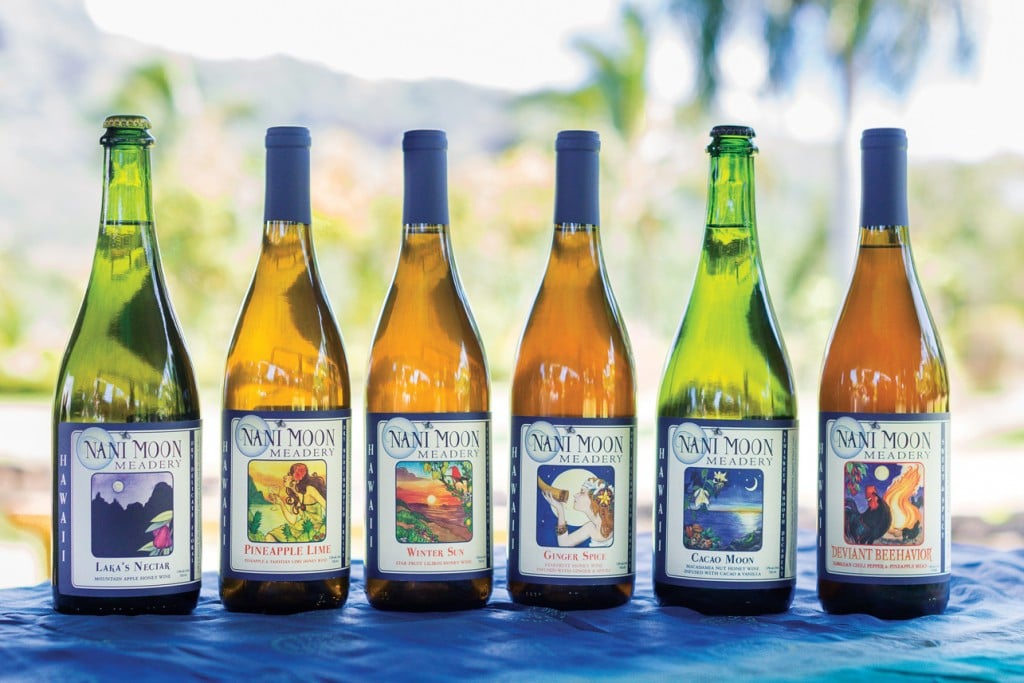 Mead, a honey wine considered the oldest alcoholic beverage in recorded history, is as versatile in style and flavor as beer or wine. In its simplest form, mead is fermented with honey, water and yeast, but Nani Moon Meadery in Kapaa, Kauai, puts a unique Hawaii spin on the traditional recipe.
Hawaii's only meadery, Nani Moon, is family owned and operated, and unique in the industry for its all-female management team, led by owner and winemaker Stephanie Krieger. It's also known for the sensual pastel artwork of Hawaiian scenes and female figures that adorn its bottles. To capture the magic, Nani Moon ferments Hawaiian honey with tropical fruit and spices to get an impressive variety of unique flavors that are produced and bottled on-site in Kapaa.
First-time mead drinkers will often go for the bestselling, full-bodied, fruity Winter Sun, made with Kauai wildflower honey, star fruit and lilikoi (passion fruit). Laka's nectar (named after the Hawaiian goddess of hula and the forest), is another best seller that is available only on Kauai. It's made with mountain apples and has a delicate, floral flavor that makes it a friendly, easy-drinking "starter" wine for those who have never tried mead. Cacao Moon, infused with organic Kauai cacao and vanilla beans, is the sweetest mead of the bunch, great for a dessert wine, and possibly the most addictive. It's no wonder people say this effervescent variety tastes like romance.
If you're on Kauai, drop in to the meadery for a tour and tasting of six varieties, accompanied by small snack plates and a detailed background of each flavor, explained by one of the owners. Initially only distributed on Kauai, Nani Moon now supplies select varieties to independent liquor retailers, Whole Foods, Tamura's and select Safeway stores in Hawaii. The delicious drink can also be shipped to the continental U.S. and internationally through Kona Wine Market. Nothing beats a trip to the meadery, though!
Fun fact: Mead is the perfect gift for newlyweds—the word "honeymoon" originates from couples enjoying mead during their wedding ceremony and for one full moon cycle after that, to promote fertility and prosperity.
Open Tues.-Sat. noon to 5 p.m. 4-939 Kuhio Hwy., Kapaa, (808) 651-2453, nanimoonmead.com.