Two Hawaii musicians,"Descendants" soundtrack pick up Grammy nominations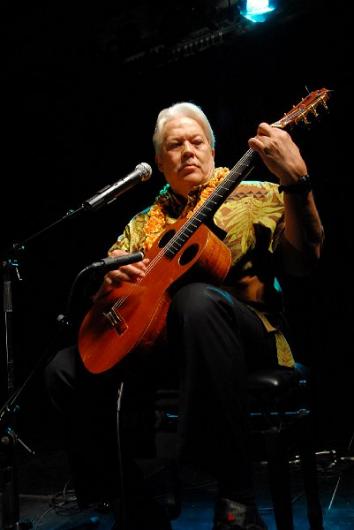 Two Hawaii musicians and the movie soundtrack for Hawaii-filmed The Descendants picked up Grammy Award nominations, which were announced this week by The Recording Academy. The 55th Grammys awards show will be staged (with a CBS broadcast) on Feb. 10, 2013.
Keola Beamer's album Malama Ko Aloha, or "Keep Your Love," is nominated in the Best Regional Roots Music Album category. Also, nominated in that category is Weldon Kekauoha's Pilialoha.
Beamer (pictured, right), a Lahaina resident, told the Maui News that the album, which resulted from a creative partnership with PBS Hawaii, also feature his wife, Moanalani, who plays Hawaiian percussive instruments and Hawaii singer Raiatea Helm. On Pilialoha, which translates as a "close friendship or beloved companion,"Kekauoha (pictured, below), a Honolulu native, features several love songs.
The Descendants, a dramedy starring George Clooney — filmed on Oahu and Kauai — picked up an Oscar this year for best adapted screenplay. The screenplay is based on the best-selling novel by Hawaii writer Kaui Hart Hemmings.
Music critics have noted that The Descendants is the first mainstream American movie scored exclusively with Hawaiian music, most of it created by masters of the genre. The soundtrack features: Keola Beamer, Jeff Peterson, Cyril Pahinui, Gabby Pahinui, Ray Kane, Lena Machado, Sonny Chillingworth, the Rev. Dennis Kamakahi, and others. While the soundtrack does not include any new tunes, a few of the "pre-existing" songs were re-recorded for the movie's score.
The Descendants (various artists) soundtrack is nominated in the category for Best Compilation Soundtrack for Visual Media. Also nominated: Marley (Bob Marley & the Wailers), Midnight in Paris (various artists), The Muppets (various artists), and Rock of Ages (various artists).
The Best Regional Roots Music Album category was created last year when The Recording Academy dropped 31 categories, including Hawaiian music. The roots category includes traditional and regionally recorded music, with genres ranging from Native American to zydeco.
Also nominated in the roots category: Shi Keyah (Navajo/Dine for "Songs For The People"), Radmilla Cody; Nothin' But The Best, Corey Ledet, with Anthony Dopsie, Dwayne Dopsie, and Andre Thierry (zydeco); and The Band Courtbouillon, Wayne Toups, Steve Riley and Wilson Savoy (Cajun/zydeco).
For more information about the Grammys — the only peer-presented award to honor artistic achievement, technical proficiency and overall excellence in the recording industry, without regard to album sales or chart position — click here.