Two New All-Day Hiking Tours Approach Edge of Current Kilauea Lava Flow
Here's what you need to know about KapohoKine and Hawaii Forest & Trails new tour offerings.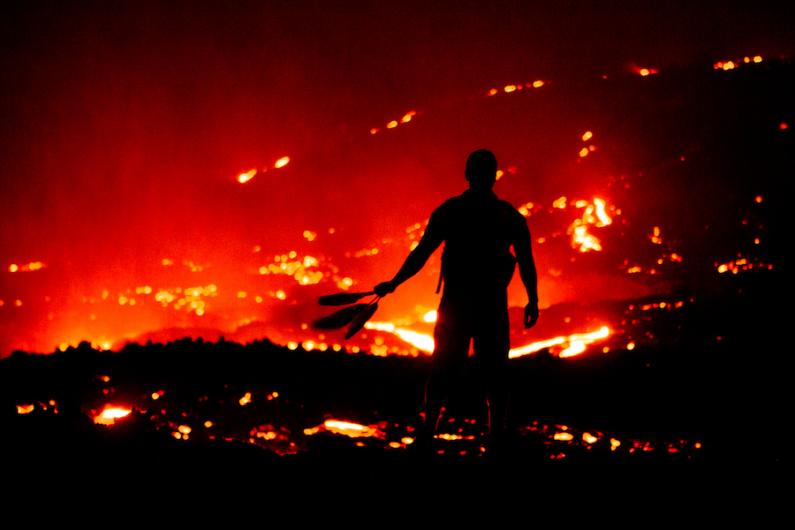 Kilauea's latest lava flow—dubbed 61G, a 5-mile-long flow from Kilauea's Puu Oo Cone to the southeast on Hawaii Island—has been causing quite a stir. The fiery lava finger points toward the sea within view of two relatively accessible viewing stations in Hawaii Volcanoes National Park and Kalapana.
Hundreds, if not thousands, have flocked to see the flow's orange glow since July 1, when an extension of the 9-year lava flow that had been oozing in mostly obscured, hard-to-reach and private forest came tumbling down a cliff within road-accessible viewing distance.
Several outfitters, including popular trekking and adventure tour companies KapohoKine Adventures and Hawaii Forest & Trail, began offering new group tours that will take physically fit visitors to pay pilgrimage to Pele at the flow front. While most visitors stop at the Civil Defense viewing area along the new gravel emergency access road (already a 6-mile roundtrip journey on foot) these new tours will continue another 2 miles across jagged lava desert to within feet of the slow-moving lava, before looping back around dusk.
Here's what you need to know about KapohoKine and Hawaii Forest & Trails new tour offerings:
KapohoKine Adventures' Lava Expedition
Available to guests on both sides of the island—Kona and Waikoloa ($209), Hilo ($129)—this tour departs on Mondays, Thursdays, Saturdays and Sundays with additional days possible based on demand.
"Driving in Puna, there aren't many lights," says guide Gary Marrow. "This tour takes away the stress of getting in, parking and leaving after dark. … And, it's always better to go with someone who knows the area."
The tour begins in the late afternoon and most of the hiking is done after dinner to take in the lava's spectacular glow. KapohoKine includes flashlights and headlights, walking sticks, a tripod, sunblock, mosquito repellant, snacks, water and daypacks. Tour guides are trained by Hawaii Volcanoes National Park rangers on area conditions and also participate in month safety seminars to keep skills fresh.
Tours last between seven and 12 hours depending on pick-up and drop-off location and feature a picnic supper to fuel up before the hike. There is a 24-hour cancellation policy in the event conditions change.
Hawaii Forest & Trail's Kilauea Lava Hike
Start in Kona and hear legends of Pele on the long (lunch-included) drive from Kailua-Kona and Waikoloa ($192) or hop on in Hilo just before the hike ($179).
"One thing that sets us apart is our flexibility," says marketing manager Jason Cohn. "We're constantly checking conditions and, if the flow changes and it makes for a better hike, we could begin hiking from the National Park side."
Its lava tour, which began on Sunday, is currently being offered three times a week—Sundays, Tuesdays and Thursdays—and more days may be added based on demand. The group size is capped at 10, smaller than their usual tours because of the strenuous hiking involved to reach the lava.
At the flow front, Native Hawaiian Hawaii Forest & Trail guides will recite oli (traditional Hawaiian chants) at the hike's climax. "It changes the atmosphere at the flow front," says Cohn. "Hawaiians believe the lava is the physical manifestation of the body of Pele. We teach them [the hikers] what is pono (good/fitting), the right way to experience lava."
The 12-hour round trip tour from Kona (eight from Hilo) includes dinner at Ken's House of Pancakes in Hilo following the hike. Water, walking sticks, sunscreen, snacks, daypacks and flashlights are included. Hawaii Forest & Trail will take bookings up to the morning of the tour's departure and as far out as a month in advance. There is a 24-hour cancellation policy. The company urges visitors wishing to take their tours to call (808) 331-8505 for current conditions and the latest tour info.
KNOW BEFORE YOU GO:
If you go on either tour, wear comfortable clothes and closed-toed shoes. The hike to the flow front is a more than 10-mile journey over almost entirely unshaded, rocky terrain.  Be prepared for rain or sun. The Hawaiian Volcano Observatory has regular flow updates. As of USGS scientists' latest observational trip to the flow front on Tuesday, the front had stalled its forward advance (it's still about 0.6 miles away from the sea) but was spreading out into the surrounding area.