Ululani's Hawaiian Shave Ice Opens on Oʻahu
The popular local chain has finally expanded to Oʻahu—and its first location is right on Kapahulu Avenue.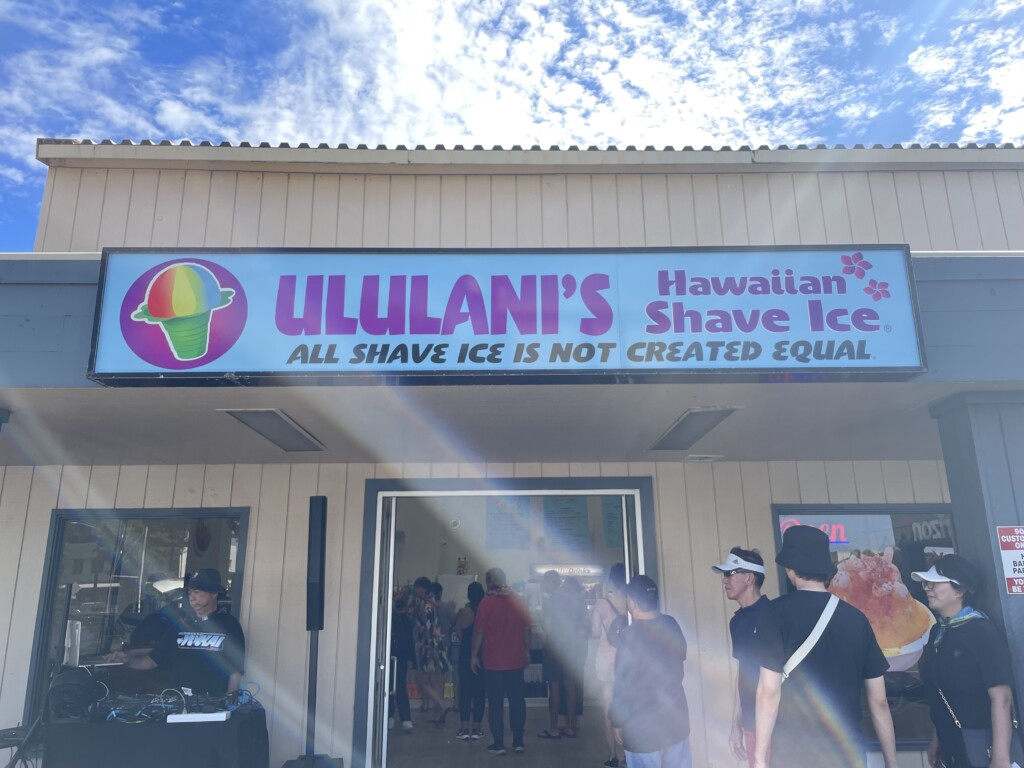 "Not all shave ice is created equally." That's what it reads on the sign above the door of Ululani's Hawaiian Shave Ice, which just opened its first location on Oʻahu right along Kapahulu Avenue. Just across the street from Leonard's Bakery, the shave ice shop first started on Maui and was praised by locals and visitors for its pillowy soft ice, mouthwatering flavors and an assortment of add-ons, like mochi balls, ube ice cream and vegan haupia cream. It's no wonder the shop has seven locations across Maui, one on Hawaiʻi Island and now one on Oʻahu.
And the quality has not dropped in the business's expansion to Oʻahu—not even a little bit. Using hyper-purified water to make its ice—the water goes through an extensive water purification system and a carbon filter—the business stands out among the rest just through the quality of its ice, which is made entirely in-house. Scoops of ice cream can also be added to the bottom of your cups, and those are sourced locally from Maui ice cream manufacturer Roselani Ice Cream.
"Ululani's owners want nothing but the best, down to the water," says Ululani's Hawaiian Shave Ice franchisee Jamie Wong. "We're always trying to improve our shave ice, which is why we say that not all shave ice is created equally." And it's true. From the flavors to the way it's made, Ululani's does things I've never seen before at any other shave ice stand. Employees use chopsticks to poke holes into the packed ice, which allows the syrup to sink deeper into the ice. Purées are made with real local fruits that are in season, and even the Roselani Ice Cream is richer and creamier than other contenders.
Flavors range from classics to extremely local. We're talking visitor favorites like strawberry, lemon and vanilla to wild ones such as Thai tea—I've never seen that one before—li hing mui, tiger's blood, habanero mango and more. There are premade sets or you can pick up to three for your own concoction, and don't worry, whatever you decide on will taste fantastic.
It's hard to reinvent the wheel, and even harder to make the simple pleasures of shave ice—or ice shave as they call it on the Big Island—even better. But as my girlfriend Kaila took her first bite into her shave ice, and asked me how "ice can taste this good," I've got to admit, not all shave ice is created equally, especially at Ululani's Hawaiian Shave Ice.
Ululani's Hawaiian Shave Ice is open from 10:30 a.m. to 9 p.m. daily. 909 Kapahulu Ave Unit 4, Honolulu, (808) 877-3700 ululanishawaiianshaveice.com.