Untouched Hawaii: 4 little-known natural wonders of the Islands preserved forever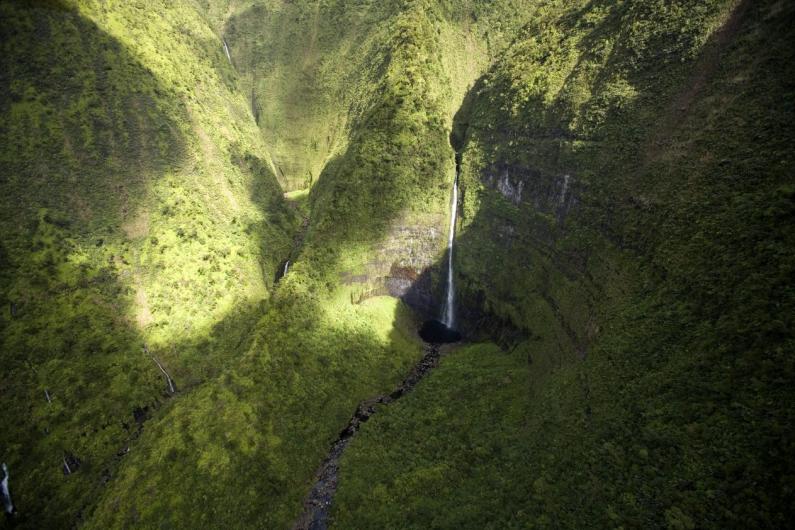 In HAWAII Magazine's January/February 2010 issue feature article "Untouched Hawaii," we took readers to four stunning little-known and rarely visited Hawaii landscapes that will remain forever as they have for eons: preserved and unspoiled. We share the story here with our online ohana.
Much of Hawaii has been adapted for human habitation—towns, roads, farms, cities, buildings. That's good, because people can live in and visit one of the most benign and beautiful natural environments on Earth.
The flip side, of course, is that land development and a host of other factors such as invasive species and global climate change, now threaten much of that environment.
Here are four largely untouched places that have been saved. They include a remote Kauai valley, a Big Island black-sand beach, a sand-dune system on Molokai and a lush forest preserve on Maui.
Each has been placed into preservation status by the Hawaii Chapter of The Nature Conservancy. The organization, a national conservation nonprofit, purchases tracts of land to make sure they are left alone, untouched, in their natural state for future generations.
The Hawaii chapter of the Conservancy has bought and protected more than 236,000 acres of land statewide, sheltering hundreds of native Hawaiian species in the process.
Maintaining these sites requires manpower, funding and time—resources hard to come by. If you want to help, call (808) 537-4508, or visit www.nature.org.
"Our work is ongoing," says Grady Timmons, the Hawaii Conservancy's communications director. "It's never really done."
Still, the group has preserved some stunning untouched landscapes, as you will see on the following pages: 4 little-known natural wonders of Hawaii preserved forever.
1.
Wainiha Preserve, Kauai
At 7,050 acres, Wainiha Preserve is one of Hawaii's largest private nature sanctuaries. It's also the most ecologically diverse, with terrain varying from rare lowland forests to mountainous bogs to rarely seen waterfalls like Hinalele (pictured on previous page). The preserve is Kauai's primary source of water. It flows from here to the populated areas. But that's to be expected from a valley located next to Mount Waialeale—one of the wettest spots in the world.
Wainiha is home to 220 different species of plants unique to Hawaii, including a type of mint once thought to be extinct, and lauae, a fern used in Hawaiian chant and other cultural rituals.
Several endangered native birds can be found at Wainiha, including the akikiki, akekee and uau. The preserve's freshwater streams and springs are home to the Newcomb's snail, an air-breathing invertebrate found nowhere else in Hawaii.
What's being done?
While the ecosystems of Wainiha are currently in good condition, field crews keep busy eradicating invasive plant species such as the Australian tree fern, clidemia and kahili ginger. These plants grow fast and can displace—and usually kill—Hawaii's more fragile native plant life.
Workers also keep an eye out for a more aggressive foe: wild pigs. These feral pests uproot native plants with their snouts, creating ruts in the earth where fast-spreading weeds grow. Water often collects in these furrows, making the perfect breeding ground for mosquitoes. The mosquitoes carry diseases, which can afflict the native bird population.
How can I visit?
Unfortunately, Wainiha's remote location above Haena on Kauai's windward coast makes access difficult, if not impossible, by ground. The only way in is via helicopter—a luxury reserved for workers. Some commercial helicopter tours may fly you by the valley. Hikers who take the Alakai Trail can look down into Wainiha Valley at the Kilohana Lookout.
2.
Waikamoi Preserve, Maui
The 5,230-acre Waikamoi Preserve is diminutive compared to the more than 100,000 acres of East Maui Watershed that surrounds it. The vast tract of watershed land—spread out across the windward flank of Haleakala—provides 60 billion gallons of water to the entire island. The preserve takes its name from a stream that runs through it.
Waikamoi's koa and ohia forests shelter one of the most diverse forest ecosystems in Hawaii, the sole habitat for hundreds of native Hawaiian species. It's also a birdwatcher's paradise, home to 13 types of native forest birds, including the iiwi, apapane, amakihi and kike koa. Seven of these species are endangered.
What's being done?
Like other Hawai'i rain forests, invasive species and feral predators threaten Waikamoi's delicate ecosystem. The Conservancy's efforts go into controlling invasive plant life and replanting native flora. Workers have built fences around Waikamoi's perimeter to keep pigs, goats and deer from damaging native plant life.
The Conservancy's work has extended into the greater East Maui Watershed, which is owned by several public and private entities. Fortunately, everyone is cooperating. The Conservancy has partnered with the National Park Service, state government and private landowners to extend fence systems across land divisions and remove invasive weeds from the grounds surrounding Waikamoi.
How can I visit?
The National Park Service leads hikes along Waikamoi Preserve's Bird Loop Trail every Monday and Thursday morning, and on the Boardwalk Trail (pictured) on the third Sunday of every month. While the tours are free, visitors with vehicles must pay a $10 access fee to enter Haleakala National Park en route to Waikamoi. For more information, call (808) 572-4459. In addition, rigorous volunteer work trips are held on the third Saturday of every month. For more information, contact Pat Bily at pbily@tnc.org.
3.
Moomomi Preserve, Molokai
Moloka'i's Moomomi Preserve is the most complete coastal and sand dune ecosystem in Hawaii. Powerful trade winds have shaped the area for centuries, creating dunes a mile long and hundreds of feet wide. Moomomi's salt-sprayed, wind-whipped environs seem harsh, but the area teems with coastal life.
More than 20 native Hawaiian plant species, including endangered plants, such as akoko and ena ena, thrive at Moomomi. Fossils show at least 30 different bird species have nested at Moomomi, one-third of which are extinct—including a sea eagle, falconing owl and giant flightless duck.
What's being done?
As Hawaii's native beaches are gradually lost to coastal development, the Conservancy tirelessly safeguards the area and its flora and fauna. The beach is an important nesting ground for the honu (green sea turtle) and a growing colony of wedge-tailed shearwaters. With the increased protection, the group hopes former Moomomi tenants, such as the Hawaiian monk seal and Laysan albatross, will settle along Moomomi's sands once more.
How can I visit?
Moomomi Preserve sits on private, gated land. The gate key to the preserve is available through the Conservancy's Molokai office with a $25 deposit. Guided tours are also available monthly for a $25 fee. For more information, call (808) 553-5236, or e-mail hike_molokai@tnc.org.
4.
Kamehame Beach, Kau, Big Island of Hawaii
Situated along the Big Island's southeastern coast, this small, 24-acre beach plays a huge role in the survival of two kinds of rare marine turtles. Kamehame Beach is the country's foremost nesting site for the endangered honuea (Hawksbill turtle), and a refuge for the threatened honu. Both species emerge from the ocean every year to bury their eggs in Kamehame's coal-black sands.
Ocean pollution, illegal hunting and predators such as rats, birds and mongooses have threatened both turtles, especially the honu'ea. During the nesting season, honuea hatchlings become food for predators as they make their perilous run from the nest to the ocean. Survival rates for the honuea are slim—only 1 percent make it to adulthood.
What's being done?
In conjunction with the National Park Service and the U.S. Fish & Wildlife Service, the Conservancy operates a turtle-monitoring program. During the turtle nesting season of June through November, volunteers camp out overnight on Kamehame Beach to watch over the nesting sites and ensure the turtle hatchlings safely enter into the ocean.
Can I visit?
Being an official turtle-breeding site, Kamehame Beach is closed to the public. The only guaranteed access would be through participation in the turtle-monitoring program. For more information on participating, call (808) 982-6090.