Updated: Hurricane Ana now expected to bypass Hawaiian Islands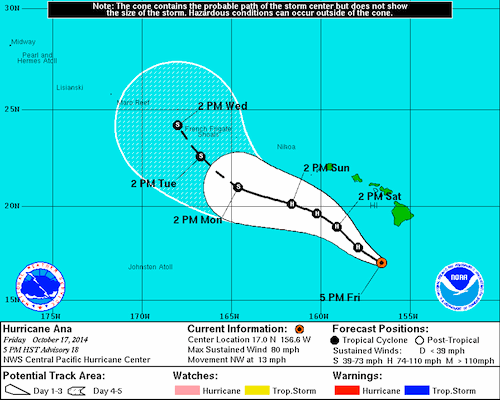 Hawaii residents and visitors are watching Hurricane Ana today, which could bring inclement weather and unpredictable ocean conditions to the Islands this weekend. Forecasters now predict the center of Hurricane Ana will bypass Hawaii on a trajectory 150-175 miles southwest of the Islands.
As of 5 p.m. (HST) today, Fri., Oct. 17, Ana remained a hurricane with maximum sustained winds of 80 mph. Ana is expected to keep hurricane strength as it passes 150 miles southwest of Hawaii Island this evening and 175 miles southwest of the islands of Maui, Kahoolawe, Lanai, Molokai, Oahu, Kauai and Niihau through Sunday afternoon.
The Central Pacific Hurricane Center reports that despite Ana's distance from the Islands, strong winds will likely be felt throughout Hawaii, as tropical storm force winds of 39 to 73 mph extend outward up to 105 miles from the storm's center. According to the National Weather Service, winds felt in the Islands are expected to be no more than 39 miles per hour. Heavy rain and thunderstorms are expected—on Hawaii Island forecasters are predicting between 6 to 8 inches of rain between Friday and Saturday. Rain could induce flash floods and rock- and mudslides. Advisory-level swells of 10 to 15 feet and potentially damaging surf could arise as a result of Ana along the Islands' south facing shores throughout the weekend.
In advance of the storm, a number of events, schools and parks throughout the Islands have announced cancellations and closures. Hawaii Island's public schools and Hawaii Volcanoes National Park were closed all day today, and Maui's Haleakala National Park closed at noon. Both Hawaii Volcanoes and Haleakala may reopen on Saturday, pending safety conditions within the parks.
Hawaii-based air carriers Hawaiian Airlines and Island Air are issuing change-fee wavers to customers with flight reservations that may be affected by Hurricane Ana. Both carriers advise all customers to check their websites for the latest flight updates. For more information or to find out if you are eligible, check the travel advisories for Island Air and Hawaiian Airlines.
As of 5 p.m. (HST) a tropical storm watch had been issued for all of the Hawaiian Islands—Hawaii Island, Maui, Molokai, Lanai, Kahoolawe, Oahu, Kauai and Niihau. There is a flash flood watch in effect for Hawaii Island through Sunday afternoon. Other areas statewide may require additional alerts throughout the weekend. Governor Neil Abercrombie on Wednesday signed an emergency proclamation for the entire state, allowing government agencies to utilize funds for protective measures and to access emergency resources following the storm if needed.
As of 5 p.m. (HST) today, Hurricane Ana was located 215 miles southwest of Hilo on Hawaii Island, moving 13 mph northwest on a path parallel to the Islands with sustained winds of 80 mph and higher recorded gusts.
For continuing, regular updates on Ana, visit the Central Pacific Hurricane Center website.
The storm path of Ana is subject to rapid change. We are following the path closely, and will post updates as necessary here on this post and on our Facebook page.