VIDEO: Chef Nobu Matsuhisa Visits Hawaii's Ma'o Organic Farm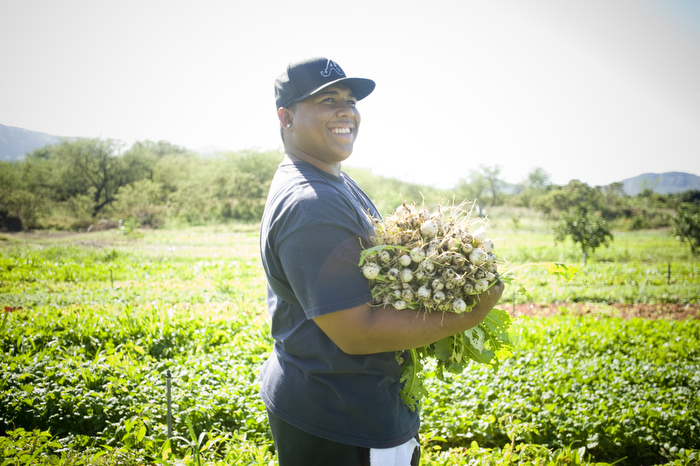 Here's a side of Oahu most visitors never see. We recently accompanied superchef Nobu Matsuhisa on a visit to Ma'o Farm (Motto: No panic, go organic) in the Lualualei Valley, nestled amid the Waianae Mountains.
Famous for his fusion of Japanese and Peruvian cooking, not to mention his sushi, Nobu has 25 restaurants worldwide, from Moscow to Melbourne to Mykonos, including one in Waikiki's Parc Hotel.
Nobu Waikiki gets much of its fresh organic produce from Ma'o Farms, itself an interesting story. It's not just a farm. Instead, it's a social action organization that aims not only to bring sustainable agriculture back to the Islands, but also to sustain Hawaiian culture. Students in the area do not traditionally go to college. The farm puts its interns through college, with no obligation on their part to become farmers. (That's an intern in the fields in the photo, with an armful of Hakurei turnips bound for Nobu Waikiki.)
The video starts with Ma'o's executive director, Kukui Maunakea-Forth, briefly outlining the farm's philosophy. You'll also hear in the background the student interns chanting welcome, and walk with Nobu through the fields in this remote but beautiful valley.