VIDEO: Explosive weekend eruptions rock Kilauea volcano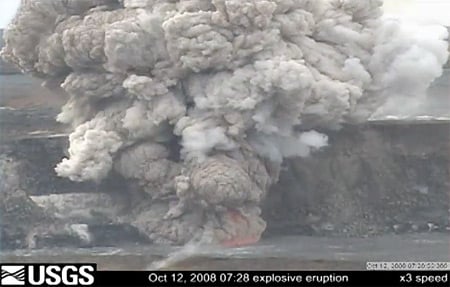 Two explosive eruptions rocked the Halemaumau crater vent at the summit of Kilauea volcano this weekend, expelling mushroom clouds of glowing hot gas, ash and rock particles. The explosions were the most dramatic of seven seismic events occurring between Saturday afternoon and Sunday morning at the volcano on Hawaii's Big Island.
United States Geological Survey cameras aimed at the Halemaumau vent captured the explosions, which occurred Saturday at 3:54 p.m., and Sunday at 7:28 a.m. Both explosions sent hot, incandescent particles scientists described as "fist-size" above the rim of Halemaumau.
In this video of Saturday's explosion, a hot ash-filled cloud at first engulfs a USGS camera perched on the Halemaumau rim before bombarding it with cascading ejecta. Another video of the explosion from a Hawaiian Volcano Observatory camera a mile from the crater shows the normally white plume engulfed by pulses of dark ash and glowing red gas flashes.
Video taken by HVO cameras of Sunday's activity show a similar, if more visually dramatic explosion at the Halemaumau vent, sending up far larger mushroom-shaped ash clouds, incandescent ejecta and glowing gas flashes. (Click the frame below for USGS video of the Sunday explosion.)
We'll keep you posted if HVO reports more activity today. More details from HVO here.
If you're new to HawaiiMagazine.com check out all of our posts following Kilauea's very dramatic 2008 here.