VIDEO: Get wet! Maui's Nakalele Blowhole in action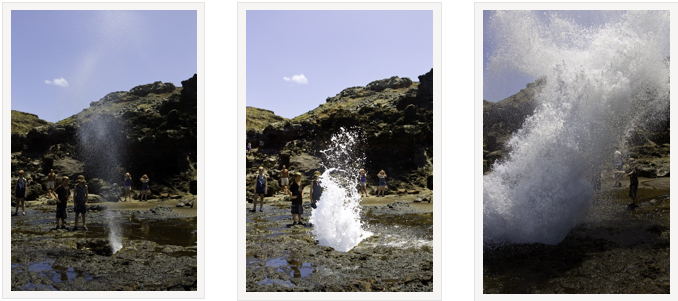 Everyone's heard of the road to Hana. Thousands of Maui visitors drive it each year. It's one of the most scenic roads in Hawaii.
Less is written about Maui's other hidden drive, the road from Kapalua around the north side of the West Maui Mountains, even though the road is just as scenic as the Hana Highway. Along the road, which winds along Maui's northernmost point, you'll encounter a rugged lava coastline, with remote snorkel spots, beaches, marine preserves and even a village, Kahakuloa, tucked along a rocky bay.
In the September/October 2010 issue of HAWAII Magazine, we take you with us for a drive on that road. In the feature, "Maui's Hidden Drive," we introduce you to the beaches, bays, small towns, businesses and people of Maui's rugged, yet very scenic northern tip.
In a previous video post, we introduced you to Hawaii music legend Richard Hoopii, a master in the Old Hawaiian leo kiekie falsetto style. Hoopii sang us a sweet song about his hometown, "Ohuohu Kahakuloa," from his Kahakuloa backyard.
Further up the coast from Kahakuloa, at the northernmost tip of Maui, we stopped at the natural wonder you'll see in the video below: the Nakalele Blowhole.
You'll find the blowhole on the east side of Nakalele Point, about 200 yards down a steep, boulder-strewn path. At a blowhole, surf crashes through a hole in the lava rock shelf and blasts up in the air like a geyser.
When the surf's gentle, people crowd near the blowhole and shriek when it erupts, spraying them with water. If the surf is high, we recommend exercising caution. Regardless of surf conditions, you should never sit in, stand next to or place your body over a blowhole. People sometimes drown that way.
HAWAII Magazine photographer David Croxford shot the video here of the Nakalele Blowhole erupting on a excited bunch of Maui visitors, just before he got soaked with cold ocean water himself.
You get to stay dry and enjoy it at the same time!
Video and photos by David Croxford