VIDEO: New Kilauea volcano vent opens with 80-foot lava spatter as Puu Oo crater floor collapses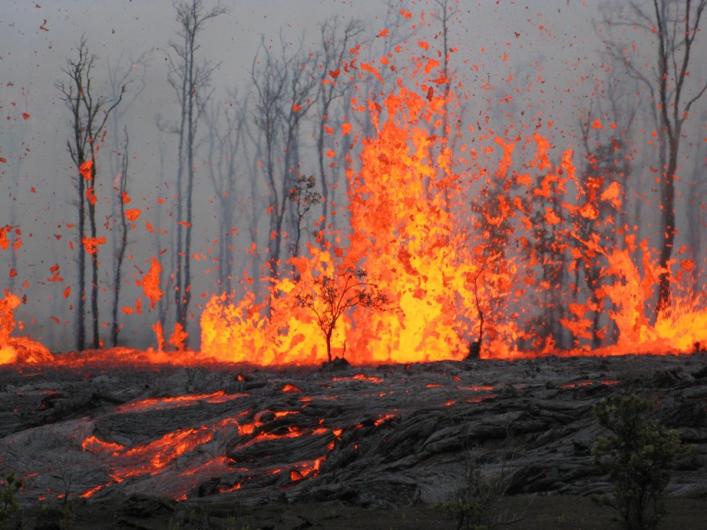 The floor of Kilauea volcano's Puu Oo crater collapsed in an explosion of ash and fumes this weekend at Hawaii Volcanoes National Park as lava began spattering as high as 80 ft. from a new fissure two miles away.
Hawaiian Volcano Observatory geologists reported that the Puu Oo vent collapse event began at around 2:16 p.m. on Saturday, creating a large ash and fume cloud over the vent as magma withdrew from the disintegrating crater floor. Over the next two hours, geologists reported seeing lava and incandescent fractures on the collapsing Puu Oo vent floor until ash and fumes obscured views.
But that was hardly the end of the drama.
At 5:15 p.m., an HVO geologist observing the Puu Oo crater collapse by air, reported eruptive activity at nearby Napau Crater. A small fissure had apparently opened only minutes earlier, in a forested area about two miles west of Puu Oo, producing low-level lava fountains along a 535-yard long crack in the earth.
The eruptive activity along the fissure paused at around 10 p.m. Saturday evening, continuing only intermittently through Sunday morning. Two more fissures opened in the vicinity on Sunday morning, erupting sporadically throughout the day with lulls in activity occasionally punctuated by lava spattering up to 80 feet into the air.
HVO scientist reported on Sunday that the floor of Puu Oo crater had dropped at least 377 feet during Saturday's collapse.
Check out this weekend's sequence of events in the photos and videos below, courtesy of Hawaiian Volcano Observatory:

Spattering lava near the front of the new fissure on Saturday. Video: USGS
Activity at Puu Oo crater received much attention in recent weeks as lava from multiple vents regularly began sending out small flows virtually covering the crater floor. The Puu Oo vent has been erupting continuously since January 1983, over the years producing much of the lava flows that have blanketed areas downslope of the eruption site, including the residential area of Kalapana and Royal Gardens, and vast sections of the Puna coastline.
Activity at Kilauea volcano's summit Halemaumau crater, meanwhile, drew attention in February for a series of rock collapses, earthquakes and a rising lava lake below the surface of that crater's floor. HVO geologists reported lava levels at the lake receding rapidly on Saturday afternoon and evening as the summit continued to deflate, possibly due to increased activity at Puu Oo.
Halemaumau crater has been producing a steam and ash plume from an ever-expanding vent in its floor since March 2008. Six months later, Hawaiian Volcano Observatory geologists discovered a lava lake roiling within the vent, deep below the surface of the Halemaumau crater floor.
The new active fissure between Puu Oo and Napau craters is located in a remote area of Hawaii Volcanoes National Park, now closed to the public.
Hawaiian Volcano Observatory geologists on Sunday set up a webcam offering live views of the new fissure eruption, refreshed every five minutes.
Access to Puu Oo is off limits to hikers. But activity at Halemaumau crater is visible to Hawaii Volcanoes National Park visitors from the Hawaiian Volcano Observatory's Thomas A. Jaggar Museum overlook, which is open 24 hours daily. Daily updates on Kilauea volcano activity are available at the Hawaiian Volcano Observatory website.