Visit Jade Dynasty for a fusion of classic and innovative Chinese cuisine
The classic elegance and extensive menu make it the star of Cantonese cuisine in Honolulu.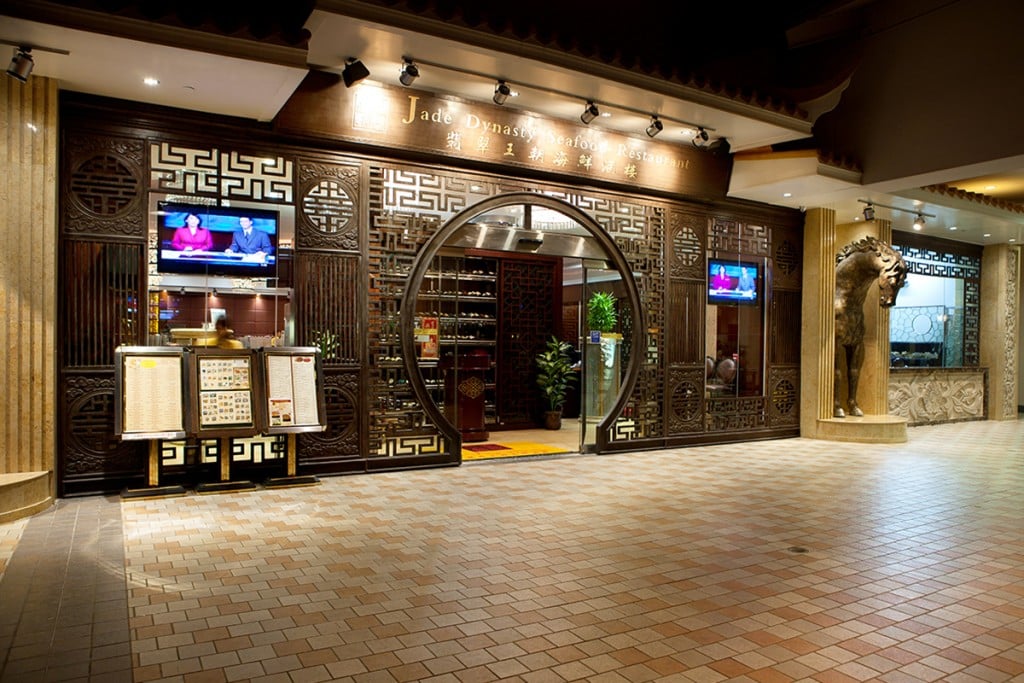 Tucked away in the Ala Moana Center's Hookipa Terrace, Jade Dynasty is an elegant restaurant with affordable prices and unique dishes. The sensory experience begins before one even walks through the doors, with traditional Tang Dynasty horses and a statuesque jade disc, signifying the rich Chinese symbolism of peace and balance, to greet you at the entranceway. Jade is also a symbol of power, and the meaning behind the stone extends to the status of the restaurant, which has reigned over Hawaii's Chinese dining scene since it first opened in 2011. In 2016, Jade Dynasty won both Hawaii's Best and the Hale Aina award in the Chinese restaurant categories for the last two years. The beautifully polished stone entrance sets the tone for the entire dining experience, and represents the harmony enjoyed by friends and family who gather here for celebrations large and small.
With its 8,000 square-foot dining space, Jade Dynasty is ideal for any size party; the restaurant has been known to host birthdays, wedding receptions and graduation celebrations. The restaurant's extravagant main dining area is lined with mahogany walls and ornate crystal chandeliers. Other amenities include seven private rooms, a 32-foot wide stage with state-of-the-art sound and video projection systems and a newly installed high definition screen for customers to show their photos and videos during events.
While the ambience has been wowing kamaaina (locals) and international clientele for years, Jade Dynasty's diverse dim sum menu and intricate entree plates remain the star of Cantonese cuisine in Honolulu.
Since the true meaning of dim sum is "touch the heart", it is only fitting that special events be accompanied by this restaurant's ever-changing, made to order menu.
"We introduce new dishes about every month," says Jade Dynasty general manager Gary Chan. "The owners travel to Hong Kong and various parts of Asia regularly to bring back ideas for new dishes that our chef can play with."
Most popular among the dim sum menu of over 50 items— served from 10:30 a.m. to 5 p.m.—would be the Snow Mountain Char Siu Bun. At just $3.85 for three buns, tasting these slightly flakier and lighter versions of traditional char siu buns is like taking a $3 vacation to China. Most char siu buns are steamed, but these Snow Mountain buns are baked to perfection so that when you bite into it, it's like snow falling in your mouth.
If you are looking for the perfect entree to accompany your buns, or aren't necessarily in the mood for dim sum, try the signature Braised Pork Ribs which come with a special homemade sauce inspired by Hong Kong and crafted by Jade Dynasty's chefs here in Honolulu.
Visit Jade Dynasty for a fully immersive dining experience, and try for yourself the fusion of classic and innovative Cantonese dishes that transport you across the Pacific Ocean.