Visit Maui's True Mom-and-Pop Grocery Shop
Pukalani Superette has been at the heart of the Upcountry community for more than six decades.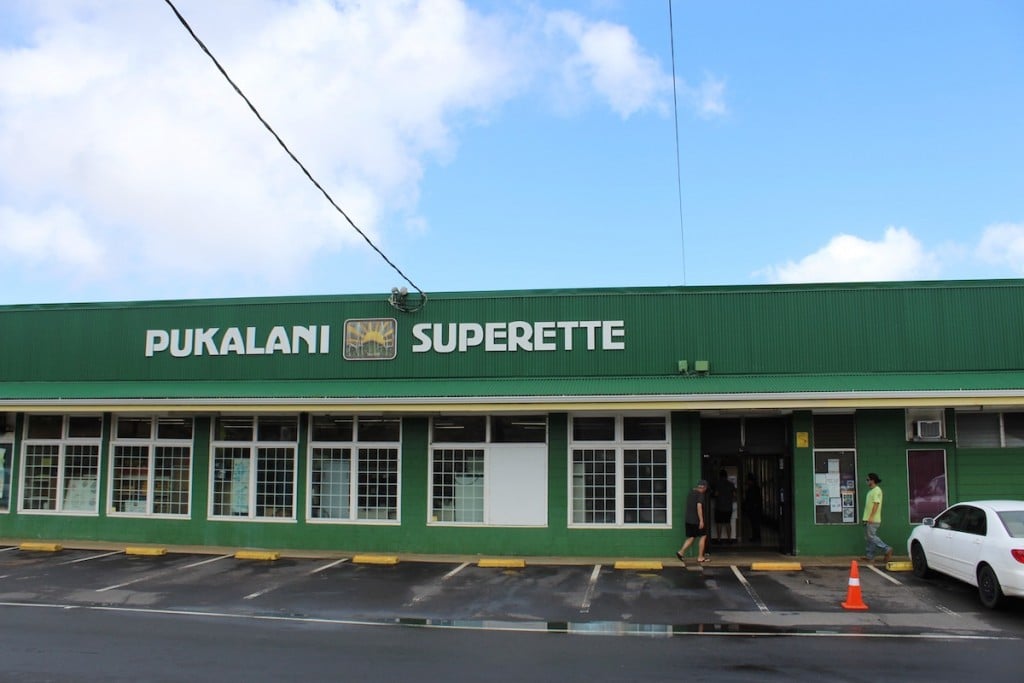 Near the intersection of Old Haleakalā Highway and Makawao Avenue, where the towns of Pukalani, Kula and Makawao meet, stands a bright green building. Since 1955, Pukalani Superette has been at this corner serving the Upcountry community.
From fresh produce to firewood and lightbulbs, it's the main convenience store for essentials for residents.
Affectionately nicknamed "Puk Sup" (pronounced pook soup), the multi-generational grocery store is known for its enduring charm, chili chicken and friendly service.
A few shoppers even refer to it as Tanizaki Store, says Megan Nakashima, the president and manager of the business. Nakashima's great-grandparents operated a stall on Market Street in Wailuku called Tanizaki Store. Unfortunately, a fire burnt down the stall in 1927. After the accident, the Tanizakis relocated their business to Pukalani.
Eventually, the Tanizakis expanded their Upcountry stall, building a new and larger store next to the original. With its new name, Pukalani Superette, the doors to the new store swung open in 1955, marking 66 years at its landmark location this December.
"We changed the name to Pukalani Superette to be more reflective of the community we were in," Nakashima explains. Since it first opened, Pukalani Superette has been emblematic of the Upcountry neighborhoods. As rural farmlands grew into small towns, Pukalani Superette evolved to accommodate the needs of its shoppers.
The store once sold 50-pound packages of animal feed when farmers were their primary patrons. But over the years, more residents settled into Upcountry neighborhoods—now the stores only sells 5-pound bags of feed—and lifestyles shifted to including more health-conscious eating habits. In response, Pukalani Superette has had to increase its selection of health and organic foods to include brands like Bob's Red Mills and offer gluten-free alternatives.
But there are also items and features that haven't completely changed at the mom-and-pop shop. Beginning with sushi in 1927, Pukalani Superette continues to reign popular for grab-and-go foods including bentos, chow fun, lau lau and its famous chili chicken.
View this post on Instagram
"These recipes come from old women," Nakashima jokes. "When my dad started, there were six old women making the hot food. We just built on those old recipes."
The multi-generational provisions make Pukalani Superette's comfort food evoke nostalgia. Former Maui residents and homesick college students long for a warm bento. "I get messages from the Mainland from homesick people asking for the recipe. Usually the chili chicken and tako (octopus) poke," says Nakashima. "I say, 'Sorry, cannot. Maybe later though!'"
The chili chicken is worth the trip to Pukalani Superette for fried chicken thighs with spicy chili flakes. There's now fried chili tofu for vegetarians to experience that same great flavor.
However, like the store, even the prized chili chicken recipe has also gone through its own alterations. "We've evolved as we have had the sources. The original chili chicken recipe has togarashi in it, the Japanese spice. We don't have it anymore because it's too expensive to use in bulk. I'd be willing to bring it back and call it old-school chili chicken," Nakashima says.
Old school is synonymous with Pukalani Superette. It's the leading store to find the Island's iconic goods all in one place. Operating like an outpost for similar decades-old establishments, there are boxes of cream horns from Stillwell's Bakery and butter rolls from Four Sisters Bakery. In addition to Miyako Sushi's Spam musubi and sushi, the snack aisle is stocked with their Dill Ranch pretzels and sweet cheese puffs.
Working with local businesses and farmers has always been a priority for Pukalani Superette. "We have long, long business relations with companies on Maui," Nakashima notes, naming Meadow Gold, No Ka Oi Tofu and Sam Sato's noodles.
While these relationships have lasted decades and generations, the store continues to make space for budding Maui businesses. "We've done a really strong push to get as many in and encourage local."
From Maui-made frozen desserts to hot sauces, there's an array of local products to choose from. Be tempted by Coconut Glen's ice cream and Haleakalā Creamery's "goatlato." Or test the heat of Shark Bite Hot Sauce and Honolua Hot Sauce.
Being in the heart of the community, Pukalani Superette promotes local businesses and also actively supports the public. Since the start of the pandemic, the business organizes ongoing food distributions at no cost for families affected by job losses and food shortages.
"Our distributors also supply to the hotels. They realized they have a lot of surpluses and offered us the chance to buy at a discount in the spirit that it will be donated," recalls Nakashima. "We bought as much as we could afford. We saw the impact and how many people needed it and continued."
Tending to customers and employees is a core value that has been preserved at the family-run store. Megan Nakashima's father, Aric, and his brother, Myles, who are co-owners of the store, instilled in her that taking care of the community and her team goes hand-in-hand.
Megan Nakashima has been president for a year, leading with fresh ideas and creating new avenues for the business. "So far it's been very surprising seeing that the new blood has directions that I never thought of," Aric Nakashima says. "I've been here for 40-something years and there are things we've never experienced, like this pandemic. That's all within the first year she's been working."
The new president helped build a larger spotlight for local farmers. She has also been the driving force behind food distribution pick-ups during the pandemic. With Nakashima's leadership, the store is experiencing change but she preserves the core feeling of family between businesses, shoppers and employees.