Visit Scuba Claus at the Maui Ocean Center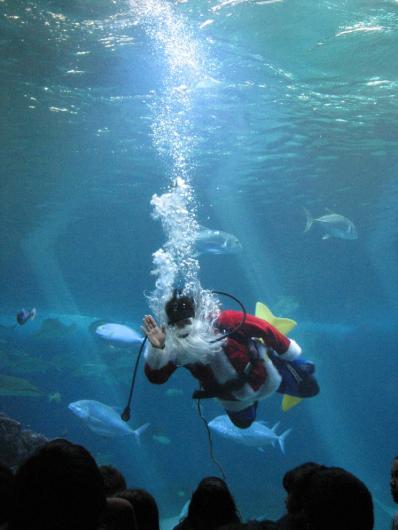 We've all heard of Santa Claus, but what about Scuba Claus?
The Maui Ocean Center's most unusual attraction—seeing Scuba Claus swim in the Open Ocean Exhibit—starts this Wednesday at 11 a.m.
Scuba Claus will be wearing his diving equipment and fins, and, of course, traveling with the big fishes instead of his eight little reindeer. You can catch his underwater appearance through Dec. 23.
Visiting Scuba Claus is just one of the activities included in the Center's "The 12 Days of FISHmas," which started yesterday afternoon. If you missed it, there are 11 more fun-filled days of holiday performances, crafts for the keiki (children) and presentations on marine animals with holiday-themed names including the snowflake eel, candy cane shrimp and the Christmas wrasse.
All activities are included with the park's admission fee. Call (808) 270-7000 for more info or click here.