Waikiki Aquarium's summer sunset concert series spotlights popular Hawaii music acts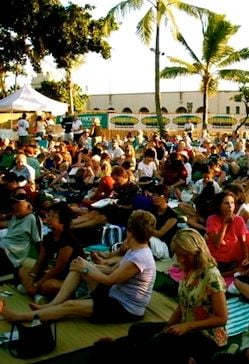 Waikiki Aquarium's annual summer concert series Ke Kani O Ke Kai — Hawaiian for the sound of the ocean — offers you a chance to kick back on a cool, grassy lawn and listen to some of Hawaii's most celebrated music while enjoying a Waikiki sunset.
The 15th annual season of concerts will features shows every other Thursday, starting this week. Doors open at 5:30 p.m., and concerts start at 7 p.m. The series will kick off with performances by Kuana Torres Kahele, and Mark Yamanaka & Darren Benitez.
Last month, Kahele, a Big Island vocalist/songwriter/musician was the top winner at the 2012 Na Hoku Hanohano Awards (the Hawaiian music industry's equivalent of the Grammys). For his debut solo album, Kaunaloa, Kahele won: Male Vocalist of the Year, Hawaiian Album of the Year, Song of the Year (Na Vaqueros), Liner Notes and Album of the Year. Yamanaka was the star of 2011 Na Hoku Hanohano Awards, sweeping "Album of the Year" for his debut album, Lei Pua Kenikeni, "Male Vocalist of the Year," and "Most Promising Artist" honors.
Here's the rest of the lineup of musicians set for this summer's five-concert series: June 28, Raiatea Helm (pictured, below)/Weldon Kekauoha; July 12, Jake Shimabukuro; July 26, HAPA/Led Kaapana; and Aug. 9, Makana/Dennis Kamakahi.
Food and beverages from various Oahu eateries will be offered for purchase during each concert.
Also, the aquarium's galleries will remain open throughout the evening events, which are scheduled to conclude at 8:30 p.m. Founded in 1904, the Waikiki Aquarium — the third-oldest aquarium in the United States — showcases more than 500 marine species and maintains more than 3,500 marine animals, fish and other specimens.
Low sand chairs and beach mats are preferred. Guests will be seated according to the height of their chair at the discretion of Waikiki Aquarium event staff.
For additional information about the concert series and tickets, click here.
Net proceeds from this year's concert series will go toward a hands-on laboratory on ocean conservation.