Waikiki replenishment project to truck "recycled" sand on beach to eroded areas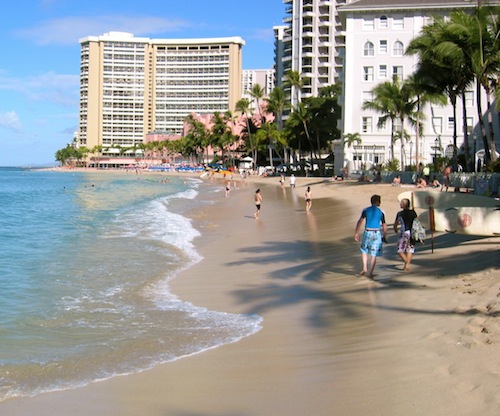 Beginning on Mon., March 12, stretches of Waikiki Beach will be cordoned-off during morning sand-hauling and grading operations, from 7 a.m. until noon seven days a week.
The daily morning work — part of an offshore sand-pumping project that aims to return a thinning stretch of Waikiki shoreline to its lush vintage 1985 condition — is expected to continue until mid-April. The overall Waikiki Beach Maintenance Project, which has been under way since January, is slated to wrap up by the end of April.
During morning work hours, beachgoers will still be able to get to the ocean in affected work areas by crossing through designated locations with the help of crossing guards. One exception: Kuhio Beach's Ewa Basin will be completely closed to the public during the morning hours. It will open to pedestrians at noon.
Included in the Waikiki Beach Maintenance Project: shoreline from the west end of Kuhio Beach swim basin (near the Duke Kahanamoku statue) to the area fronting the Royal Hawaiian and Sheraton Waikiki hotels, according to the Hawaii Department of Land and Natural Resources (DLNR).
The project's aim is to restore 1,730 feet of the ever-popular Oahu shoreline. Erosion has narrowed Waikiki's strip of beach over the last several decades.


In a recent news release, Rick Egged, president of the Waikiki Improvement Association, said: "This project to improve Waikiki Beach is long overdue." He added, "Since 1985, this area of shoreline has experienced significant beach loss due to long-term, chronic erosion. By recycling eroded sand that lies just offshore, we can expand the recreational beach and provide significantly more space for visitors and residents to enjoy Waikiki."
The project requires a 60-day operating window of calm seas. So, it's scheduled during winter months when Waikiki's wind and wave conditions are mild. Construction activities will be under way from 6:30 a.m. to 6:30 p.m. seven days a week until the project is completed.

According to state officials, since work began on Jan. 23, a substantial amount of sand has been recovered from offshore by way of suction-dredge barge and placed in a holding area on Kuhio Beach.
Initially, workers loaded that sand into an air-conveyance machine designed to blow it down the beach through an underground pipeline. State officials say that due to mechanical problems the pipeline method has failed to work well. Plan B: truck the sand on the beach to spots in need of widening, starting on Monday.
The project is a public-private partnership, with financial support coming from DLNR's Beach Fund, Hawaii Tourism Authority, and Kyo-Ya Hotels and Resorts, LP. Other partners include the Waikiki Improvement Association, Hawaii Hotel Association, and City and County of Honolulu.
For more information about the project, daily updates on the construction schedule and updated instructions for beach access, click here.