Waikiki's annual Spam Jam shows Hawaii's love for luncheon meat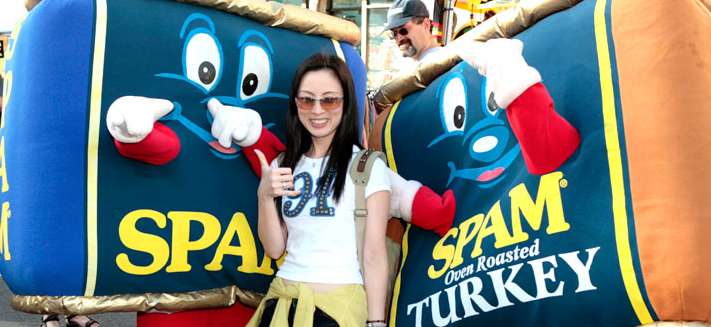 Where can you see people dress up in life-size Spam can costumes? In Waikiki, of course!
This year's annual Waikiki Spam Jam street festival kicks off tomorrow (4/25) on Kalakaua Avenue. The block-party celebration—which runs from 4 to 10 p.m.—includes two stages of Hawaiian music, a variety of Hawaiian crafts booths and merchandise stands selling Spam-themed items such as the Spam T-shirts and slippers. There'll also be a dozen Hawaii restaurants that'll reinvent the popular luncheon meat beyond the musubi version. Click here to see a list of what restaurants will be serving.
According to SpamJamHawaii.com, "More Spam is consumed per person in Hawaii than in any other state in the United States. Almost seven million cans of Spam are eaten every year in Hawaii." Imagine that!
If you hate Spam, here's a chance to give it away. Volunteers will be collecting cans of Spam for the Hawaii Food Bank. For each donation, you can enter to win a trip for two to the neighbor island of your choice.
Admission to the block party is free. Last year, approximately 20,000 visitors and local residents attended the festival. Click here to view the entertainment schedule. If you're planning to drive to the festival, we've got the parking information you'll need.