Waikiki's Ilikai to remain open, possibly under luxe hotel brand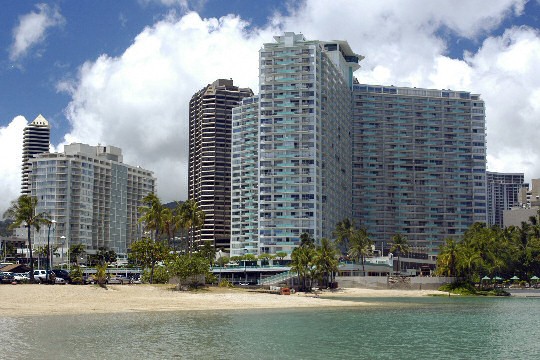 Rumblings about the possible closure of Waikiki's famed Ilikai Hotel have the hotel's frequent guests concerned. The good news? The Ilikai is sticking around for now, and may even get a new and luxe lease on life.
The Ilikai's current travails date back to 2006 when developer Brian Anderson bought 343 rooms with renovation plans that reimagined the hotel as a hip gathering place for young adults. The hotel had billed itself as "the first luxury high-rise hotel in Hawaii" when it opened in 1964 and remained popular with visiting celebs, dignitaries and other moneyed folk through the 1970s.
That penthouse balcony where a helicopter camera zooms in to meet square-jawed Jack Lord as Detective Steve McGarrett in the groovy opening credits of every "Hawaii Five-O" episode? Yep, it's the Ilikai.
Anderson's renovation never happened. A new generation of moneyed young adults never gathered. Ilikai condo owners are now suing Anderson for not paying condo fees on the collection of units he purchased. The issue went to court and the future of the iconic hotel—along with its 1,000-plus hotel rooms and condos—was, until recently, up in the air.
In the last few weeks a new court receiver was appointed and a new business plan proposed. Sadly, that plan is contingent on the Ilikai maintaining a hotel occupancy rate much higher than what local hotel experts consider feasible given the current economy-related problems facing Hawaii tourism.
The Ilikai remains open to serve visitors. Our visit to the hotel's reservations Web page found rooms available for booking through December 24th, 2009. Plans beyond that date are unknown.
But the answer could be a brand new management company. Hotel Business Magazine reported last week that Edition Hotels was angling to take over the Ilikai in 2010, converting it into a luxury boutique hotel.
Edition Hotels is the brainchild of current Ilikai management company Marriott Hotels and global hotelier Ian Schrager. Some may remember Schrager as the co-founder and co-owner of the original incarnation of New York disco-era hotspot Studio 54. Credited with originating the "boutique hotel" concept, Schrager is these days more well-known for developing and/or managing tony hotel and residential properties such as New York's Gramercy Park Hotel. A relatively new partnership between Schrager and Marriott International chairman and CEO Bill Marriott, Edition bills itself as "the first truly global branded boutique/lifestyle hotel on a large scale."
Should the Ilikai project not follow the fate of recently stalled Edition boutique projects in Washington D.C. and Miami, it would be the company's first property to actually open for business. Details on an Edition's Ilikai plans are minimal—there's no mention of the project on the company's Web site—and Ian Schrager Company officials are staying mum.
We'll keep you posted when and if more news breaks on the project.