Waimea Valley, the jewel of Oahu
Take your time discovering its waterfall, lush gardens rich with wildlife, Hawaiian history and one-of-a-kind hibiscus hybrids.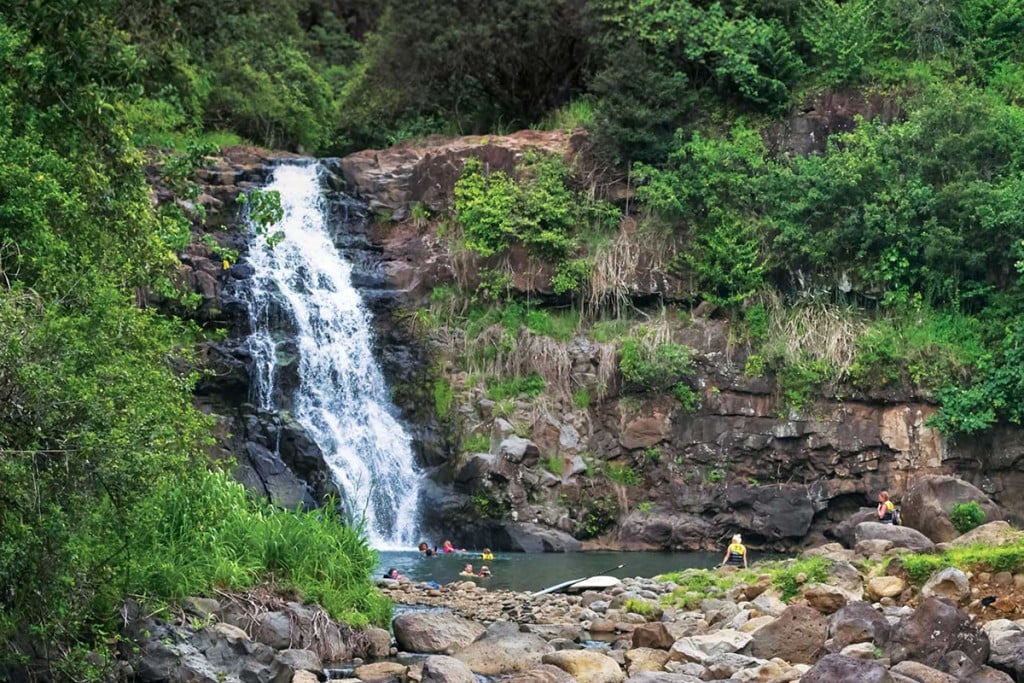 I've never been this close to an alae ula before. The Hawaiian moorhens I've seen in the wild have always kept me at a distance, but, upon entering Waimea Valley's botanical gardens, I'm immediately greeted by one.
The relatively small, dark gray bird with a striking red bill and yellow legs is only about 5 feet away and heading in my direction. Not certain whether it's being friendly or aggressive, I take a step back.
Endangered and endemic to Hawaii, alae ula are said by some Hawaiian legends to have at one time withheld the secret to making fire from man. The demigod, Maui, forced Kaalaenuiahina ("the Great Moorhen of Hina") to share its knowledge, and burned its forehead with a red hot stick as punishment for lying, giving it its distinctive red mark.
The bird's descendant seems jovial enough though, putting a smile on my face as we continue our circular dance. When a crowd gathers around us, I step out of the ring to let other people take a turn with the fearless bird and I continue up the path.
Families with children and young couples walk quickly past me, dressed in their swimsuits with the obvious intention to swim at the valley's waterfall three-quarters of a mile ahead. The opportunity to swim at a waterfall, without the sweat and mud (the entire pathway is paved) necessary to reach it, is a big draw here—the crowd is bigger than at any other botanical garden I've been. And, if you pay $10 per person, you can get a roundtrip ride from the ticket booth to the waterfall, bypassing everything in-between.
I enjoy the leisurely stroll through the lush gardens, however, and make my second stop at the Hibiscus Evolutionary Garden. The famous hibiscus, known for its large petals and many bright, bold colors, has a lengthy history, but an interesting one. To tell this story, the garden is split into six sections: Ancestor species, introduced hybrids, Bulletin 29 hybrids, pre-1950 hybrids, post-1950 hybrids and modern hybrids.
"Hawaii is the birthplace of the modern hibiscus hybrid," the first sign reads. "Early breeders belonged to upper-class Hawaii society and traveled often, bringing foreign hybrids back to the Islands to use as parents," another sign continues. Its accompanying pictorial of the flower's parts (the petals, stigma, pollen and ovary) illustrates how pollen from a male can be applied to the stigma of the mother in order to—voila!—create a unique plant and blossom. It sounds so simple.
Red, pink, orange and white hibiscus stop me in my tracks as I take a moment to stare at their velvety-soft petals and vibrant colors. Other hibiscus plants with the names of Miss Hawaiian, Alii Ui and Pauahi Bishop leave me wondering what they look like in full bloom.
I cross the pathway and enter the valley's kauhale (a group of houses that make up a traditional Hawaiian home). Canoe plants of ti, hala (pandanus) and ulu (breadfruit) catch my eye as the landscape transforms into a more authentic setting.
Waimea Valley is one of the island's last partially intact ahupuaa, a land division that includes everything from the uplands of the valley down to the sea at Waimea Bay. This was a sacred place called the Valley of the Priests, after the ruler of Oahu, in the year 1090, awarded the land to a kahuna nui (high priest). For more than 700 years, the priests' descendants lived here and erected two large heiau (traditional Hawaiian places of worship). The valley also was home to farmers, who lived alongside the stream, and fishermen living by the coastline.
The kauhale I'm able to walk around is an archaeological site, where a kahuna and his family once lived, and has been restored with at least eight different houses: hale mua (men's eating house), hale kahumu (cooking house), hale kuku (kapa making house), hale ola (house of healing), hale noa (sleeping house), hale aina (women and children's eating house), hale papaa (storage house) and halau waa (canoe long house).
I walk around the different features of the kauhale, contemplating how these structures were constructed, each slightly different in shape and design. In front of a stacked rock enclosure, a sign tells me it was once used as an animal pen, where dogs and pigs were raised for food, and the cave behind me, carved under a giant boulder, was their shelter. In my imagination, the kauhale is coming to life.
My journey through the garden continues with a stop to play traditional Hawaiian games, to sit at Aunty Coco's Lei Garden (a peaceful respite) and to look at the rare Ogasawara Islands flora botanical display. It's here I decide to follow the stream of people heading in the direction of the waterfall down a hill. With the sounds of rushing water growing louder, the path leads me over a bridge where I get my first view of the 45-foot Waihi waterfall, cascading down a rocky cliff into a large pool.
A lifeguard stand is set up at the base of the pool and swimmers are told to check in with them before entering the water. Life vests are mandatory and don't climb the rocks, they warn, but feel free to swim underneath the falls. A cement platform, opposite the waterfall, allows the other land-loving guests to sit in three rows of theater seating, and watch the garden's star attraction under a shaded awning.
Small shrieks and squeals of laughter are followed by gasps of "The water's cold!" as people enter the pool, but, mere moments later, they're lazily floating on the water and basking in the sun's afternoon warmth. It's a perfect day to be outside. The stroll through the garden was rejuvenating and I'm happy I took my time, before walking down to the water's edge, dipping my toe into the water and stepping inside.
Waimea Valley
Admission $6–$16, Sun.–Sat., 9 a.m. to 5 p.m., 59-864 Kamehameha Hwy., Haleiwa, Oahu, (808) 638-7766, waimeavalley.net.