Walking the King's Highway: A Photographer's Journey
With a camera and a mission, Maui photographer Daniel Sullivan travels down a vanishing piece of Hawaiian history to preserve it through photography.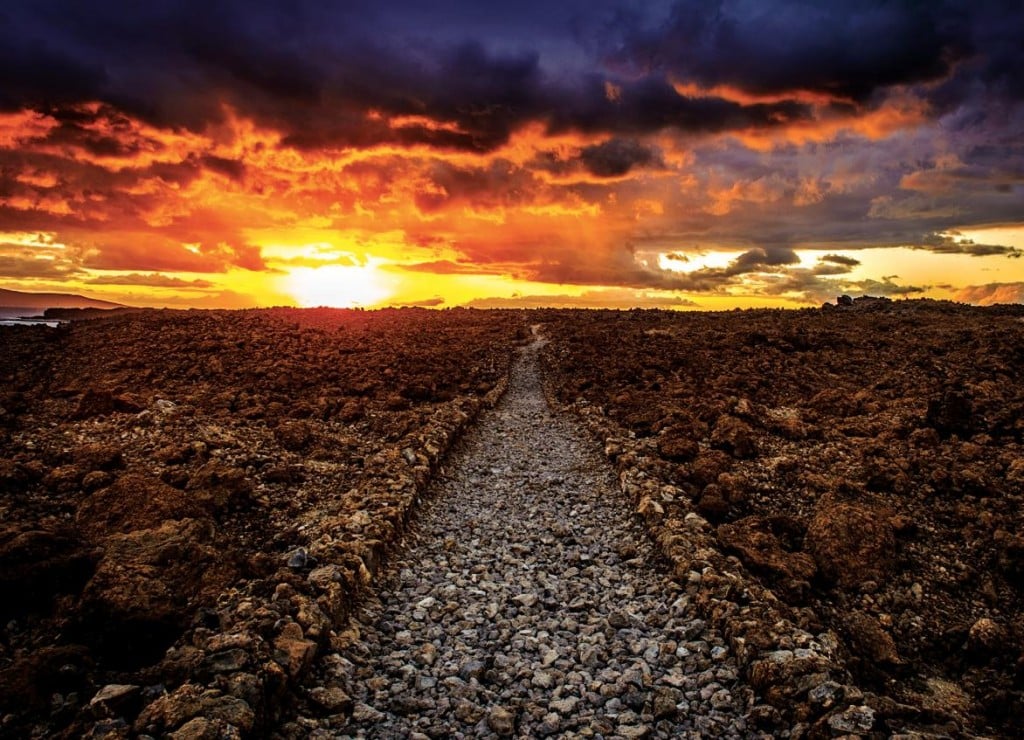 "Look for the blue stones."
It was the first piece of advice photographer Daniel Sullivan received from Native Hawaiians he spoke with as he began a nine-day hike on what today is known as King's Highway, a once-vital road built by the island's Native Hawaiian settlers originally circumnavigating all of Maui.
Upon its construction over 500 years ago it was called Alaloa Kihapiilani (Kihapiilani's Highway), in honor of the Maui alii (chief) who oversaw its completion—an impressive 138-mile trail paved with dense basalt stones that unified the island's 12 moku (subdivisions). It was the aorta of ancient Maui, pumping its society with a means for commerce, trade and protection during times of war.
Today, the heart of what was once an intact King's Highway beats less and less. Early European contact, the sugarcane industry and modern roadways ultimately dismantled vast stretches of the ancient trail and is on the path to being forgotten.
Sullivan's book, The Maui Coast: Legacy of the King's Highway, chronicle the remarkable passages and sights on and along the historic trail. Sullivan, who has been capturing disappearing civilizations around the world, finally turns his lens on a place he's called home for the past decade. Like the road as it lives today, fragmented and disconnected, Sullivan's images are an attempt to piece together what was lost and, in the process, he uncovers a new perspective about travel and respect for the aina (land). Recounting every step, Sullivan reflects on this grueling journey in his own words.
* * * *
"That first day I was so excited to get out and just walk the island. It was this amazing anticipation of what was in front of me. Maui just had a tropical storm that had blown through the island. Everything was clear; it was very quiet, I remember. My wife and kids had just gone to the mainland so I was all alone, just walking to see what would come of it.
In most of the King's Highway, river rock was used—different than the lava, it's more of a blue color. It's an identifier when you're walking through an area and suddenly you'll see the rocks, a different color and intentionally laid out side by side. That's how you know you've found it and you can follow it from there.
I walk and I photograph naturally when I'm in a new environment. That's how I get to know a place: I get lost. I always get lost. That's just my way of taking photos. That routine of walking, taking photographs and reflecting on the history of the areas was really cool. I saw it as a walking meditation. I'd wake up at 5 a.m., when it was still dark out, pack up my camp and start walking, all through the day and late into the night.
I studied a lot of the old records from the anthropologists who were here in the '20s and '60s, and I looked at the photographs they took documenting these sites and, when I walked into these more remote areas, nothing's changed. It's like stepping back in time. There are really unique sections that are so untouched; you can see where the cities were and how thousands of people were able to live there. It's part of the reason I've taken these photos. There isn't preservation for so many areas of the island, they really should be designated like a national park.
The most preserved section and the best one for people to see is Keoneoio Bay (La Pérouse Bay) to Kaupo, past Wailea, past Makena. It's a beautiful section of the road called Hoapili Trail, about 2 miles long, and it's really clear where the King's Highway is; you can see the blue rocks. That's the most accessible and safe section for people to hike. It gives you that feeling of what it must've been like—this massive feat of thousands of Hawaiians laying stone by stone to create this road that's big enough for six men to walk on shoulder to shoulder.
There was one evening I was hiking in Kanaio to see what it would've felt like to hike the King's Highway at night. I got chills from the energy out there from the past. It was a good thing. It felt like I was accepted and tapping into something so ancient and tangible right there. That was a really special moment for me.
My last day my family got back, my wife and kids drove out to meet me on the Road to Hana. We live in Haiku and I was walking back, and they surprised me and it was just this amazing feeling. It had only been two weeks since I'd seen them, but it felt like forever. My body ached, my calves were twice the size they used to be, knees were gone. I was just wiped out by the end of the hike and when I saw them it was so exciting because there were so many stories I wanted to tell my kids, to share with them this adventure and I hadn't even left Maui, our home.
From this journey, I've learned to go deep, not far. It's easy to travel all over, but to become immersed in something, that's become a really important lesson. I travel to some really exotic and remote locations around the world for my photography, yet here was my greatest adventure, in my backyard. It was right here
waiting for me.
There's a presentness, a sense of awakening you get when you're hiking out there for days, and returning to the same places over and over again for three years. It's a respect you get from the sacredness of the land—you relate to how much the ancient Hawaiians loved the beauty of our island. To carry that presentness with you into your daily life is huge and one of the greatest lessons I've learned."
---
This article was originally published in the March/April 2016 issue of HAWAIʻI Magazine.
Visit here for more information on the book, or purchase in-store at Daniel Sullivan's gallery, Indigo Paia, 149 Hana Hwy, Paia, (808) 579-9199, indigopaia.com.