Wander Into Waikiki's Past at Duke's Marketplace
The open-air market, with its rows of Hawaii souvenirs and kitschy gifts, brings back memories of a Waikiki long gone.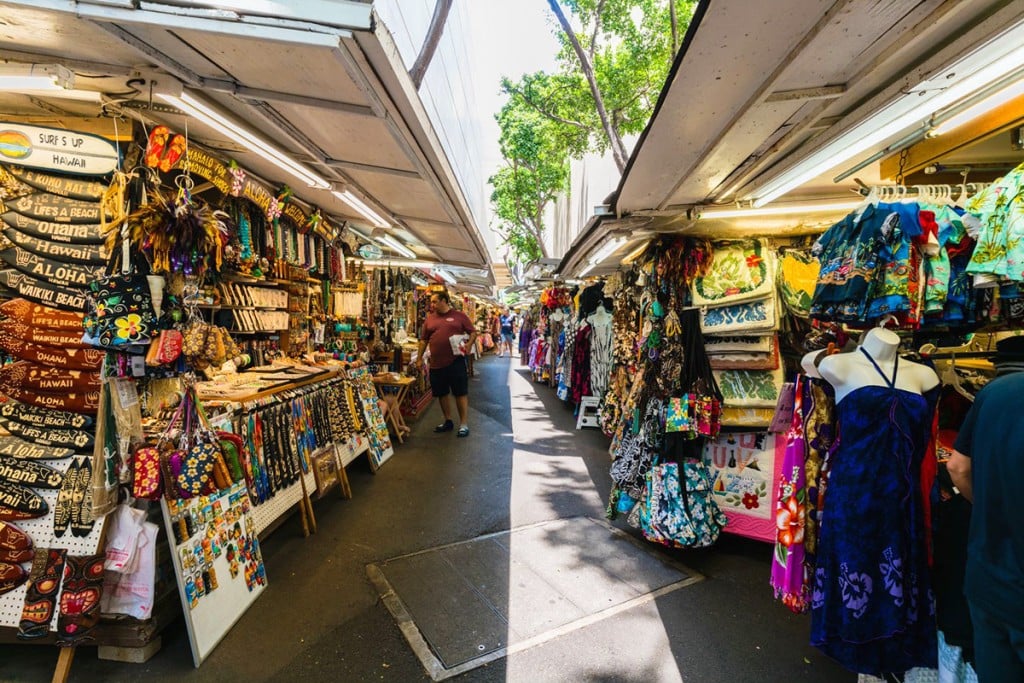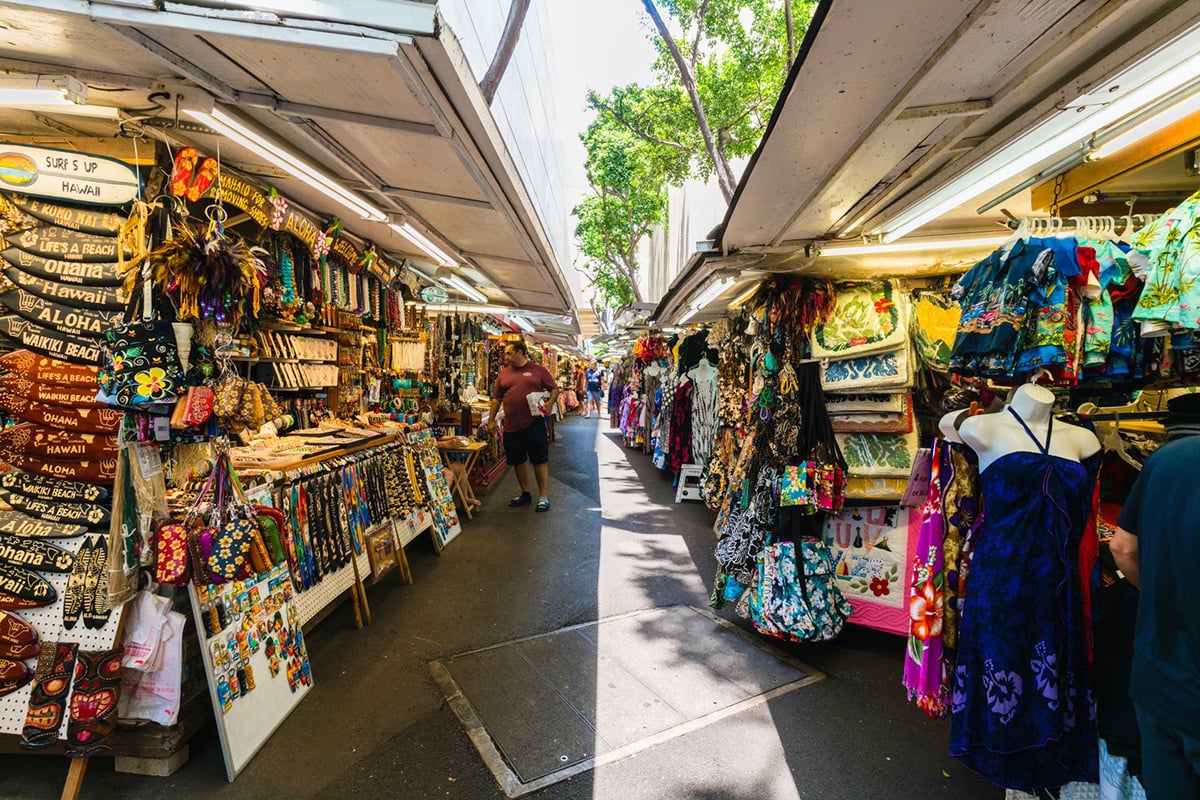 Anyone who's traveled to Waikiki over the last two decades knows the city's more urban roots, with street performers lining Kalakaua Avenue, shops selling kitschy gifts and the endless maze of kiosks at the old International Market Place.
In the past five years, though, upscale retailers and trendy restaurants have replaced much of this more unrefined but charming part of Waikiki. But neatly tucked away in a small alley connecting Kalakaua and Kuhio avenues remains a remnant from the past: Duke's Marketplace, the only remaining outdoor marketplace in the neighborhood.
Walking through Duke's on a relaxing Saturday afternoon, you'll get nostalgic browsing the rows of Hawaii-themed T-shirts and jewelry, beautiful handcrafted candles, ukulele, beach towels, aloha-print bags and hula girl bobbleheads.
Duke's Marketplace used to connect to the bustling old International Market Place, which opened in 1957 and officially closed for renovations in 2013 after 56 years of entertaining visitors from around the world. International Market Place was founded by Ernest Raymond Beaumont Gantt, otherwise known as Donn Beach, founder of the Don the Beachcomber restaurant chain. Throughout the 1960s, it boasted weekly performances by Tahitian entertainers and legendary local talents such as Don Ho, thatched vendor stalls, a gourmet bazaar and lively nightclubs where both locals and visitors mingled.
After experiencing waning popularity over the following two decades, the Hawaii Legislature threatened to close the International Market Place in 1988 and build a convention center in its place. Merchants took to the streets in angry protest and the convention center was eventually built at an alternate location, just outside of Waikiki. Fifteen years later, in 2003, Queen Emma Land Co., the leaseholder, took over management of the International Market Place after the original owner went bankrupt. But redevelopment plans fell through when the leaseholder opted out of the mall business.
Finally, in 2013, Queen Emma Land Co. partnered with Taubman Centers, a Michigan-based mall developer, to completely revamp the land into a shopping and dining complex with more than 700 parking stalls by August 2016. The approximately 180 tenants in the International Market Place, Waikiki Town Center and Miramar At Waikiki hotel were given until New Year's Eve to clear out of the premises. Many of the merchants from the International Market Place moved to Duke's Marketplace after being displaced, according to Tiana Kobashigawa, property manager at the Avalon Group, which manages the outdoor market.
The 73 mostly immigrant vendors currently operating at Duke's are encouraged to stay open long hours, from 9 a.m. to 11 p.m., although some tend to close earlier. Those who remember the negotiating culture of the kiosks at the old International Market Place will get a dose of that here; merchants and customers banter and bargain about prices. It's part of the experience—and the fun. The seasoned merchants, who have had to adapt to decades of customers, a changing Waikiki and a forced relocation, have an unapologetic frankness and unbreakable spirit that you just have to experience in person to understand.
Duke's comes alive at sundown, when, at the ends of the alley, stringed lights secured to trees cast a moonlight hue over the stalls. Droves of visiting couples and families pushing strollers and carrying shopping bags and Cheesecake Factory takeout containers fill up the aisles and gaze in wonder at the variety of knickknacks and apparel. Even the merchants, once sluggish in the afternoon heat, seem to be more energetic and lively with the fresh crowd of customers. You can find old Hawaii license plates, Hawaiian print pareo, lei made from polished kukui nuts, magnets shaped like surfboards and ukulele and wooden signs that read, "Always Happy Hour."
"This is the place I was talking about," says a man excitedly to his companion, as the couple turns into the little alley lined with shops. "It used to be over there," he says, pointing toward the new, glitzy International Market Place. It's obvious that each person who has been to Waikiki remembers the neighborhood differently. Visitors of the past may reminisce about Don Ho's performances at Duke Kahanamoku's restaurant; for many others, wandering the old International Market Place, its kiosks brimming with all sorts of Hawaii souvenirs, is the fond memory. And for first-time visitors, Duke's Marketplace is really the only remaining glimpse into the past. But it is a place where new, precious memories can still be made.
Open 9 a.m. to 11 p.m. daily. Entrances on Seaside, Kalakaua and Kuhio avenues.
---