Watch Maui native Kai Lenny revolutionize the stand-up paddleboard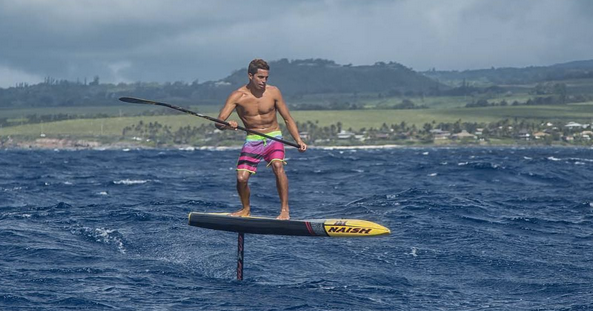 What can't Hawaii's Kai Lenny do? In this new video from SUP Magazine, the 23-year-old waterman introduces the world to what it looks when you combine a stand-up paddleboard (SUP) and a hydrofoil and what is this sorcery?!
Lenny hovers and glides above the waters of the Maliko Gulch and you might be wrapping your head around how he's doing this.
Hydrofoils aren't a new invention—used in kite and windsurfing to lift the board of the water and make it go faster—but this is the first time we've so visibly seen it attached to a SUP in action. What sets this apart is Lenny is riding this with the use of kites, sails or a motorized apparatus—it's all paddling.
Now the video doesn't explicitly show the lead up to the moment where he gets to that point of lifting the SUP off the water, but knowing the weather conditions of North Maui combined with Lenny's prowess on, well, practically any board, his ability to generate enough speed while paddling downwind with the help of a wave isn't that unbelievable. It's said he's reaching 20 miles per hour here.