Watch Merrie Monarch Festival Online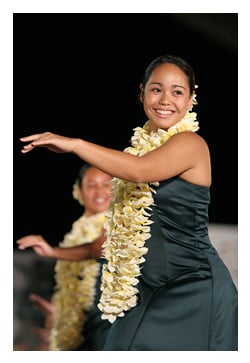 The 45th annual Merrie Monarch Festival begins tonight. This is the World Series, the SuperBowl of hula competitions, bringing the best hula dancers from around the world to Edith Kanakaole Stadium in Hilo, Hawaii.
If you can't get to Hilo, KITV.com will provide live streaming video. (Of course, if you are near a TV set in Hawaii, you can simply watch the broadcast live on KITV Channel 4.)
Tonight, April 3, is the competition for Miss Aloha Hula 2008.
Friday night, the competition begins for halau, hula troupes. That night both men's and women's halau compete in kahiko, traditional hula.
Saturday night brings the modern, or auana, competition. That night the winners will be announced in an emotional ceremony.
Live coverage begins tonight at 6 p.m., Hawaii Time. That's midnight on the East Coast, 9 p.m. on the West Coast.
Here's the complete schedule (all times are Hawaii):
Miss Aloha Hula: Thur. Apr. 3, 6-11 p.m.
Hula Kahiko: Fri. Apr. 4, 6-11 p.m.
Hula Auana: Sat. Apr. 5, 5:30-12 a.m.