Watch the 40th annual Queen Liliuokalani Keiki Hula Competition live or online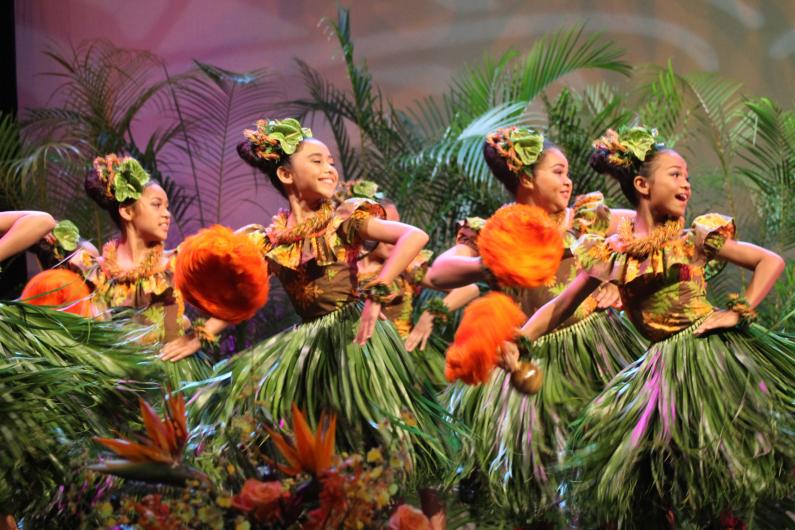 This weekend, young hula protégés ages 5 to 12 will show off their dance moves in the 40th annual Queen Liliuokalani Keiki Hula Competition at the Neal S. Blaisdell Arena in Honolulu. The three-day competition will feature 450 keiki (kids) representing 22 hula halau (dance troupes) from Oahu, Maui, Kauai, Hawaii Island and Japan.
Can't make it to Oahu between Thurs., July 23 and Sat., July 25 to watch the competition live? You're in luck. You can watch all of the events when KFVE The Home Team airs them online next week.
Keiki will compete for awards in two solo and two group categories. Miss Keiki Hula and Master Keiki Hula will be awarded to individual performers, and halau will compete for trophies in kahiko—traditional hula accompanied by chanting and traditional instruments—and auana—modern hula with songs using Western instruments like guitar or ukulele. In addition, scholarships for keiki persuing Hawaiian studies or hula education will be awarded.
The Kalihi-Palama Culture and Arts Society organized the first competition in 1976 to honor Queen Liliuokalani, Hawaii's last reigning queen. She dedicated her life to helping nurture, preserve and share the Hawaiian culture. Carrying on her legacy, all keiki in the competition learn more about Hawaii's past and the late queen through research and hula. Each halau must choose their own mele (song) based on Queen Liliuokalani's life or one that was written and composed by her.
To celebrate 40 years, there will also be guest appearances and performances from former winners in a reunion dance.
Here's the schedule:
Thursday, July 23
Solo performances
6 p.m.
Friday, July 24
Hula Kahiko
6 p.m.
Saturday, July 25
Hula Auana
1 p.m.
If you can't make it to the competition, competition will air on KFVE and on their website on Aug. 3, 4 and 5 from 6 p.m. til 9p.m. Hawaii Standard Time (HST).