We Experienced The Eddie and This is What We Learned
Eddie would go — and so did we — to Waimea Bay on Oʻahu's North Shore.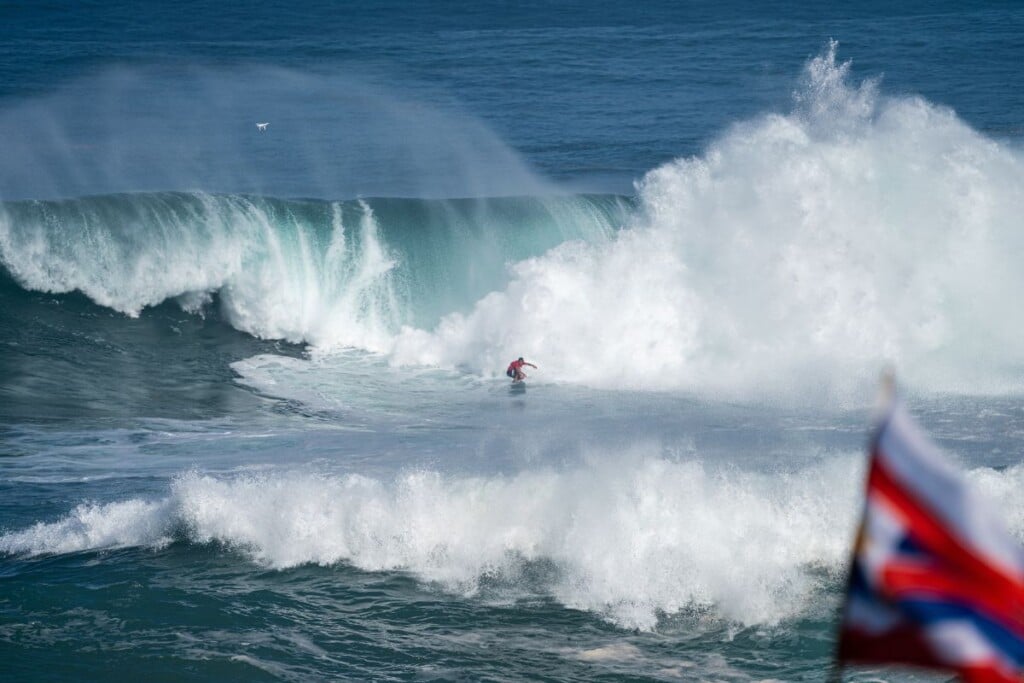 It's not every day the prestigious Eddie Aikau Big Wave Invitational happens at Waimea Bay on Oʻahu's North Shore.
In fact, in 34 years, the surf contest, which requires wave faces to be consistently larger than 40 feet (measured from the front of the wave) at the bay, it's only been held 10 times, including this past Sunday.
Clearly, this is a rare event.
The last time The Eddie, as the contest is known, was held was in 2016, when North Shore native John John Florence took the title. The two-time world champion was the youngest champion, then at age 23. This year he finished second to 27-year-old lifeguard and fellow North Shore native Luke Shepardson. The win was fitting considering the contest is named after the late Eddie Aikau, one of the first lifeguards at Waimea Bay, who, in 1978, as a crew member of the Hōkūleʻa, took his surfboard and paddle toward shore for help when the double-hulled canoe capsized off the coast of Lānaʻi. He was never found.
Shepardson isn't only a lifeguard at Waimea Bay, he was working in the tower on the day of the contest—and competed with 39 other contestants on his breaks. He accepted the award—$10,000—in the county's lifeguard uniform.
Our team braved the crowds at Waimea Bay on Sunday—along with about 60,000 other spectators who lined the beach and roads for a glimpse at history. This was also the first time women competed alongside men; of the 40 competitors, six were female.
Here's what we learned watching The Eddie—and what you should keep in mind the next time the contest is called.
Don't Plan Your Vacation Around It
The Eddie has a holding period—the time in which the contest is permitted to be held—and it usually runs from mid-December to late March. The waves have to be consistently big—at least 40 feet—in order for contest organizers to give it the green light. And in three decades, that's only happened 10 times. Shows you how infrequent this contest is. Even this year the contest was called, then cancelled, before Sunday's event.  One competitor flew to Oʻahu three times this winter from Portugal. So don't plan your vacation around it.
Go Early If You Want a Good Spot
People slept in their cars overnight to get a good parking spot to watch the contest at Waimea Bay. The parking lot is small—and most of the stalls were used for event staff and competitors—so spectators would need to find parking. Waimea Valley was also open for parking but spots filled up fast here, too. By 4:30 a.m, a steady stream of cars were progressing toward the North Shore. However, the beach isn't the only spot to watch the event. Many spectators watched from the road, which provided higher vantage points than from the sand. For those that decide to watch the event from the highway above Waimea Bay, you don't have to worry about the large swell coming onto shore. Just be sure not to climb down onto the rocks.
Consider Parking Far and Biking or Walking
It's likely that you'll have to park one mile or more down the road from Waimea Bay. Some folks parked at Sunset Beach—about 2.7 miles away—and biked or walked. Remember to be respectful of "no parking" signs in front of residential homes in this area and do not block drive ways either.
It Might Be Cold in the Morning and Hot Later On
January is still "winter" in Hawaiʻi, and it can get chilly in the early morning hours. Bring a jacket or sweatshirt—something you can take off because it will likely get hot as the day goes on. There's not much shade on the beach, either, so bring sun protection and water to stay hydrated. If you're viewing the event from the highway, you'll also be under the strong rays of the sun.
Bring Chairs and Binoculars (Umbrellas are a little obnoxious)
The Eddie is long—like, hours long—so bring something to sit on. Chairs are way more comfortable than sitting on beach mats—trust us; we spend a lot of time on beaches. And you'll want to bring binoculars. Yes, the waves are huge enough to see from shore. And yes, this isn't like some other big-wave spots where the waves break so far offshore you can't see anything. The competition is right there—but binoculars won't hurt. However, it's a bit inconsiderate to pop open an umbrella. Crowds line the roads resulting in limited seating and visibility.
View this post on Instagram
Pack Food or Bring Cash
The Eddie is an all day spectacle and if you braved the traffic, you'll certainly want to make your trip worth it. Pack a small bag of snacks and plenty of water to spend the better part of the day at Waimea Bay. However, if you make a spontaneous choice to attend and don't have time to gather food, bring cash instead. Along Kamehameha Highway, local families pop up stands in front of their homes to sell coffee, doughnuts, musubi, baked goods and other foods.
Listen to Lifeguards
We can't stress this enough: Big waves are dangerous, period. Even on Sunday people got swept off their feet by fast-moving water that came zooming up the shore. Three people, including a baby, were struck by a wave and sent underneath a nearby home. So when lifeguards tell you to move back or get out of a certain area, do it.
Watch It Online Instead
More than 1 million people watched The Eddie online from over 200 countries around the world. This year's livestream was engaging and entertaining, with interviews with pro surfers and incredible live shots of the action in the bay. Some of the biggest perks are not sitting in traffic or getting sunburned. The Eddie can be streamed on the event's website.