We Pick 4 Great Oahu Hiking Trails (and Tasty End-of-Hike Rewards)
A few ways you can burn calories and take in some Island scenery.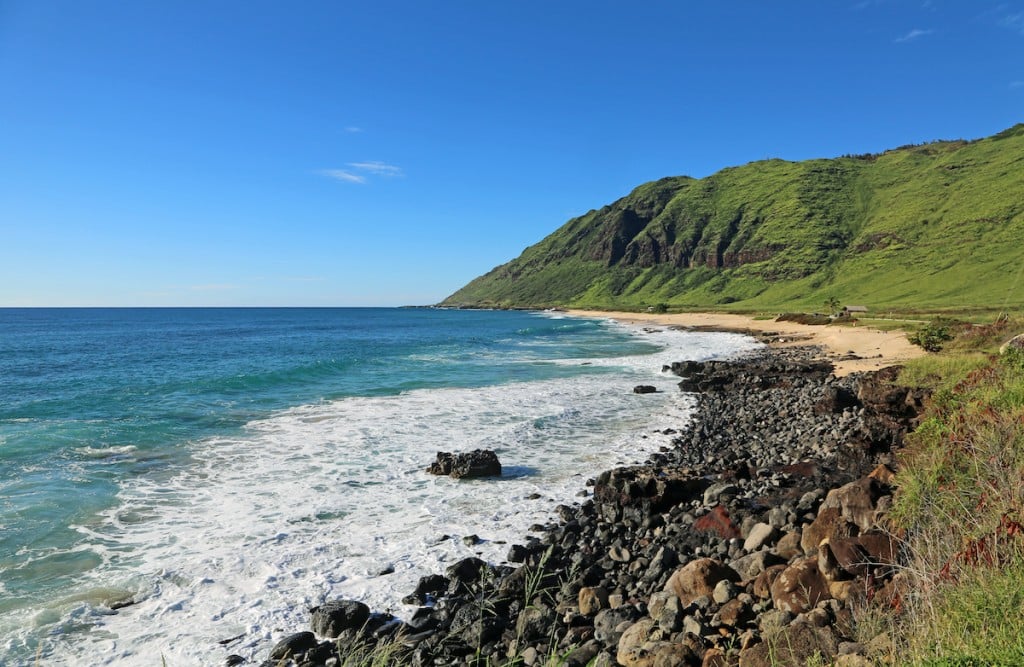 So you're on Oahu, on vacation, and indulging in our incredibly diverse and delicious local dining scene.
Chicken katsu. Macaroni salad. Hawaiian plate lunches (with laulau, kalua pig, lomi salmon, poi, haupia, etc.). Ahi and tako poke. Multiple stops at the garlic shrimp trucks. Malassadas. Lunchwagons.
Want to burn some calories—so you can keep eating at a steady clip—and take in some scenery?
Lucky for you, Oahu has dozens of terrific hiking trails, ranging from the gentle 1-mile trek to Manoa Falls tucked in the back of Honolulu's Manoa Valley, to the challenging 4-mile Puu Manamana hike in Kahana Valley State Park on the Windward side that demands sure feet and a cool head.
Hiking is one of the best ways to take in Oahu's natural beauty, from its lush native forests to breathtaking views of the island's coastlines. Hiking through some of the island's forests and along the windswept ridges of the Koolau mountain range, you may even find it hard to believe that you're on Hawaii's most populous island.
Here are my picks of four great Oahu hiking trails (each with a post-hike reward for your hard workout).
Be sure to bring water, insect repellent, sunscreen, comfortable shoes and a fully charged camera. You won't want to miss these sights.
Waimano Pool Trail
Location: Pearl City, Central Oahu
Length: 3-miles roundtrip
Level of difficulty: Beginner and intermediate
This is a tough three-mile hike, with a huge payoff. The trailhead is at the end of Komo Mai Drive in Pearl City's Pacific Palisades subdivision. The first part of the hike is a bit misleading—a level path of dirt, meandering through groves of ironwood and eucalyptus trees. But turn right where the trail forks (there's a metal stake marking the spot) and you'll start down a section of the ridge trail leading to three pools. One of the pools even has a rope swing. You might want to recharge here with some granola bars when you're done swimming—the trail you take down to the pools is named "Cardiac Hill" for the slow climb back up. The left fork in the trail, at the metal stake? It's the Manana Trail, arguably one of Oahu's toughest hikes and a full-day round trip trek up into the Koolau mountain range.
Post-hike reward: Get a slice of homemade pie from Anna Miller's Restaurant (98-115 Kaonohi St., Aiea, near Pearlridge Center). Our pick is the signature fresh strawberry pie.
Kaunala Trail
Location: Pupukea, North Shore
Length: 6-mile loop trail
Level of difficulty: Beginner
If you're heading to the North Shore for the day and have some time for a hike, consider this 6-mile loop trail above Pupukea. You'll find the trailhead at the end of Pupukea Road. The hike winds through the verdant gulches of the Koolau foothills offering stunning views of the North Shore coastline. It's not a heavily used trail, despite its beautiful mix of forests, ridges and sweeping vistas. You'll also find native iliahi (sandalwood), koa and ohia trees along the trail, too. Listen carefully enough and you might hear the distinctive cry of the elusive Japanese bush warbler (uguisu).
Post-hike reward: Indulge in a slice of the award-winning chocolate haupia pie from Ted's Bakery (59-024 Kamehameha Hwy, near Sunset Beach).
Kaena Point
Location: End of Highway 93 (if arriving from Waianae); end of Highway 930 (if arriving from Haleiwa)
Length: 3.5 miles
Level of difficulty: Beginner and intermediate
This trail winds around Kaena Point, the isolated northwestern tip of Oahu, following an old railroad bed. Within this wild stretch of coastline is the 59-acre Kaena Point Natural Area Reserve, home to many endemic and indigenous plants, nesting seabirds, Hawaiian monk seals and other native coastal species. Between November and April, you'll see humpback whales off the coastline, breaching and playing in the warm Hawaiian waters.
Post-hike reward: If you started in Waianae, treat yourself to some ice cream or cold sweet treats at Magnolia Ice Cream & Treats in Kapolei (91-5431 Kapolei Parkway). If you started from Haleiwa, cool off at Aoki's Shave Ice (66-117 Kamehameha Hwy).
Lanikai Pillboxes
Location: Lanikai
Length: About a mile
Level of difficulty: Beginner to intermediate
This surprisingly rigorous 20-minute uphill hike ends at two pillbox bunkers erected during World War II. The pillboxes were built here for good reason—the site offers sweeping views of the Windward coastline. From the trailhead at Mid-Pacific Country Club, it doesn't take too long to scramble up to the first pillbox, which offers views of Lanikai and the Mokulua Islands. But don't stop here—the trail's best vistas are from the second pillbox, another five minutes up. From the second stop, you can see Oahu's entire windward side, from the lighthouse at Makapuu Point to Mokolii Island (otherwise known as Chinaman's Hat) near Kaaawa.
Post-hike reward: It's a tough call between an acai bowl from Lanikai Juice (600 Kailua Road) or the Formaggio Fonduta (fondue of imported cheese, spinach, architoke and crabmeat served on golden crostini) from Formaggio Wine Bar (305 Hahani St.).