Weeklong farm-to-fork Puna Culinary Festival under way in Big Island's east-tip district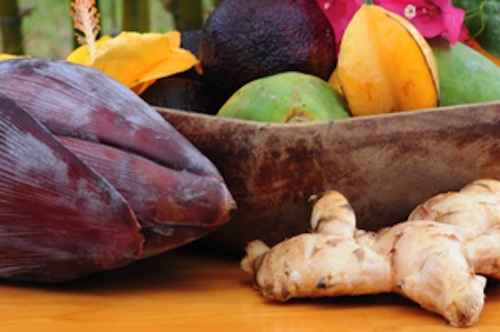 Showcasing some of the Big Island's culinary talents, the second annual Puna Culinary Festival is under way this week. Situated on the easternmost portion of the island, the Puna District, south of Hilo, includes the eastern flank of Kilauea volcano and, thanks to a variety of growing conditions, diversified agriculture.
Among the fest's highlights: various Puna area chefs will be featured in dinners demonstrating their culinary creativity and use of local products. For example, Puna resident Mark Ceranski, who once served was an executive chef for a Saudi prince and various British dignitaries, will be serving up a special fest dinner tomorrow evening. Ceranski's menu features grass-fed Big Island beef pot roast in a local fig and red wine sauce, and Hawaiian beet and Makuu Market green bean salad with local goat chevre. For more information about the fest's special dinners, click here.
On Friday evening, the fest will stage Taste of Pahoa, which will showcase restaurants and entertainment along "Mainstreet Pahoa." On Saturday evening, the fest will wrap up with Hawaiian music, fire-spinning, hula and, of course, plenty of food at a Behind the Scenes Luau. The event will be held at the Lanai of Kalani, at the Kalani Oceanside Retreat.
In addition, the fest offers tours ranging from Hilo Market, which typically features 200 local farmers and artisans selling flowers, produce, and crafts, and flowers to Hilo Coffee Mill, a family run coffee plantation.
The festival is a nonprofit event supported by the Hawaiian Tourism Authority, the County of Hawaii and presented by KAPA FM. For more information about Puna Culinary Festival, click here.