Welcome to Everything
The ample green space and pedestrian- and bike-friendly streets around The Park Ward Village foster a one-of-a-kind lifestyle for residents and the community.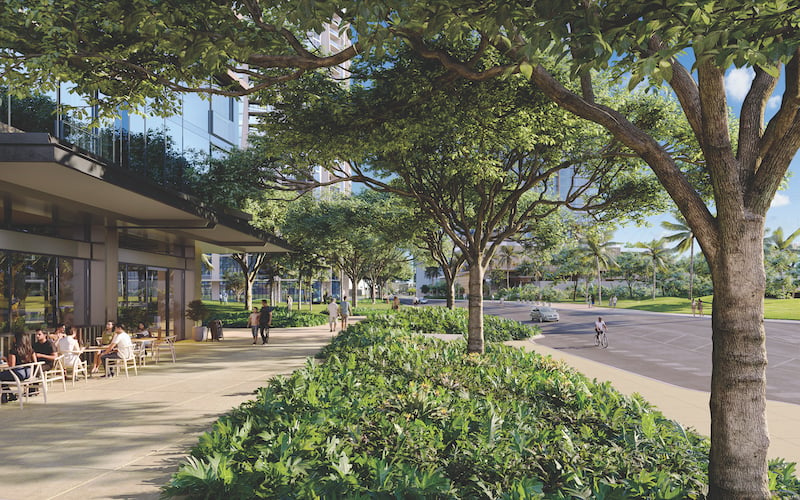 The Park Ward Village is located within a celebrated neighborhood filled with energy and life. Here, a community of people stroll tree-lined streets and enjoy one-of-a-kind shopping and dining, as well as convenient access to the beauty of Hawaiʻi.
Adjacent to Victoria Ward Park and just minutes from Ala Moana Beach Park and Kewalo Harbor, The Park Ward Village restores balance to city living. Finding sanctuary in beautiful places is easy here: The surrounding green spaces are ideal for a leisurely stroll or picnic; or pick out a comfortable spot under a monkeypod tree where you can revel in the trade winds and relax. Residents and visitors alike are encouraged to take advantage of the outdoors to connect—and reconnect—to nature, and to each other.
In addition, the ground level of The Park Ward Village, which encompasses all four sides of the block, will serve as the new town square of the neighborhood. There will be a distinct community vibe when you're greeted by your favorite barista as you get your morning coffee, or bump into familiar faces as you explore the music-laden streets. 
A refresh of Auahi Street, Ward Village's pedestrian- and bicycle-friendly main thoroughfare, will bring with it even more enhancements, such as bikeability and connectivity between the neighborhood's three districts including the East Village, Kamake'e Corridor and West Village. And the realignment of Auahi Street with Pohukaina Street will connect Ward Village to the larger Kakaʻako community.
Of course, Ward Village welcomes everyone to shop, stroll and savor all that this thriving neighborhood has to offer. Think local, national and international shops; a globally inspired food scene; one-of-a-kind experiences; and a variety of indoor and outdoor activities. Discover how urban conveniences, island specialties and the best parts of life combine into one dynamic community.
Offered by Ward Village Properties, LLC RB-21701
Click here to read important disclosures.