West Maui's Sugar Cane Train, closed in August, will reopen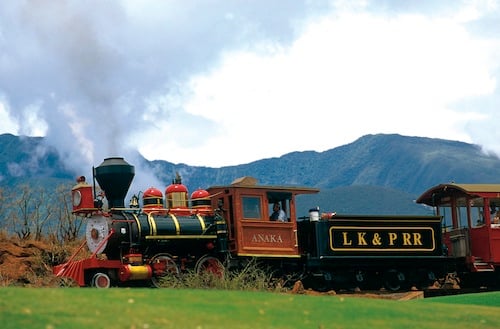 It won't be long before train whistles can once again be heard in Lahaina.
The Sugar Cane Train, a popular West Maui attraction that was shuttered in August, has found a new owner with plans to reopen.
The Lahaina, Kaanapali and Pacific Railroad's Sugar Cane Train—a steam-powered locomotive that took passengers along a six-mile track between Lahaina to Puukolii while narrators shared area history—was closed on August 1 of this year. The former owners said the closure was a financial decision.
According to the LahainaTown Action Committee, the railroad's new owner is Craig Hill, a prominent area businessman. Hill is planning extensive renovations and hopes to have the Sugar Cane Train up and running in the next few months.
The community organization also reported that a consortium of community leaders rallied around the cause to save the train and assisted with negotiations. The train was reportedly just days from being removed and sold elsewhere. The reopening is a win for the community, which has seen considerable changes in the last 15-20 years.
First opened in 1969, the Sugar Cane Train entertained over five million passengers on its daily trips until its closure earlier this year, according to the Sugar Cane Train website.
In the late 1800s, 200 miles of rails and trains similar to the Sugar Cane Train hauled sugar cane from the fields to the Pioneer Mill in Lahaina. Trucks eventually replaced trains to become the primary form of sugar transport at the time of the Pioneer Sugar Mill's closing in 1999. According to the Sugar Cane Train website, plans are in the works to use the former sugar fields to plant other agricultural crops like coffee and corn.