Whale Watching: An Epiphany In Paradise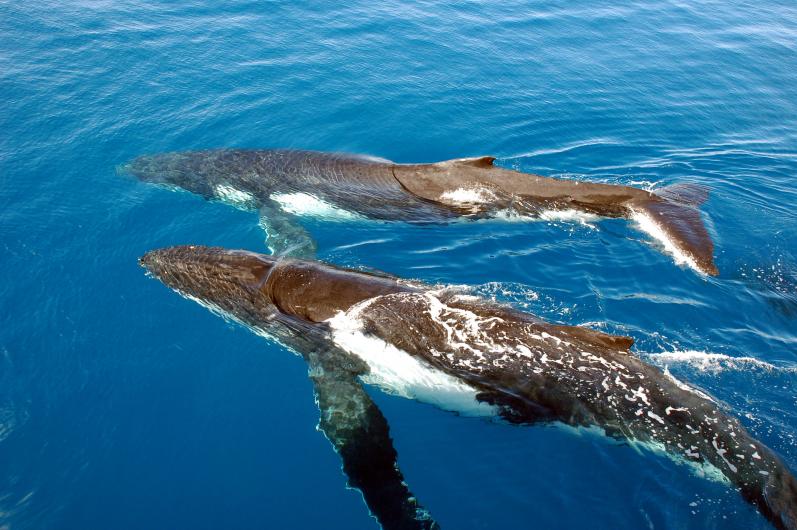 There are so many things to see and do on Maui, but whale watching is perhaps one of the most incredible and enlightening. The Valley Isle is one of only a few places on Earth to host humpback whales in such large numbers and for such a lengthy duration (from December to April). Watching for spouts, breaching, arching, flapping and lunging can be amazing from afar, but there is nothing quite like floating along and having humpback whales come to the boat to investigate. The whales' enormous bodies move through the water with great ease, and their tails are like human fingerprints—no two are exactly alike.
The Pride of Maui offers the Island's premiere whale watching and whale watching snorkeling tours with an upstanding reputation and affordable pricing. For the past 20 years, they have been taking visitors to tour the whales' natural habitat on their flagship 65-foot Maxi Power Catamaran. The Pride of Maui was specially outfitted for 360-degree whale viewing with 3000 sq. feet of deck space, and affords a luxurious and comfortable way to experience the humpback whales. Leilani, a 50-foot Uni-Flight motor yacht, offers a more private and personalized excursion, with the option of customizing the entire experience for smaller groups or individuals.
Both vessels offer guests a reasonable half-day tour for around $40 and allow guests to breathe in fresh air, watch the sun's rays dance on the turquoise waters of the Pacific and comfortably glide along the rugged coastline to the mating and birthing grounds of the humpback. This experience allows guests to let go of the rat race on land, and slow down to the rhythm of the ocean as they prepare for an amazing adventure.
Turning the engines off a few hundred yards away (by law) becomes an act of anticipation for humans and whales alike. The humpbacks' incredible curiosity most often compels them to investigate the two-legged mammals on the boat. Drifting along quietly you can sometimes hear them sing as the males try to attract prospective mate: a beautifully profound and peaceful life experience.
The one-ton humpback whale calves can be especially inquisitive, so their 40-ton parents have been known to follow the young ones right up to the boat. This allows guests to get up close and personal with these gentle giants. It is an absolutely humbling, mesmerizing and awe-inspiring experience to look into the humpbacks' big, dark eyes. It's the best way to connect with them on a personal, mental and spiritual level, so don't be surprised if an encounter results in some serious personal transformation, an overwhelming sense of some kind of enlightenment and a serious case of "chicken skin," the Hawaiian version of goose bumps.
It is a genuine privilege to be in the presence of these sages of the sea. It's an unforgettable and breathtaking experience rife with life lessons. Luckily, this year is forecasted to be a record-breaking year for whale watching in Maui. Ready for your epiphany in paradise? Of course you are… so what are you waiting for? Just get on the boat, smile and don't forget the sunscreen!